Best CCTV brand In India. Here we sort a list of best CCTV brand in India according to their quality of products, service and price. In or order to get best CCTV brand in India. CCTV is one of the most important parts of the security system and it's quality matters where a CCTV footage required for evidence. That is why you have to get the best CCTV product.
Best CCTV Brand In India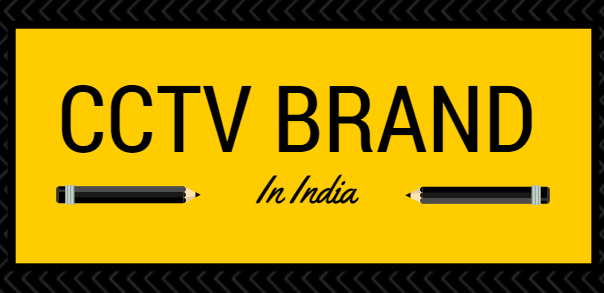 Best CCTV brand in India is listed below who can provide you with the awesome products at the very reasonable price. In CCTV setup, maintenance is very important and when you purchased the setup from the best CCTV brand then you may able to get maintenance by the company.
Hikvison
Dahua
TVT
Bosch
Sony
Samsung
Honeywell
Panasonic
Gobbler 
CP Plus
Watchnet
1. Hikvision
Hikvision is a multinational brand and has a China-based headquarter. It provides are kind of CCTV products and also provides all kind of security equipment. Hikvision is a very old company and now has more than 20,000 employees. According to IHS report, it has been listed in the topped for 6 consecutive years. Hikvision deals in the following category of CCTV products.
Network Camera
Thermal Camera
Analog Camera
PTZ
Network Video Recorder
Digital Video Recorder
Encoder
Video Encode & Decode Card
Mobile
Video Intercom
Access Control
Traffic
Transmission & Display
Enterprise Network Storage
Alarm
HiLook
Accessories
Dedicated Product
Intelligent Storage
Discontinued Product
Pros and cons of Hikvision
Pros
High brand Value
Good product quality
Good User Interface
Less technical support required
Reliable
Cons
Generalised products
Can't get instant service
Quite costly
2. Dahua
Dahua is also a multinational brand and serves in about more than 100 countries in the world. It has more than 16,000 employees all over the world. It has been established in 2001 and launched a real-time embedded digital video recorder. At that time it was a new revolution in CCTV market. Now Dahua provides so many good quality products related to the security industry. Dahua deals in following products categories.
Artificial Intelligence
HDCVI Cameras
Thermal Cameras
HDCVI Recorders
Video Intercoms
Alarms
Transmission
Video Conferencing
Software
Accessories
Drone
Network Cameras
PTZ Cameras
Network Recorders
EZ-IP
Access Control
Mobile & Traffic
Display & Control
Storage
Kits
Machine Vision
Dedicated Products
Pros and cons of Dahua
Pros
High-quality products
Very reliable
High product range
low maintenance products
Provide good quality remote solution
Cons
Costly
Can't get instant service
lack of technical support
3. TVT
TVT is a 13-years-old Chinese CCTV company and has a good growth rate around the world. It is a trusted brand and registers in SME. TVT has a great experience in chip level and video compression solution. TVT sold their product in almost over 100 countries. In 2016 TVT listed in SME board, Shenzen with stock code: 002835
Pros and cons of TVT
Pros
Reliable
Good technical support
low maintenance products
less fault rate
High-quality products
Cons
Costly
Lack of product-range
Not popular
4. Bosch
Bosch is also a multinational brand but it serves only in selected countries. It has 5-6 units of manufacturing in Asia, Europe and American regions. Bosch targeted some specific grade of customers who love the only quality of the products. So it is obvious the products offered by Bosch have the very high price range. Sony is a partner brand of Bocsh.
Pros and cons of Bosch
Pros
Very reliable
Very high product quality
Good user interface
Good support
High brand value
Cons
Very Costly
Not popular in Indian market
High maintenance cost
5. Sony
Sony is a corporate partner of Bosch. it provides a good range of surveillance security products for security includes all kind of network cameras, 4K surveillance security cameras, wireless CCTV security cameras, network digital recorders, HD cameras, encoders and software.
Pros and cons of Sony
Pros
High product quality
Good support
Featured products
Very less fault rate
Reliable products
Cons
Very costly
High maintenance cost
Very professional
6. Samsung
Samsung is the very famous brand in mobile industry but nowadays it also provides some security types of equipment. It mainly provides the stand-alone solution. In the Indian market, Samsung focused on the home security solution.
Pros
Popular brand
Reliable
Quality products
High product range
Good support
Cons
High maintenance cost
Difficult to find the authorised dealers
Based on popularity
7. Honeywell
Honeywell is also a brand who focused on quality of the products. It is a multinational brand and has a trusted value. Honeywell surveys in more than 70 countries and has more than 1,00,000 employees around the world. Honeywell is a very old brand and it gives the quality products of their customers. They focused on specific grade of customers.
Pros and cons of Honeywell
Pros
High brand value
Good quality products
Reliable
Good technical support
low fault rate
Cons
Quite Costly
Not very popular
Low product range
8. Panasonic
It is a Japanese company who has a group of companies in India.  Panasonic company established in 1918. It has a  good range of electronics equipment, home appliances, Smartphones, Cameras, Camcorders, Car Audio Systems, Air Conditioners, Washing Machines, Refrigerators, Microwave Ovens, Automatic Cookers, Vacuum Cleaners and a wide range of system products. Panasonic is a popular brand in Indian market. It has more than 12,000 employees in India.
Pros and cons of Panasonic
Pros
Good support
Very less fault rate
High product quality
Featured products
Reasonable cost
Cons
High maintenance cost
Generalised products
Lack of featured products
9. Gobbler
Gobbler is Indian company based in Kolkata. It is a brand of Tikmany Telesystem Pvt. Ltd, Gobbler CCTV brand have the corporate office in Kolkata (India) and have distributer in almost every state of India. Gobbler deals in surveillance Cameras, automation, IP PBX and biometric attendance. The company have a very good quality product that is the best part of the company failure rate is almost less than 5% another good thing is that they always think as the innovative supplier.
Pros and cons of Gobbler
Pros
Good Support
Quality Products
Reliable
low fault rate
Reasonable cost
Cons
Low brand value
Lack of product range
Lack of popularity
10. CP Plus
CP Plus is most popular brand in Indian surveillance market.  According to the IHS report 2017, CP PLUS stands is fastest growing brand in India. It has a wide range of surveillance security systems at the very reasonable price range. They delivered a quality tested products to their customers. It may be a good choice in India for security surveillance.
Pros
Popular Brand
Good product range
Reliable
Easily available
low cost
Cons
Moderate product quality
Low brand value
Lack of support
11. Watchnet
It is also a multinational brand and in India has Delhi based corporate office. Watchnet was established in 2000, and have been providing highly developed, competitively priced digital video solutions. With the dedication to quality and attentive customer service. Watchnet is a Canadian company who focused on quality of the products.
Pros
Good user interface
Very high product quality
Good support
High brand value
Very reliable
Cons
Costly
Maintenance cost is high
Not popular in Indian market
This is all about the best CCTV brand in India. if you have a query or suggestion please write us in the comment box below.
Disclaimer: This is the list(Best CCTV brand in India) based on our personal experience and may be wrong. Some of the detail taken by third party websites. Trust it at your own risk. CCTV Desk does not take any responsibility.
Please follow and like us: