What is an IP camera is question and answer to this question is given below in the form of definition.
An IP camera is a digital video Camera which can transmit and receive data packet over the intranet (LAN) and internet (WAN). Answer of what is an IP camera in another word is that it is a digital CCTV camera which can send and receive video signal to NVR (Network Video recorder) over the network.
So Each IP camera has its own IP address which requires network for video transmission. Similarly, like other network devices such as the printer, computer, and laptop IP camera also have Network and it is connected to the network in a similar way.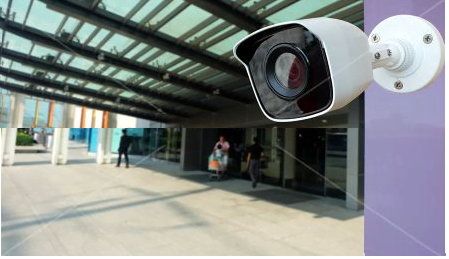 Apart from this, there are several advantages of using IP Camera over analog Camera, which is as follows
MINIMAL INSTALLATION COST
If you are going to install an HD CCTV camera then you have to bear the 1.5x cost in comparison to IP camera installation. In HD camera setup each camera wire has to come at DVR end but in IP setup you can use network switch combine some wire into one and then you can save some wiring cost and some installation cost as well.
LOW MAINTENANCE COST
If we want to have some good "reason to choose IP camera over HD camera" then we cannot ignore the maintenance. IP camera required low maintenance cost as compared to HD CCTV setup. It has less number of wire and fewer installation accessories so overall maintenance cost decreased. In the installation of IP camera, LAN wire uses and LAN wire is more reliable than normal CCTV wire. If we see overall things then result comes that, at maintenance point of view IP camera wins some extra points.
EASY TO EXPAND THE SETUP.
Lots of companies have a variable infrastructure. They are expanding their infra according to need. So it is quite obvious they also want security in the expanded area. In HD CCTV setup. It is very difficult to expand the setup because of HD Camera has a wire length limit, beyond this limit installation is not possible. On the other hand, IP camera has no length limit. You can increase as much as you want. So the expansion of infra is not an issue if you have an IP camera setup.
MORE RELIABILITY
In HD CCTV setup, there are so many extra accessories have been installed. So many connectors are there and sometimes these connectors are not proper punched and some problem arises. These problems are like video blur, no video etc. In IP camera setup LAN connector are used which is reliable, so chances of video loss are minimal. Some other factors also affect the reliability but always IP camera is more reliable.
IMAGE QUALITY.
Sometimes ago, In CCTV industry there was only one option that is analog CCTV camera and analog DVR, at the end of analog CCTV industry turned to the HD CCTV camera. But now we have some more option like IP. IP CCTV camera has superb image quality in comparison to the HD CCTV setup. Now, Some CCTV companies launch their IP camera with some extra feature like people counting, object verification etc.
Now IP Camera has some disadvantages and problem too, Below I mention problem also
3 MAJOR PROBLEM THAT YOU FACE IN IP CAMERA SETUP
1.CCTV IP CAMERA NOT PINGING.
Try to ping cameras IP from the same local network If the camera is not pinging then check following
Cable is properly punched.
 power in on.
The device is pinging from the same network
Nvr Ip address is in the same series to camera IP
Network cable properly inserted into the switch(if any)
The network cable is properly inserted into Nvr.
The network cable is not damaged.
2. VIEW NOT UPTO THE MARK
If the camera view is not clear or image is fossil age That means the problem is in that work.  again go to the command prompt ping the IP address.  If the response time is greater than 10 ms then it's time to upgrade your router or switch to higher bandwidth.
3. CAN'T FIND THE IP ADDRESS OF CAMERA
If you are unable to find the IP address of security device then you can't able to install it.  In order to get the IP address of the camera, you should connect your security device to your computer and install the software which is given by the IP Camera company. If you don't have the software then, no worry, there are so many tools available for free to find any device's IP address. Wire Shark is one of them. just go to Google and download one of them and search for it.
I hope this information is helpful to you.  If you have any query, please write to us in the comment box below.
YOU MAY ALSO READ other writers also
Please follow and like us: