Hikvision DS-2CD2563G0-IS Camera is a network mini dome camera that is available in 2.8mm and 4mm lenses. It is a 6MP camera. The device is a Fixed Lens device that covers a wider range of angles. The resolution, it supports is high, and the EXIR 2.0 technology makes the image quality super special.
The cam is from the world-fame manufacturer- Hikvision. Hikvision is an organization that primarily manufactures products in security surveillance. Its head office is in Shenzhen, China. The company's branches are all over the world. They are leaders in the security surveillance industry.
The device is equipped with sensors. They manage the security by sending alarms, and messages when they feel intrusion or threat. The two-way audio keeps you alert for sending messages and hush away threats.
It is a network mini dome camera with a fixed lens. The IP CCTV Camera is connected with a cat-6 cable.
The Buying Guide For A Fixed Dome Camera
You can get here a feeling that what a smart camera looks like-
Fixed Lens Camera
The fixed lens cams are those cams that have a fixed focal length. You can't adjust their length. These cameras mainly cover a very wide-angle and can't be zoomed. They are suitable for covering a sensitive area as they cover a wider field of view.
Colour Night Vision
The new generation of full-color technology is now equipped with dual-sensor structure and software optimization. It can output high-quality color images even when the white light is off which greatly reduces light pollution. In addition, its 4K resolution makes it possible to catch vivid color details at night. It also offers optical zoom and AI features that help save costs and improve work efficiency, making it suitable for a variety of application scenarios.
Resolution–  Resolution is the most important and primary factor to check before buying a CCTV camera. The better the resolution, the better is the picture quality. When the resolution is poor, then you see barrel distorted images or videos on the screen and they pixelate.
When you see footage and images are not clear, then you fail to recognize the faces, which is an example of poor resolution. Nowadays HD cameras and IP cameras are in more demand and they are available with very good resolution quality. Buyers like 1080P resolution quality very much.
Night-Vision–  Night vision is a must for any CCTV camera. If you have installed a CCTV camera, then it is for 24*7 support. When night vision is not clear then you may miss some very important clippings and activities that may cost you, dear, security-wise. Most of the cameras are with IR support. These IRs turn on and off based on the natural light available.
Digital camera– An IP camera is a digital camera that functions on the laws of Internet Protocol (IP) networks instead of analog electric signals. IP cameras capture in megapixels which are better versions for higher picture quality. 
Power-over-Ethernet– In PoE technology, you don't require a separate power cable and ethernet cable for each camera. It keeps the system smoother as there is a lesser number of wires. 
Passive Infrared Motion(PIR) Sensor– It is an electronic sensor that measures infrared (IR) light radiating from objects in its field of view. For that purpose, an imaging IR sensor is required. A PIR-based motion detector is used to sense the movement of people, animals, or other objects.
Two-Way Audio– Two-way audio makes you more powerful as you are in a position to pass instructions and guide or growl at a threat from a faraway place. It keeps you in the command.
Waterproofing– Check if the outdoor camera is compatible in stormy weather. IP66 layers are a must for cameras. It happens often that cameras develop glitches in strong weather conditions. Any good outdoor camera is weather resistant.
Wireless & WiFi– When cameras are wireless & wifi Accessible, then no clusters of wire around and it is always easy to access them online through any router installed in the range. It gives you the freedom to monitor from any remote location.
Recording– Check if cameras have a slot for an SD Card. Also find that you can preserve recording in the cloud or not.
Warranty– Warranty and company support are important. Cameras are always installed at key points. When they go out of order, then it is a threat to security. There comes the condition of warranty or company support as handy. A good company has always customer-friendly policies.
Advantages Of Hikvision DS-2CD2563G0-IS Camera 
Following are some of the advantages.
1/2.9″ 

(6 MP) 

Progressive Scan CMOS

EXIR 2.0 Range

 that can view up to 35 ft (10 m) 

EXIR 2.0 Range Up to 35 ft (10 m) 

H.265+ video compression for better quality

Sensors are superb

SD Card supported device

IP66 levels

 of waterproofing

IK08

 level protection. It is Vandal-proof.

12 VDC and PoE (802.3af)

 
Disadvantages
The device has

 no WiFi

SD Card

 is not given with the camera

No PoE switch and PoE adapter
Design Of The Network Mini Dome
The cam has a beautiful shape. It is designed in a semi-oval shape. The color of the device is white. The dimensions are 110mm*56.4mm, and the weight of the cam is 400grams.
The machinery of the device consists of- an alarm interface, a network interface, a CVBS interface, a debug interface, a slot for a memory card, and a reset button. The cam has a 2.8mm or 4mm lens.

Feature Of Hikvision DS-2CD2563G0-IS Camera 
The cam has distinct features and functions.
H.265+ video compression supported device. It saves bandwidth and storage capacity.

The image sensor it uses is 1/2.9″ Progressive Scan CMOS. It sends great images

It has a day/night cut filter

The camera uses a digital noise reduction technique.

The wide dynamic range

(WDR)

 enhances image quality under high contrast illumination conditions. 

120 dB

 is the range it covers.

It is available in 2.8mm and 4mm lens capacity

For 2.8mm lens, it covers a field of view- 2.8 mm, horizontal 

field of view

: 97°, vertical field of view: 67°, diagonal field of view: 121°

For 

4mm lens

, it covers a field of view- 4 mm, horizontal field of view: 78°, vertical field of view: 53°, diagonal field of view: 98°

The IR range it captures is 

35ft

 or 10meters
The sensors are powerful. It detects for safety- Line crossing, intrusion.

The maximum resolution it relays is 

3072 x 2048.

The frame rate at maximum resolution is 30fps.

It is a 

6MP camera

The sensors keep the threat at bay and send push messages and alarms to alert you.

The 

two-way audio

 is a potent feature because, with the help of it, you can communicate to someone who is at the camera end, or you can 

raise an alarm

 to surprise the threat.

The recording can be stored on the micro sd card. You can use the device as a standalone device.
It supports Applications to monitor the camera-

 iVMS 4500

, and Hik-Connect.

The device is waterproof. The rating is

 IP66.

The device is also vandal-proof. The level is 

IK08

.
Download The User Manual, Quickstart Guide, & Datasheet
Here, we have given you the user manual, quick start guide, and datasheet in pdf forms. You have to download them. We have given here download buttons. Click the download button to get them.
How To Install Hikvision DS-2CD2563G0-IS Camera 
In order to install the cam on your preferred location, you have to decide the location and then mark that specific area. After its marking, mount the mounting plate and then hang it with anchors and screws. Now, you have mounted the plate and then set the camera device on that mounting platform.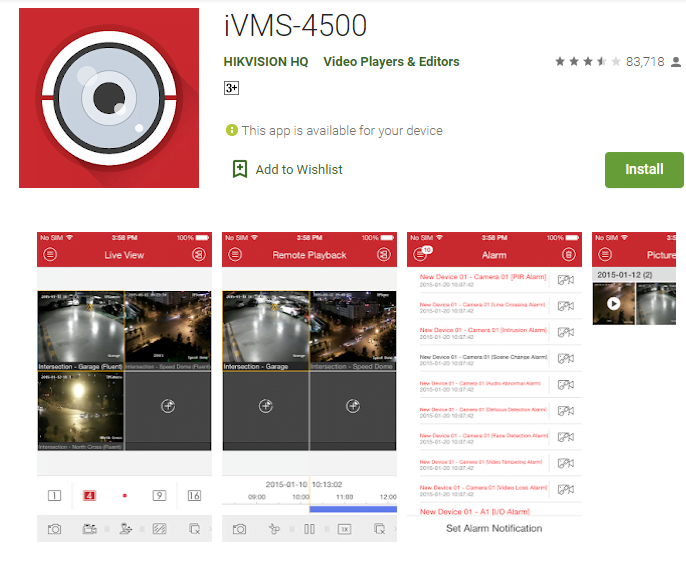 When you have to monitor the cam on your smartphone then you have to install its app. The name of the Apps is "Hik-connect App" and "iVMS 4500 App". You can find them on the google play store. Scan the device's QR Code and add the camera. Instructions will prompt, and you will be able to find those devices on your smartphone.
Users Review
DeeHoov from the USA opines that-
This camera works best in the H265+ mode, but both H265+ and H264 modes have streaming bitrate problems. First, the highest 

VBR quality

 still produces some moderately ugly blocking on smaller areas and motion areas. 

Due to the lackluster VBR quality, CBR would need to be used to get a higher quality video. The problem is that the streaming starts getting flaky (cutting out or not streaming at all) at

 CBR

 bitrates of 2048 or higher. The only workaround is to use a lower CBR rate (1536 still seems cleaner than the highest VBR rates), or lower the resolution/fps and try to up the bitrate.
Should I buy It?
The cam is a mini dome cam that is a fixed cam with 2.8mm and 4mm lenses. The cam has a resolution of 6MP. the maximum resolution it has is 3072 x 2048 Resolution @ 30 fps. It has two-way audio, and it is sensor-equipped. It covers a very wide angle. You can get maximum coverage by installing the device.
Conclusion   
The camera can be used as an outdoor and indoor camera. You can install it at your front door, backyard, garage, office, or home. It fits in every place and in every circumstance. You can use this cam in your favor.
Please share your response in the comment section regarding the camera review.
Thank You.