JideTech 5MP PTZ WiFi Camera is a product of JideTech Company based in China. It is a wi-fi security surveillance camera with a 5MP lens. 
The camera gives us a superb view as it covers 360 degrees view. You can view clearly up to 400ft when using the JideTech PTZ Camera. It has a unique function to zoom in on the image 20X times. The resolution quality is top class. It does not blur the image in zooming in even when outside is pitch dark. 
The motion and audio sensors are sharp and intelligent as they effectively track the activity on auto mode. The design and make of the JideTeck cam are sturdy, and waterproofing is of IP66 standard. 
Since the device is wireless also, it is very easy to install and use.
The service and warranty coverage is well channelized as they have service centers available at many places. Jide Tech PTZ cam device is available at $239.99 at Amazon.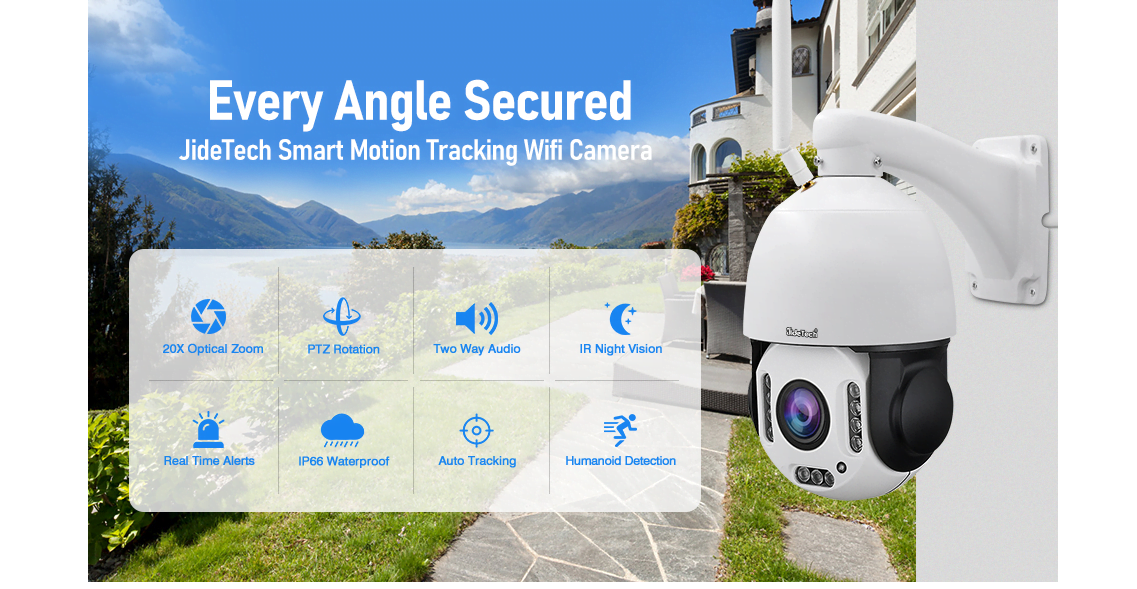 Buying Guide For A Quality PTZ Camera
Pan/ Tilt
All PTZ cameras can be moved horizontally or vertically. They are made to function that way to cover the maximum coverage area. 
When cameras move horizontally to cover the wider angle of the location then it is called as panning of the camera.
When they move vertically to cover the wider range then it is known as tilting of the camera.
Cameras can rotate horizontally up to 360 degrees and vertically up to 90 degrees. Though, the degrees of the movement varies from product to product.
Some latest good quality PTZ cameras can also be operated from a remote location with the help of the APP. Because of wider angle coverage, PTZ cameras are highly useful for sensitive locations that are big also.
PTZ cameras are special because they can be zoomed in and out manyfold. By zooming in the image you can trace even the minutest of the activities very clearly. 
You can zoom in on the image from 2x to 40x and even more. The better the resolution and image quality, the clearer the zoomed clip. The quality of the zoomed image depends on the quality of the varifocal lens and the setting of focal length.
Image Quality
People have become accustomed to HD (1280 x 720) and even full HD (1920 x 1080) resolution videos for digital PTZ cameras/recorders and online videos, and with TV quickly moving into the HDTV era, IP camera users have come to expect megapixel resolution images from their cameras. 
Price is also no longer an issue since the difference in cost between megapixels and SD (usually 720 x 480 or 720 x 576) IP cameras is relatively small.
Price is also no longer an issue since the difference in cost between megapixels and SD (usually 720 x 480 or 720 x 576) IP cameras is relatively small.
Motion & Audio Sensors
The technology is improving day by day, making it much more effective at tracking objects of interest. It keeps the user safe from any kind of threat. 
Sensors are functional in such a way that they relay alarms or switch on floodlights or lights attached to the PTZ camera when they read something fishy. They also send you notifications on your mobile phones when observing suspicious activities.
Weatherproofing
Since PTZ cameras are used outdoors, weatherproofing is a must. Check whether your cameras have IP66, IP67, etc. level waterproofing at least.
Two-way Audio
All good PTZ cameras are equipped with speakers and microphones. With the help of the app, you can talk two-way and communicate with the person on the other side. It is a very useful function. With its help, you can alert others or hush away the threat.
Storage
Most cameras have an SD-Card slot that supports capacities up to 128GB. When you have this facility in your camera, then your camera is complete in its totality. It doesn't require any external source like NVR/DVR to record the activities.
Night-vision
Cameras have an inbuilt IR system. You have to check the quality of the night-vision. If night-vision is weak then it will capture dull images, face recognition would be difficult. The security purpose would be in peril.  
Warranty & After Sales Service
Company support means warranty and after-sales service. It also means when you find any problem in installing and functioning then, the system is there behind you to support you in removing those issues.
Advantages
5MP HD Night Vision

Spherical Repeater

360°viewing angle

Smart Detection Tracking

Two-way audio & Remote Viewing

Stronger material & Better Compatible

One year warranty

20X optical zoom

36 Preset Positions
Disadvantages
Cloud recording is chargeable

SD Card is not given in the pack

Doesn't support 5Ghz wi-fi
Unboxing

1 × IP Camera

1 × WiFi Antenna

1 × User Manual

1 × Mini CD

1 × Set Screw

1 × Power Adapter
Design Of The Camera
It is white with dimensions 11.93 x 9.17 x 6.77 cubic inches. It weighs 4.66 pounds.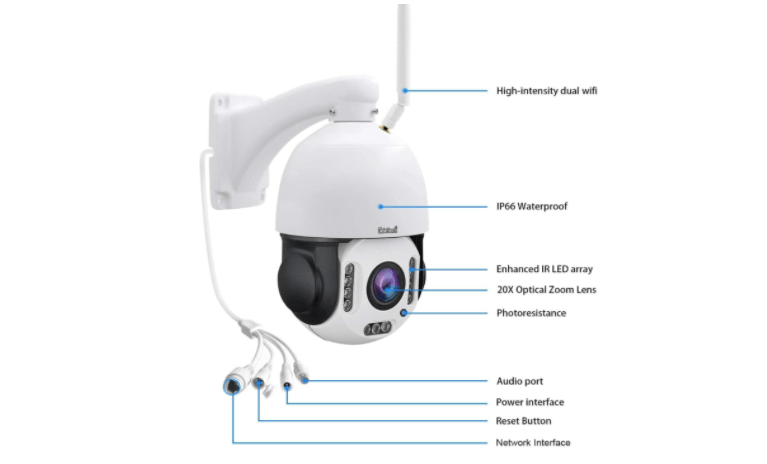 On the front side of the device, there are 12 LEDs. There is a lens, a PIR sensor, a photo resistant, a microphone, and an access point that is also designed on the front side. On the backside, there is a slot for SD Card, and an antenna is fixed.
Features Of JideTech 5MP PTZ WiFi Camera 
The cam has many salient features.
Night-vision
 Image Sensor adopts 5.0Megapixels IMX CMOS. Provides ultra-HD night vision images at a distance of 400 ft. It is different from our other outdoor PTZ cameras.
Spherical Repeater
This camera Uses spherical built-in WIFI signal transmission components. Reduced the penetration of WiFi a little bit but greatly improved the stability of the signal.
Pan/ Tilt
Rotate 360° horizontally and 90°vertically to cover every corner, delivering a seamless live view. Unlike traditional PTZ cameras, which rely on current and voltage for position calibration.
Auto Tracking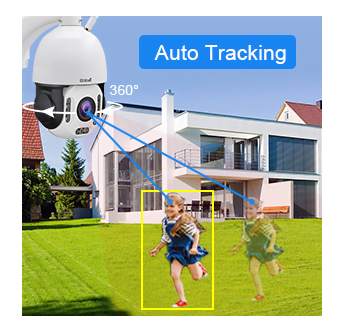 Improved intelligent motion/humanoid detection and auto-tracking function, which reduces false alarms. Real Push notification to phone app or Send an email with the photo when motion is detected.
Two-way Audio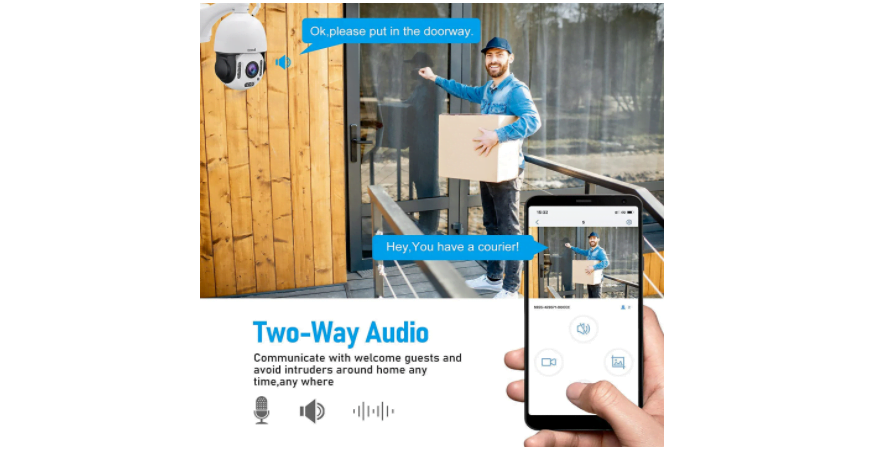 It allows you to communicate with people in the surveillance area when you're away from home. When you receive an alert, you can give a warning to get rid of the danger. 
Compatible With NVR & Standalone
Compatible with most NVR and 3rd Party Software- CamHi, HiP2P, iSpy, Milestone, Digi Fort, Blue Iris– and Computer Browsing (Google, Firefox, IE) (It supports 2.4G WiFi).
One Year Warranty
Guaranteed for Full Year Warranty After Purchase and Engineer Online Technology Supporting.
20X Optical Zoom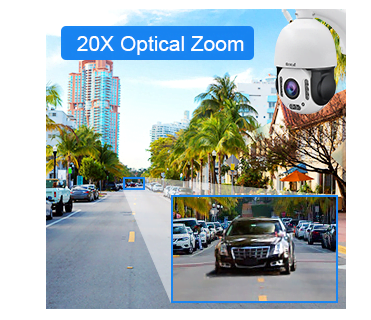 20X optical zoom IP camera produces brilliant 1920P video at 15fps as well as features enhanced utilizing the latest SONY IMX335 CMOS image sensor and chipset.
Pre-set Positions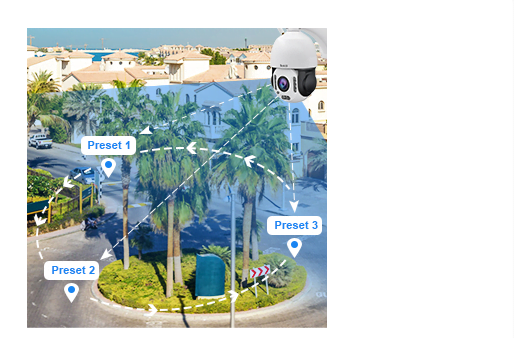 The device supports preset cruise points. You can set the time and speed of the motion in patrolling. There is 36 preset points option available in the system.
Waterproofing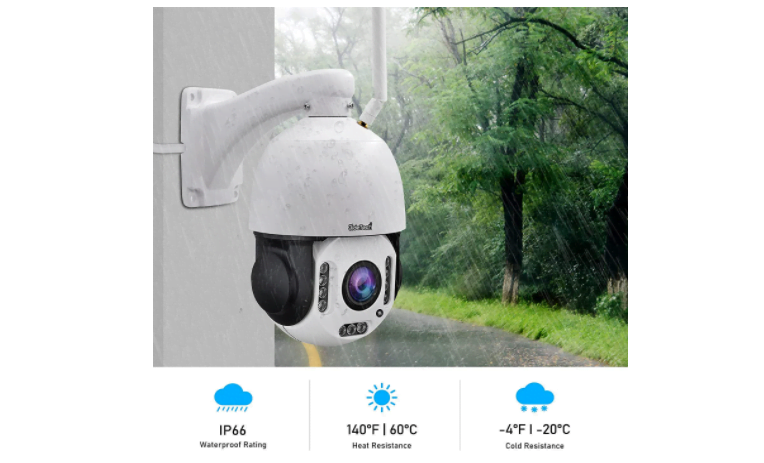 Metal Aluminum Case with a solid construction, equipped with waterproof level IP66 to make the camera survive the various harsh environment. Operational temperature -40°~ 60°, you can absolutely take it easy to put it outside.
Multi Software Compatible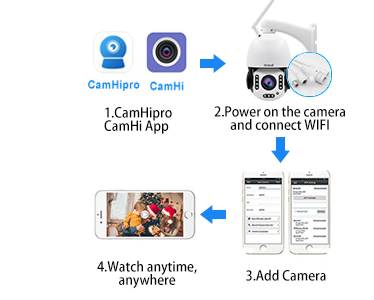 In addition to CamHi, you can also add the surveillance camera to other software. The camera supports you to view on your PC through the blue iris, iSpy, and our PC Clients; View the camera through IP CAMERA VIEWER, P2PWIFICAM on your phone, You can use CamHi. Also, this outdoor PTZ camera works with NVR which supports ONVIF.
How To Install?
To install this wireless cam is pretty easy. The first step is to find your desired location. After it, mount your cam base to that location and hang the device with the help of anchors and screws.

To download the app on your mobile, open the Google play store and search for "CamHi App". Install the app, and add the device by clicking the "+" sign. Scan the QR Code, and follow the instructions. Connect the cam and monitor from any remote location.
The Users' Response To JideTech Cam
Mike M from the USA says that
The camera itself is wonderful but the software to work it is absolutely horrendous. I understand that there could be other software interfaces to use but the manufacturer recommends a particular one and that's what I downloaded. 

Why should I have to contact the manufacturer to get numbers to an endpoint to input for the camera to work for certain options Etc? Everything should be in the manual that comes with a camera or and the software. 

I set it up as the manufacturer described though and it took a week and a half waiting for responses to times. It absolutely sucks. Again the camera is great the software sucks. 
Tim opines that
Having previously purchased a number of the 5MP 5X zoom version of the Jidetech cameras (which I am very happy with) I decided to try the new 20X zoom camera.
Just like their other cams, the 20X is well built with a cast aluminium housing and glass (not plastic) covering over the optics and IR LEDs. 

It is about 1/3 again larger and with a more robust cast aluminium mounting plate. It feels solid, and if mounted securely is not likely to be easily damaged.

The most noticeable difference between the 5X and 20X Jidetech cams is in the image quality. I suspect that 20X must use a larger sensor with better optics as the image is amazingly sharp and clear. 

This device with 20X mechanical zoom is like looking through a spotting scope bringing distant objects up close with amazing clarity. While the 20X cost is ~ 40% more than the 5X my initial impression is its money well spent in applications where image quality and ability to zoom into fine detail is important.

The 20X, just the 5X, cams also have smart humanoid tracking, with push alerts, which works well and makes motion detection simple and without a bunch of false alerts.
Should I Buy It?
If you are looking for an outdoor cam that can cover a vast area with 360 degrees horizontal view, and 90 degrees verticle view then this cam is going to win the race.
20X zooming in and auto-tracking make it worthy of its price. Wi-fi features make the setup hassle-free. It is a standalone cam so you can plant it at any outer location by simply providing power to it.
Among the coterie of PTZ cams, it is among the most precious device. You will definitely fall in love with it.
Conclusion 
 It is wire-free and wireless. That makes its installation and maintenance easy. Its multi-functional features make it very special. An outdoor covered with this cam is secured and protected.
Whatever may be the reasons behind your installation of a security system, this device covers every aspect of them. 
Pan, tilt, and zoom. It covers every room.
It is my article on the JideTech PTZ wireless camera. Please share your comment that how it helped you. Your opinion matters.
Thank You.