Reolink Argus Pro Cam is a unique camera that gives us the freedom to use it wirelessly at any outdoor location. It is a Reolink Company product that is renowned in Surveillance Security Systems. It receives power from the solar panel attached to it. 

Global warming has given a new thinking pattern to the world. People are more prone to solar-based products. 
That is where Reolink Argus Pro comes into effect. It is a standalone solar cam with brilliant features. Its resolution is high, and image quality is top class. The device is easy to install and very user-friendly. You can talk two-way, receive notifications against any threat, cloud-based recording facility, etc. are some of the notable functions. 
The bundle price(Argus Pro+ Solar Panel) is $79.49. Again the price is justifiable. 
[Camera Review: Reolink Argus Pro 3 Cam]
Buying Guide For A Solar Panel Based Camera
 Solar Panel Reliability– Here, you have to look for a weatherproof solar panel design, ingress protection type, etc. What is the power output given, and materials used in the solar panel? Feasibility to smoothly run the CCTV in all conditions. Check them to know your device better. It is also important to know that after fixing your solar panel you can rotate the panel to get maximum sunlight.
IP Protocols Support– Make sure the camera supports the ONVIF and RTSP protocols. It allows your device to function properly with other devices.
Power-over-Ethernet– It means that it supports the technology that enables it to transfer power and data through the same cable.
Weatherproofing– It is checked with the IP(Ingress Protection) type. Make sure that your device is IP65, IP66, IP67, etc. type.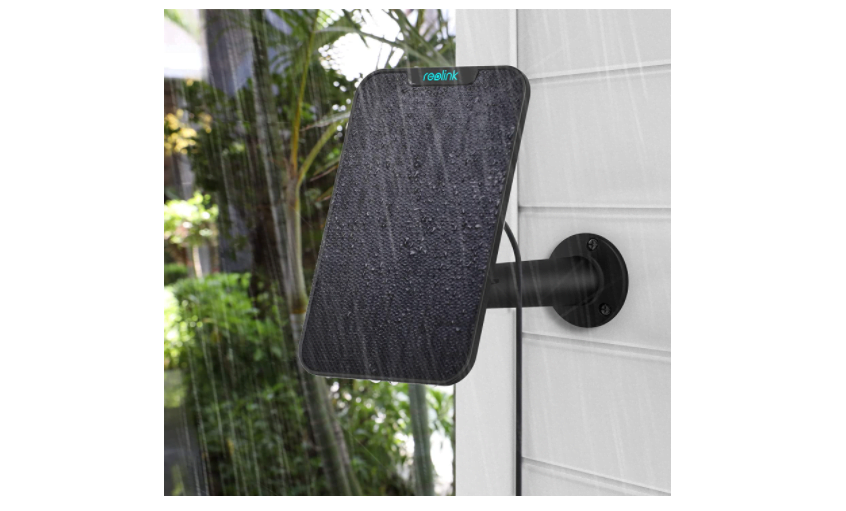 Resolution– With digital IP cameras, the resolution is specified by the number of pixels. The higher the pixels, the better is the resolution. 
Night-Vision– Most IP cameras have built-in Infra-Red(IR) illumination. The most popular ring-type LEDs tend to decline after a year or so and are found in entry-level models. EXIR LEDs are stronger and more long-lasting. For a better night image quality, many cams are also attaching a spotlight or floodlight with IR LEDs.
Storage– Almost all standalone cameras have an SD card slot available in the device itself. Check the storage capacity your device supports. Also, check the Cloud recording facility of your appliance.
Wifi– This is the time of the online platform. If your surveillance system is wifi enabled, then it will be easy to connect and function.
Warranty– It tells about the services of the company. A warranty of at least 1 year is good for you. 
Advantages
 Wireless

 DIY Installation

Rechargeable Battery-Powered

Full HD Video Display

Functions well with 

Alexa & Google Assistant

Starlight Night Vision

Instant Playback for Local or 

Cloud Storage

Standalone Setup and Operation

Compatible Camera

Weather-Resistant 

2 years warranty
Disadvantages
 Doesn't support 5Ghz wifi

Sd card is not included

Cloud storage is chargeable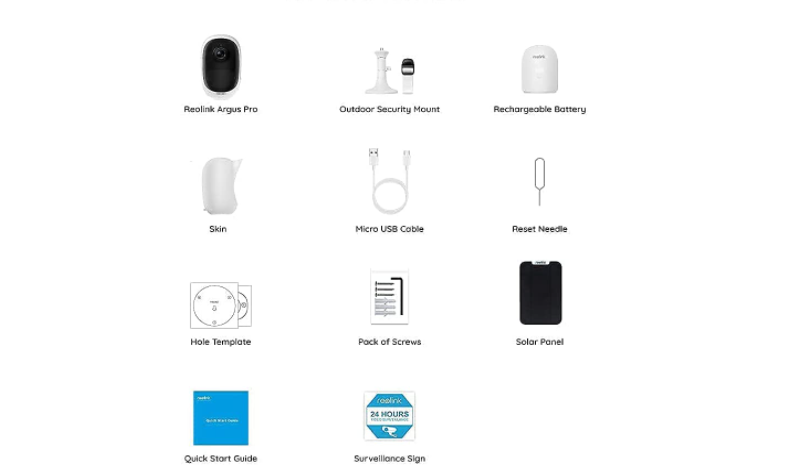 Unboxing Of Reolink Argus Pro Cam 
What's in the box

1* Reolink Argus Pro Camera

1* Reolink Solar Panel
Design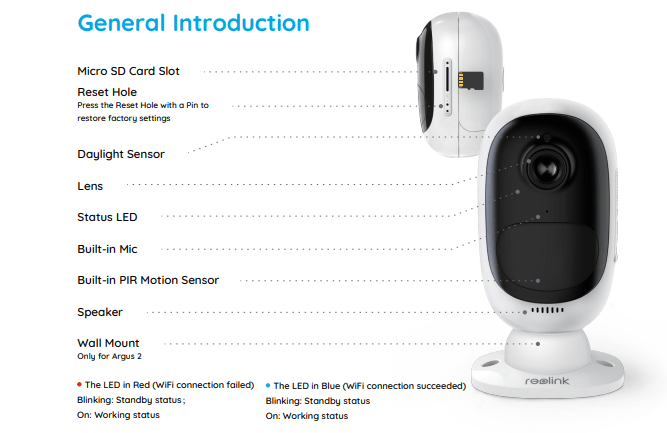 It is a capsule-shaped camera with a flat bottom. On the front side, there is space for a lens, LEDs, microphone, PIR motion sensors, speakers, etc. On the rear side, there is a slot available for a micro Sd card and a reset button.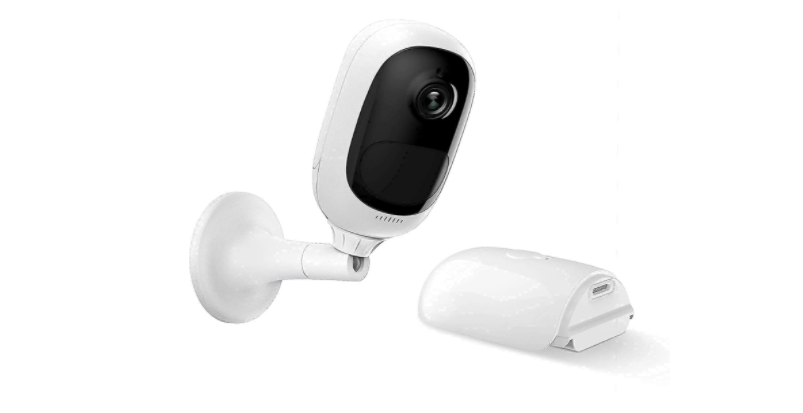 Features Of Reolink Argus Pro Cam 
 It has outstanding functions.
Easy Installation– Adjustable mounting bracket and 4m long power cable make installation easy anywhere and ensure maximum sunlight exposure. You also can add up to 2 Solar Panel extension cables so that the total distance can reach up to 13m (43 feet).
Weatherproof– Waterproof is designed for both indoor and outdoor use. So you can feel free to install it outdoors, like in your garage, backyard, or anywhere else. With an IP65 weatherproof certification, Argus Pro has proven its durability against harsh weather, like heavy rain and extreme sun.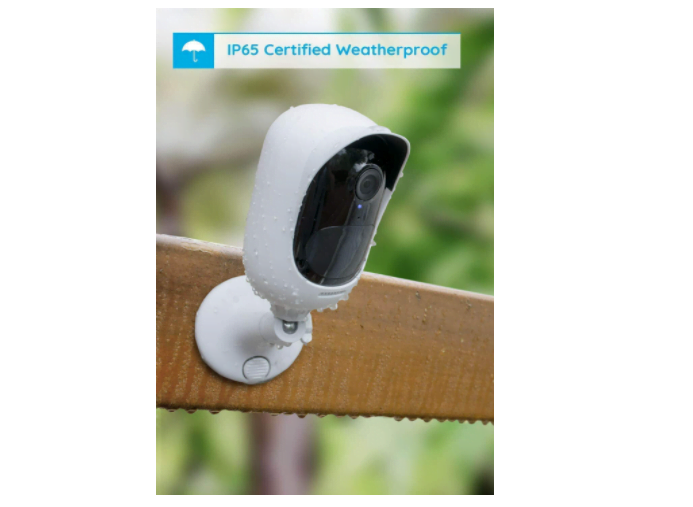 Rechargeable Battery– With a micro USB port and rechargeable battery, Argus Pro can be standalone for up to 4-6 Months, or charged by a universal 5V 2A power adapter or by the Reolink Solar Panel to get a continuous power supply. (Power adapters and Reolink Solar Panels are sold separately).   
Solar-Function– It can absorb more sunlight to keep your camera work well and support your security camera operation for days and nights. You don't need to waste time changing the batteries of your camera frequently.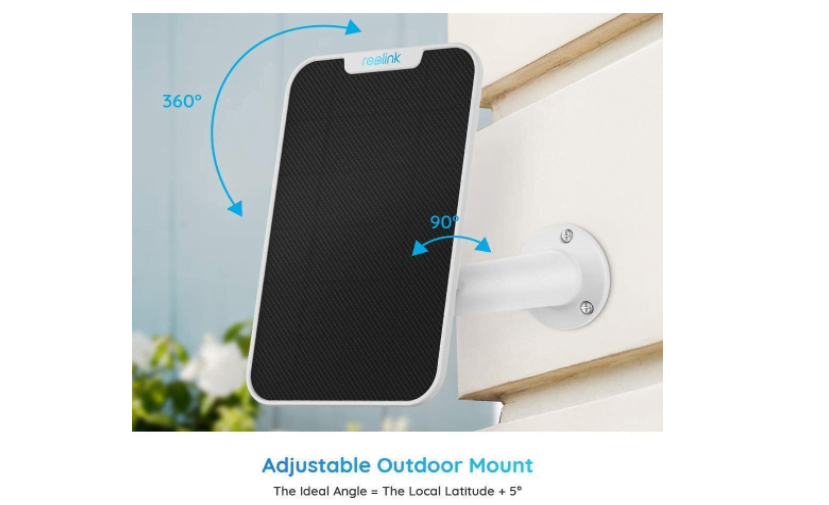 Encrypted Cloud service ensures your motion-triggered recordings are stored safely. Local SD card storage is also available, up to 64GB SD card is supported (not included).
Resolution & Night-Vision– Equipped with 1920×1080 resolution, the Argus Pro captures smooth, crystal-clear videos. Advanced image sensors are installed in this outdoor security cam, which provides you with clearer night-vision footage for up to 33ft.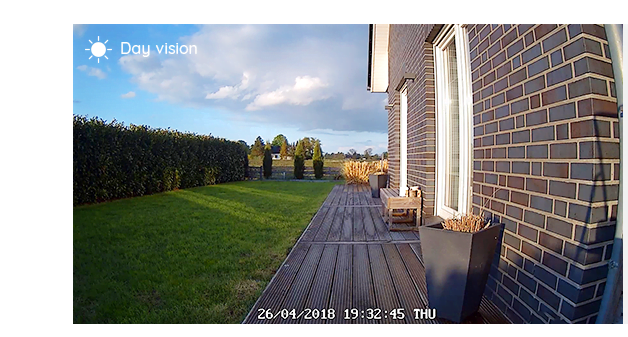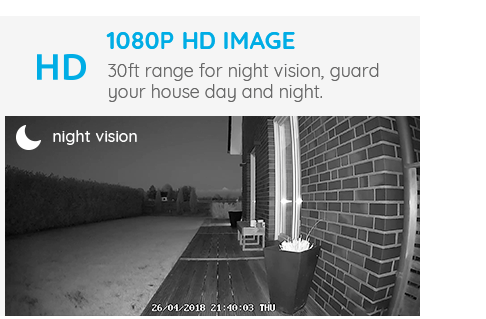 Playback & Storage– The Argus Pro allows users to add microSD cards up to 64GB of space to their wireless security camera. Save motion-triggered videos to your SD card and Reolink Cloud swiftly. Recorded videos can be replayed via the Reolink app and client, without any additional subscription fees.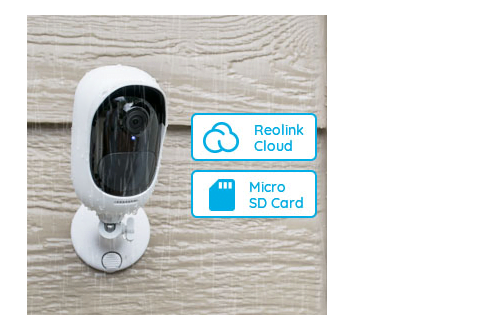 Standalone Setup & Operation– Users can install and operate Argus Pro by directly connecting to a 2.4Ghz wireless router. This eliminates the need for a security base station. Comprehensive voice instructions for setting up the security cam are available on the Reolink app.
Alexa & Google Assistant-Enabled– Just say "Hey Alexa, show me the backyard" and you will see the live feed from the camera on your Echo Show or Echo Dot.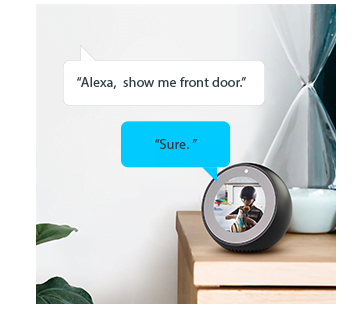 Privacy & Motion Mask– Reolink App allows you to set up to 3 privacy mask areas to protect the personal privacy of eg. Public footpath, neighbours property, or license plates.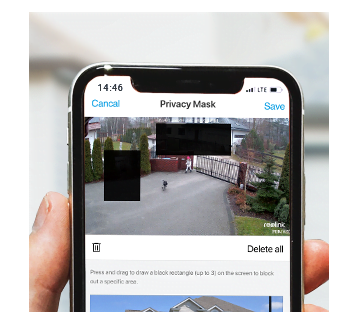 Battery(Solar-Recharged)– 5200mAh rechargeable battery (Battery life varies based on settings, usage & temperature)
Two-Way Talk– Hear what's going on inside/outside your home and talk back just with a touch! With the built-in microphone and speaker, you can communicate with your elders, kids, babysitters, pets, etc., and warn verbally any uninvited, even when you're thousands of miles away.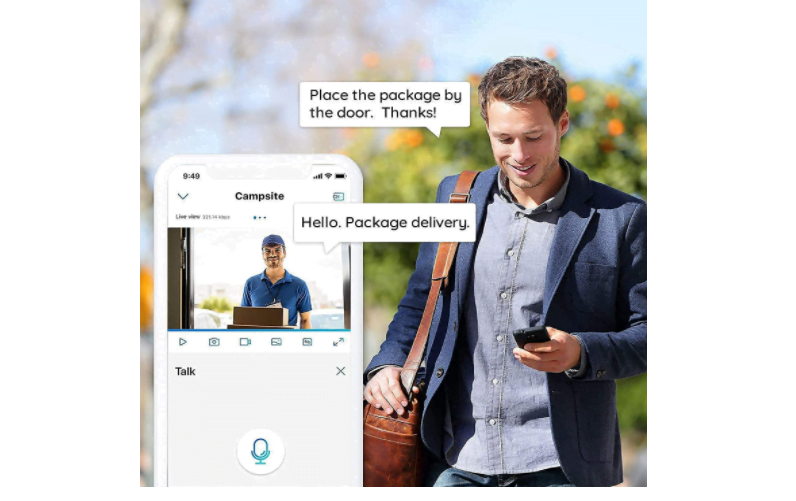 Warranty– Reolink solar panel is supported by Reolink 2-year limited warranty to provide better service and quality guarantee, 30-day money-back guarantee.
How To Install?
To install the camera manually, you have to fix the stand at the desired location. Then you have to fix the camera with the help of screws.

To install the cam on the mobile, download Reolink App from the Google Playstore and install. Then add the camera by scanning the QR code. Follow the instructions to add the cam.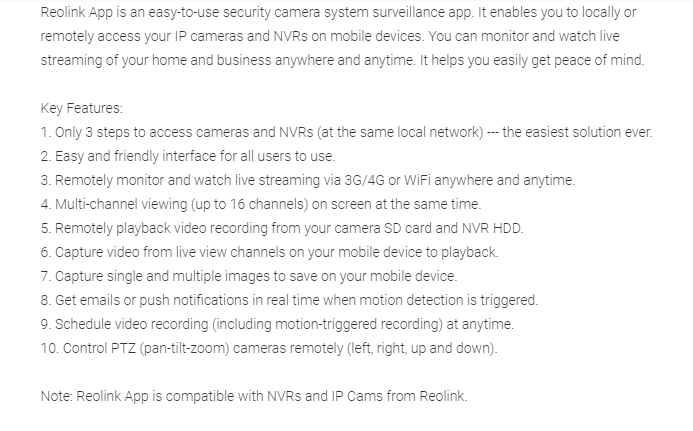 Users' Review
Walter Jeffries from the US shares his opinion about the product as
Good camera until the battery gets too cold – good customer service. I have had five of these. Three dead, two workings. The problem is they do not deal well with cold weather. Not even moderately cold. No freezing allowed. The problem is the battery pack. I live in USDA Zone 3 and the batteries can't handle our fall, winter, or spring weather. So I can only use them outside during the late spring, summer, and early fall.

The company has been very good with technical support and replacing the units as they died. But they need to redesign it so that it works in cold weather.
Kyle S says from the US says that
Love this camera. Nice picture and sound. Picks up cars on street, and hard to adjust the motion field without losing part of the video, but I don't have it set for alerts so no problem. If you want alerts, may be annoying.
Robert Gamble suggests that
These cameras keep getting better… I have 3 outside and 4 inside.
Another Customer from Amazon mentions that
Great camera. The picture quality is great, and it was easy to set up.
Should I Buy It?
Agus pro is a good camera. Functions are also very satisfactory. Performance-wise it is great in those areas where sunlight is bright, and fair in those areas where sunlight is dim. It is only because it is a solar camera. 
If you are looking for a modest budget good company camera with all prominent features, then this camera is for you.
Conclusion
Argus Pro has all the latest functions with solar support. The solar recharges the battery and it lasts for a long duration. There is no need for any power supply to operate the cam. You can use it at will and change the location as per requirement, as it doesn't require any cabling. Overall, its performance and quality are fine and company support is super fine. You will feel satisfied with it.
This is the review of the Argus Pro cam. You must have found it helpful. Please suggest to us your precious opinion about the review, in the comment box.
Thank You.