TOCWOC 5MP WiFi PTZ is a very affordable range cam for outdoor. It is a small cam that has many features to give you complete surveillance. With a 2560X1920 resolution, the picture quality is impressive. 
It has two-way audio that supports you in your protection. With it, you can give instructions or also hush away the threats. 
With auto-tracking, you are safe because the device is switching on the spotlight by sensing suspicious activities. You have this facility available to record the cam activities on the cloud. 
The night vision is clear, and you can see the night vision images in three different ways, infrared night and day vision, colour night and day vision, and smart night and day vision. They guarantee that no single movement in the darkness goes unchecked. It is moderately priced at $45.99.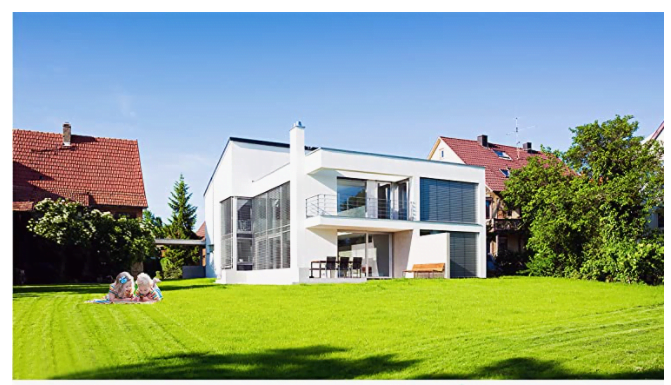 [Cam Review- SOVMIKU SFWHD313 PTZ 3MP Outdoor Camera]
Buying Guide For A PTZ Camera
Check your device on the following counts. 
Resolution– If the resolution is high, it means images and footage are clear. A high-resolution device must be your preference.
Digital Zoom– Check the zoom in and zoom out. If the image is getting blurred by 2x or 3x zooming in and out, then the far-away object can not be identified clearly.
Night-Vision– Check the spotlight or floodlight of your camera. Maybe your camera is an IR LED attached. EXIR LEDs' performance is better than normal LEDs. Know the night mode of your camera.

IP Cameras & PoEs– IP Cam is the latest and modern range. Installation is easy, and picture quality is the best. Go for IP appliances only. IP Cameras are network-based security cameras that communicate over a computer network to send a data signal back to the recorder. 
The data signal may consist of video, & audio. Here, the power and data cable is the same. You don't have to run separate cabling for both. 
Waterproofing– Check that your cam must be weather and vandal proof. Any outdoor cam has to face tough weather conditions. Your device must withstand it. 
WiFi– A wifi cam is easy to connect and operate from a remote location than a wired cam. A wireless device is always beneficial.
Warranty- If any glitch occurs while using the device, then what is the replacement or services policy of the company.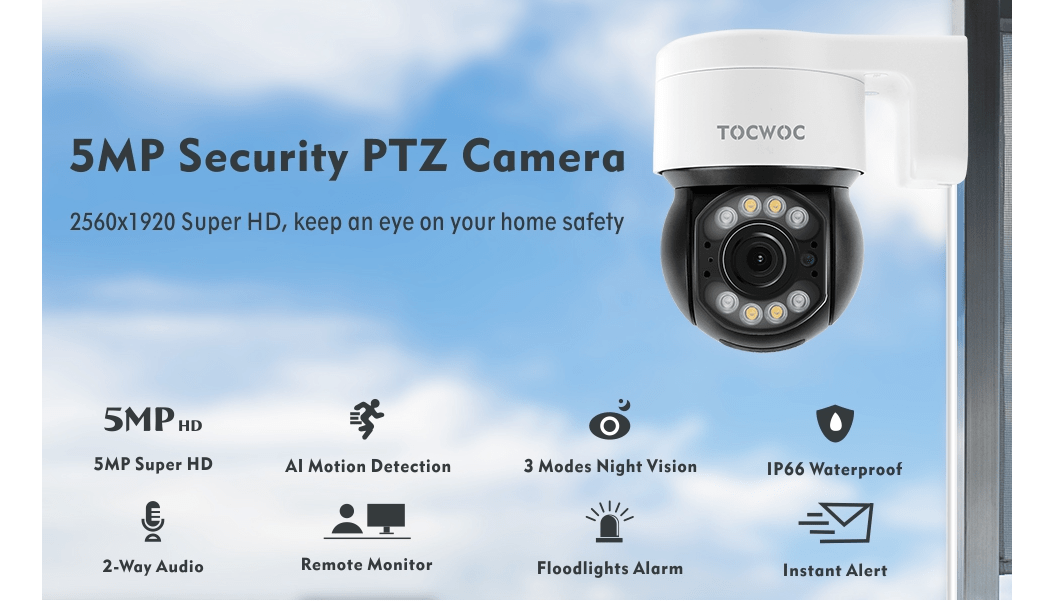 Advantages
True 5MP Ultra HD

 

4X Digital Zoom

Auto Tracking

 3 Modes Night Vision

Two-Way Audio

Sound Alarm 

Pan/Tilt 360° View

 IP66 Waterproof

Optional Storage Methods

Disadvantages
 TF card storage not included

Cam is not vandal proof
Unboxing
1 x 10Ft Power Cable (DC 12V/1A) Power Adapter for Camera

1 x Screw for Cameras' Installation

1 x Sovmiku SFWHD313 PTZ camera

1 x 3.2 Ft Ethernet Cable

1 x User Manual
Design
TOCWOC 5MP CAM is a round-shaped 360 degrees device. On the face of the cam, there are 8 LEDs, colour lights, and smart lights are attached. There is a point for the sensor, and a microphone is also attached on the front side. 
On the tail end of the device, there are slots for an SD card, a USB port, and a PowerPoint. Its dimensions are 7.6 x 6.61 x 4.17 inches and weigh 1.34 pounds.

Features Of TOCWOC 5MP WiFi PTZ Camera
It has the following features.
True 5MP Ultra HD – TOCWOC Outdoor Security Camera with 2560X1920 resolution and 3.6mm 5-megapixel lens offers you crystal clear image quality to monitor your property. Fixed lens with auto-focus function with 3.6mm 5 megapixel lens provides clearer surveillance video footages than other 1080P IP cameras.
4X Digital Zoom– 4X digital zoom allows you to see more details of far-away objects without getting closer. This WiFi camera ONLY works with 2.4G WiFi and Wired Power.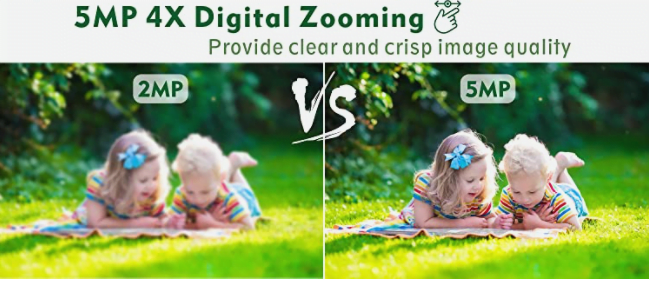 Auto Tracking– This security camera outdoor can capture all human movements, automatically track moving people or objects, and you can customize the sensitivity and detection zone in the settings.
3 Modes Night Vision– This ptz surveillance camera will auto-switch tonight image mode when illumination <0.4lux, you can set up smart night vision, infrared night vision, and smart automatic night vision 3 modes, full-color night image range up to 50ft.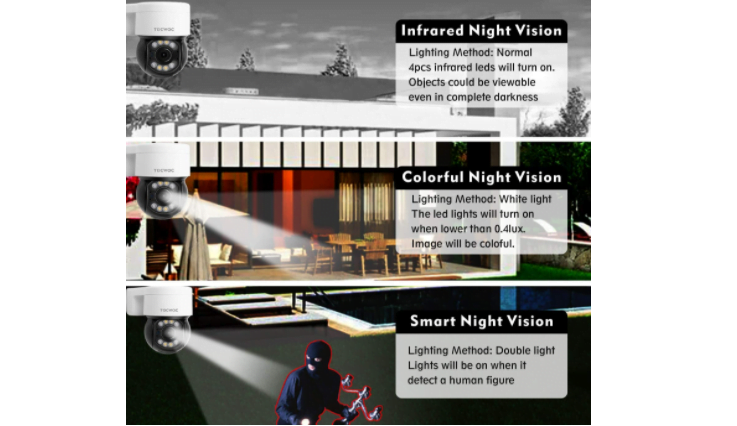 3 different modes to meet your needs. White light mode: The floodlight will be ON when illumination is less than 0.4 LUX, image is colourful. Double light mode: The floodlight will be ON when it detects a motion. Normal mode: The infrared light will turn on when illumination is less than 0.4lux, the image is black and white.
Two-Way Audio– TOCWOC Wi-Fi Wireless Camera needs to plug into the outlet to work. Built-in advanced microphone & speaker allows you remote access to communicate with welcomed guests, or scare off intruders.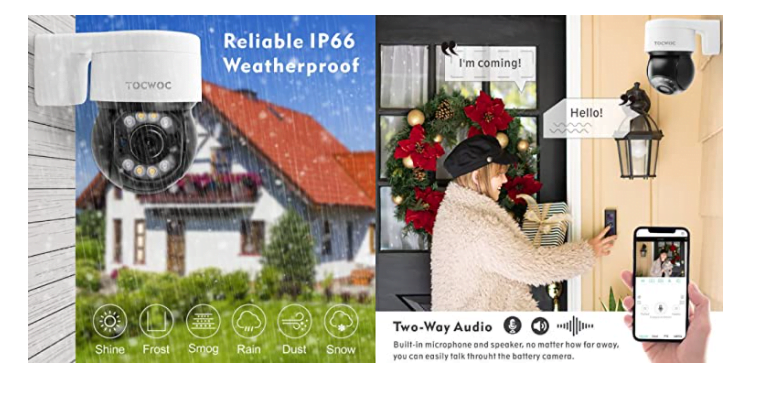 Sound Alarm– Notifications with ultra-clear images will be sent to your phone and a voice alert will be triggered whenever any movement is detected by the security cameras.
Pan/Tilt 360° View– This security camera for the home provides a 330° horizontal and 90° vertical rotation range, achieve almost 360°panoramic viewing.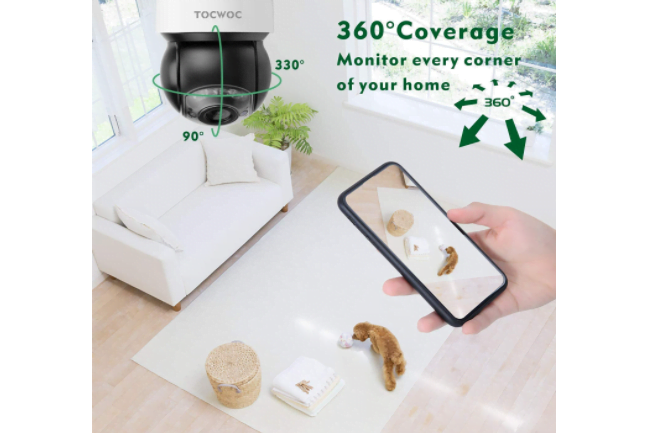 Waterproofing– IP66 waterproof and weatherproof enables you to install this IP camera outdoors and indoors.
Recording– You could store 24/7 surveillance footage in the micro sd card(not included) or subscribe to the cloud service. Supports 5 online visitors simultaneously. You could use a micro sd card or buy the cloud service, choose one of them for recordings and playback. Videos are saved safely and privately.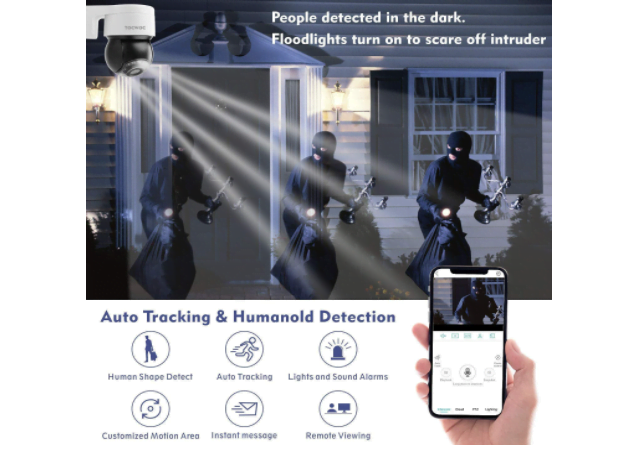 Multi-User Access– This home security camera allows you to create several guest accounts and share the videos instantly with your family and friends. If you have any problems with these outdoor cameras, please contact us via amazon email.
AI Human Detection– The outdoor cameras can automatically track the moving people or objects, and upload motion-triggered images. You can set a planned alarm time, and set the sensitivity, when the alarm is triggered, the mobile phone app will receive alarm push notifications.
Set Special Zones– Set up the alert area by your needs in the human shape detection rule set. You won't miss any alerts that matter and won't be bothered by false alerts.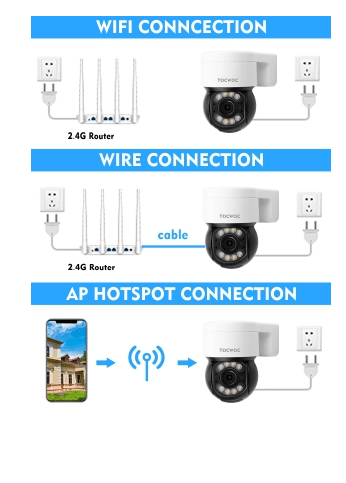 How To Install?
You can install the camera by yourself within several minutes. The installation has never been so easy. Pick your location and install it at the desired place with the help of instruments given in the pack.
Adjust the cam by looking at the various angles of the device.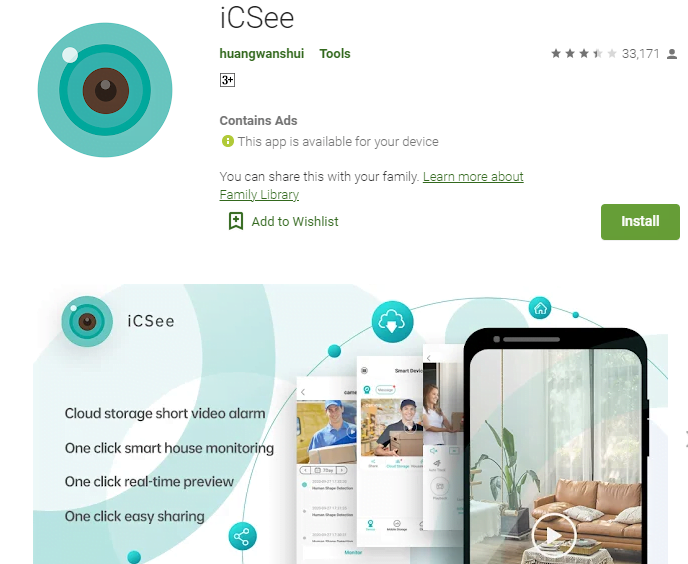 For downloading the app you have to search the app-ICSee App from the Google lay store. Scan the QR code and navigate through the instructions to connect your device with the cam.
Users Responses & Feedbacks
Mr. & Mrs K from the USA says that
I have several concerns about this cam's software options. Purchasers should not need to trust this manufacturer with network access or "precise location" information on mobile apps (android might not even ask you). There's no way we should trust the PC app.

You cannot opt out of these unnecessary disclosures. Once on your network and with your precise location, the manufacturer or hackers thereof have access to your network, know exactly where your network is on the globe, and could do who-knows-what on your PC. Also, this requires a verified email account, even if you have no interest in the online services.

I'd be OK with AP mode only, no company account required, no location info, on an iOS app. Also, web tech exists to support the installation less browser only web app hosted from the device itself WITH streaming video. And supporting that software would probably be cheaper for the manufacturer and be more portable to various computer systems, rather than just Windows.
LAWLF says that
I purchased the 5MP Outdoor Security Cam, TOCWOC Pan / Tilt Home Surveillance Cam, Waterproof Wi-Fi Cam with Color Night Vision, 2-Way Audio, AI Human Detection, Auto Tracking, and Slot Storage in cloud / SD because I am buying outdoor cams to put at every door around my house. 

This cam comes with very good instructions and my son was able to install it easily. So far it is working as it should and the picture is very sharp and clear. I do love the 2-way audio system so I can talk to who is outside if I choose. Great camera.
George Starr From The USA Says
I got two of these, they work, and for 33$ I don't mind adding them as extra cams on our system. I have 12 static 2mp cam and 2 nice 5mp PTZ's (20x) already and this one will be more of an on the porch cam replacement as the resolution is better than the OLD cam I have there.

Not too bad to set up. The motion tracking works so no complaints there. I'm going to see if I can get it working on My DVR, that's my real test. The cam itself is just cheap plastic, I'll be installing them under a porch so most of the weather will be off of them. I think these cams are best suited to indoor use but time will tell.

What sold me is the 4k resolution and the ability to have a wired ethernet connection that should let me hook it onto our DVR. One dislike is that for Wifi it requires a 2.4ghz connection and will not work with 5g. 
Should I Buy It?
If you are looking for an outdoor CCTV Camera with panning, tilting, and zooming, plus you want to use it as a standalone camera, then definitely you should give it a chance. The product is reliable, company support is good, features are very useful, and users' reviews are favorable. The only issue is that the cam case is not very strong. So, it can be vandalized easily.
Conclusion
The TOCWOC PTZ cam is a low-range device. It can tilt, pan and zoom to give you all-around coverage. The 2-way talk helps keep you alert. 3 kinds of night-vision are there for your security. 
A 5MP Cam with 2560X1920 resolution gives us a clear vision. The access system can detect human motion from other movements. These features stand it out from the other devices.      
This is the review of the TOCWOC PTZ cam. please mention your comments about the review article. You are always first to us. 
Thank You.