ZUMIMALL F5K Outdoor Security Camera is a stand-alone camera specially designed for smart homes and modern infrastructures. The modern world is shifting more towards Solar Panels, hence this camera is specifically designed to receive uninterrupted power from solar plates.
 Zumimall solar panel is specially designed for Zumimall outdoor security camera, keeping your home security system charged without worries.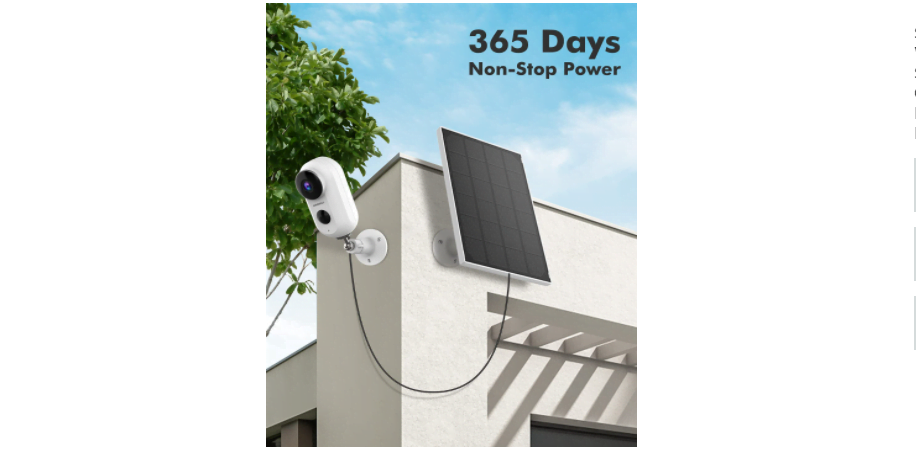 Zumimall F5K is best suited in all kinds of environments and locations. This 2K camera has a tag value of $79.99, which is very competitive comparing to other equivalent cameras in the market. The camera comes with a 6000mAh battery that lasts up to 2 – 5 months when fully charged.
Zumimall is also the pioneer in the field of Solar Panels the world over. The camera works very smoothly with solar light.
Features To Look For In A Solar CCTV Camera For Your Smart Home
Following are some of the features to look for in a solar CCTV device.
Solar Panel Reliability- Here, you have to look for a weatherproof solar panel design, ingress protection type, etc. What is the power output given, and materials used in the solar panel? Feasibility to smoothly run the CCTV in all conditions. Check them to know your device better.
Support Of IP Protocols- Make sure the camera supports the ONVIF and RTSP protocols. Ensure that your device supports any NVR or other support system.
Power-over-Ethernet- When a single power cable is required to transmit power over the data cable then it is extremely convenient for running any CCTV.  
Weatherproofing- It allows you to use your device at any location. IP65 or IP66 is an indication that it can withstand any weather conditions.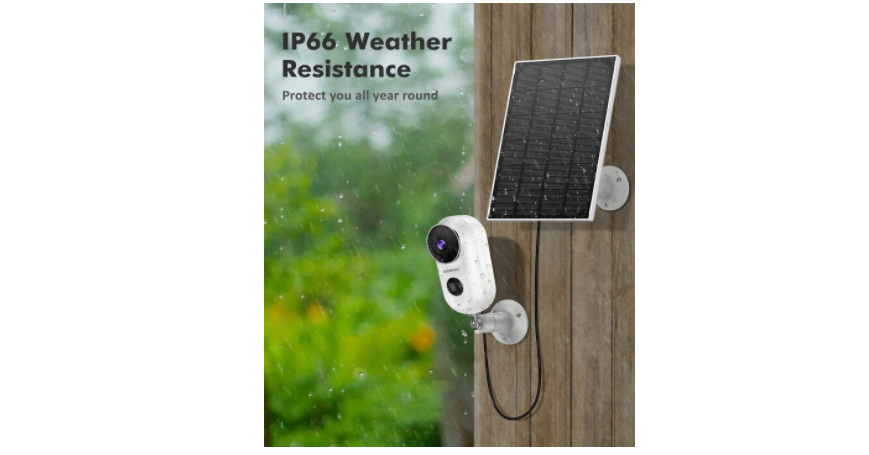 Resolution- Good resolution means good picture quality. Low resolution means bad quality images. A resolution of 1080P is standard resolution. The higher than that is even better for great viewing.
Night-Vision- With the help of IR LEDs, array lights, spotlights, or floodlights, the camera captures images at night also. Even when the CCTV is placed at any dark location, with the help of the night vision camera is 100% operational.
Storage- Most IP cameras these days have SD card slots that support capacities of up to 128 GB. This is an excellent alternative to an NVR. Also, check about the cloud recording facility.
Wireless- When you can connect your device wifi, then you have the freedom to locate your CCTV at will without laying wire for that. 
 Advantages-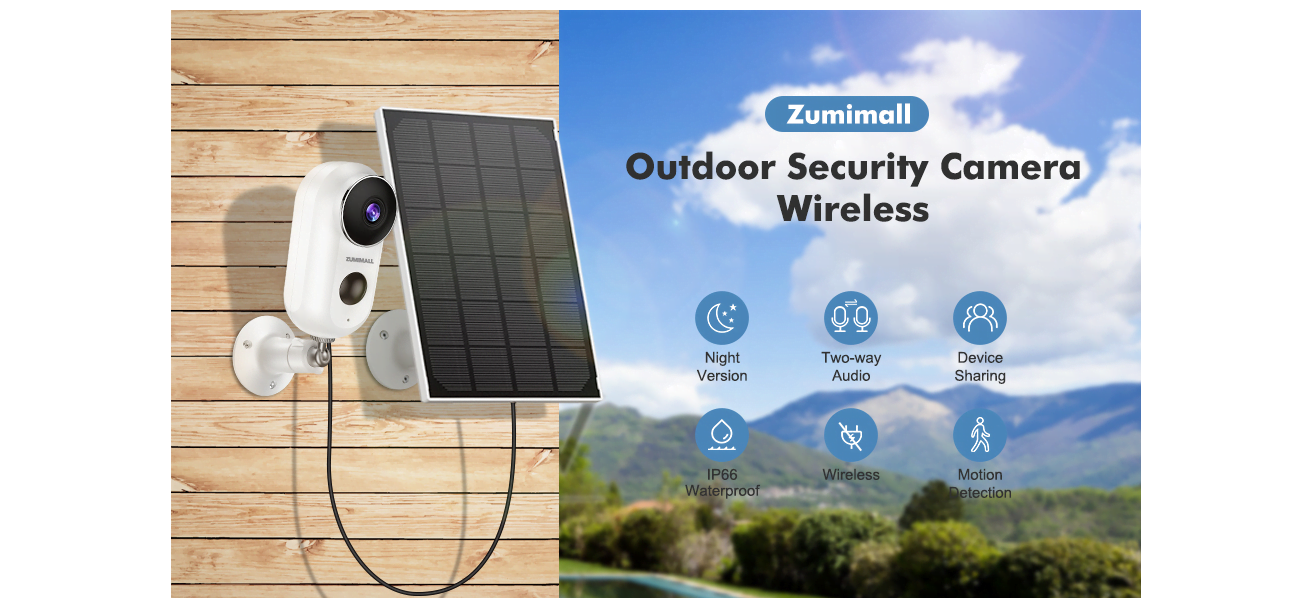 Eco-Friendly Security Camera System

Smart

 PIR Motion Detect

 

and Instant Alerts

The clarity in 1080P HD and IR Night Vision

Two Way Audio and Multiple-User Sharing

Truly

 Risk-free Storage

Easy to Install

PIR motion detection
Disadvantages-
SD Card not included in the pack

You have to recharge the battery now and then.
Unboxing Of ZUMIMALL F5K Outdoor Security CCTV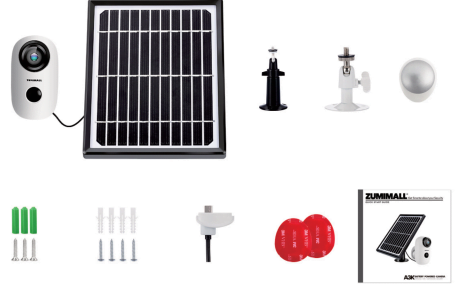 ZUMIMALL Battery Camera*1 
Solar Panel*1
Metal Mount( For Solar Panel)*1 
Metal Mount( For Camera)*1
Iron Ball Wall Mount*1 
Double-Sided Adhesive*2
Quick User Guide*1 
Screws Set*2
USB Cable*1
Design Of ZUMIMALL F5K Outdoor Security Camera
It is a cubic-shaped CCTV with a 2.2 x 2.28 x 4.21 inches dimension. It weighs 8.5 ounces. On the front side of it, there is a fixed lens and LEd light to work as night vision. On the backside of it, there is a slot for SD Card, another slot is for solar panel connection. On the hind side, the slot is given to fix 2 Lithium-ion batteries.
Features Of ZUMIMALL F5K Outdoor Security Camera
Features are excellent.
Eco-Friendly– Rechargeable battery camera comes with a solar panel. Renewable energy meets the mission to accelerate the world's transition to sustainable energy.
PIR Sensors- Upgraded PIR sensor sends you notifications that matter. Adjustable detection sensitivity and customized working time can avoid false alarms that bother you.

Clarity & Night-Vision- With an advanced optic lens, this wifi CCTV provides you crisp and stunning images to monitor the outside world with a wider angle. Automatically switch to night vision, ensure a clear vision up to 33fts even in darkness.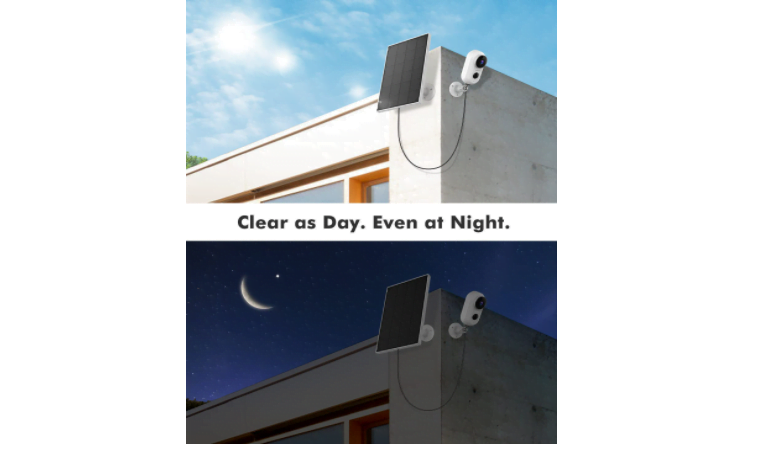 Two-Way Audio- You can see who's there and talk interactively with your elders, kids, pets anyone you care about or warn uninvited people while not at home. You can also share this home camera with your family members.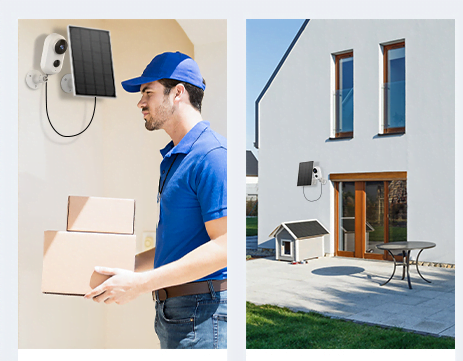 Safe-Storage- Event videos are encrypted stored to local SD Card (not included)/ Cloud Storage (7 days free trial). No one could access your data without your permission.
PIR Sensor & Human-shape Only- Compared with traditional PIR tech, this upgraded outdoor CCTV also supports human-shape detection only. Greatly reduce false alarms triggered by animals, passing cars, etc.
Rapid Wake-up- Wireless security cameras are always supposed to detect at the moment the movement happens, so quick response is especially important. Zumimall WiFi surveillance is equipped with the most sensitive sensors to ensure illustrations.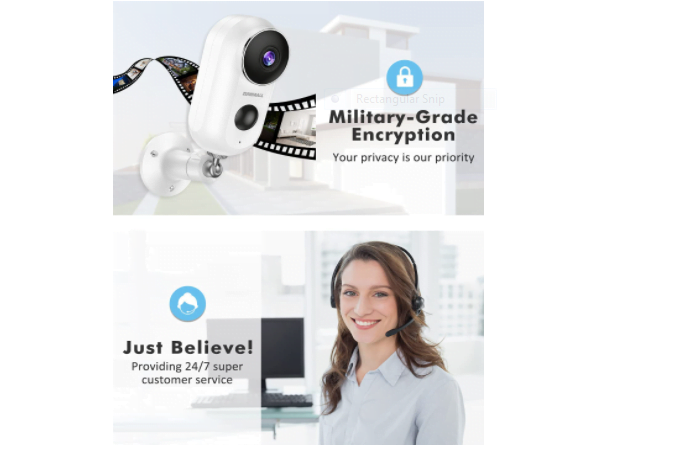 Recording Period Options-  Free choice of recording duration: 20 seconds / 40 seconds / 1min, in case you have limited SD Card capacity but want more records. (Not included, Up to 128G)
Chargeable and Long Standby Time- This rechargeable CCTV comes with a 6000mAh battery that lasts up to 2 – 5 months when fully charged; so you don't have to worry about constantly charging it.
Wireless-  When we say our indoor/outdoor security CCTV is completely wireless, we mean it. Is it watching or installing streams? No wires at all. Our rechargeable security cameras are powered by a built-in rechargeable battery that allows you to place them indoors and outdoors without worrying about annoying cables. (ONLY compatible with 2.4G WiFi router)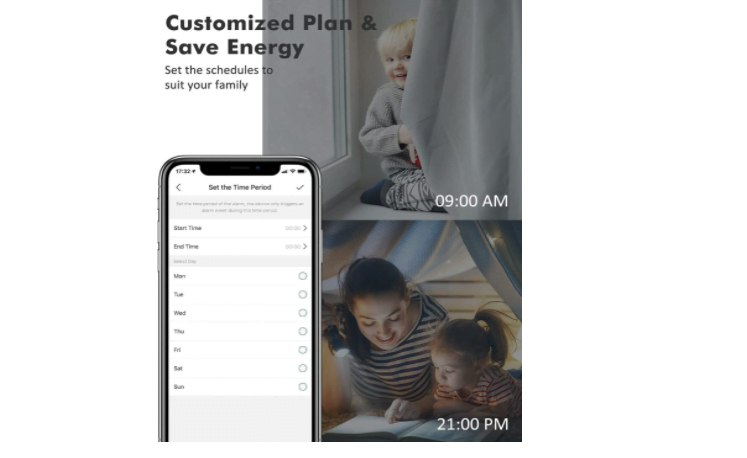 The weatherproof- Security system is designed to withstand bad weather conditions. IP65 Weather Resistant. It has been tested to withstand extreme weather conditions and will be brave like an iron penguin outdoors. Rain, hail, storm, snow, and sunlight, all resistant.
How To Take Care Of ZUMIMALL Solar Panel?
Mount your

 Zumimall

 solar panel in well-lit places and avoid locations like the shadow of trees, buildings, or other obstacles to ensure

 sufficient sunlight.

Adjust the orientation of the solar panel from time to time to get the maximum 

sun exposure

, since there are different intensities of sun-rays in different weathers, which will affect the energy production.

Wipe the surface of the solar panel with wet tissue or cloth regularly to remove the

 dust and debris

 on the panel's surface.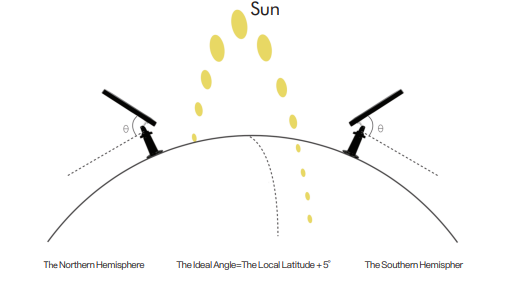 How does Zumimall Solar Panel Function?
Compatibility-  Zumimall solar panel is specifically designed for Zumimall outdoor security camera, keeping your home security CCTV charged without worries.
Non-Stop Power Supply- Zumimall solar panel offers 3.7W power output along with high-efficient materials to ensure reliable performance even in the long run. It's ideal for outdoor to keep your wireless camera getting power from the sun.
Weatherproof-  IP65 Weatherproof design, this home camera solar panel can withstand snow, storms, rain, and other rough weather conditions. Weather-resistant materials making it perfect for outdoor CCTV use.
Flexibility- 360-degree swivel, 90-degree tilt adjustable wall mount, and 13ft power cord allows flexible installation with maximal sunlight exposure.
How To Install this Security Camera?
It is pretty easy to install.

Choose the desired location for CCTV housing installation. Verify mounting structure and surface is capable of supporting the camera. 
Fix the bracket to where you want to install with the supplied screw. Connect it with the Joint Lock connected to the bracket, and secure the joint Lock to fix it. Adjust the viewing angle and view your location.
To download it on mobile-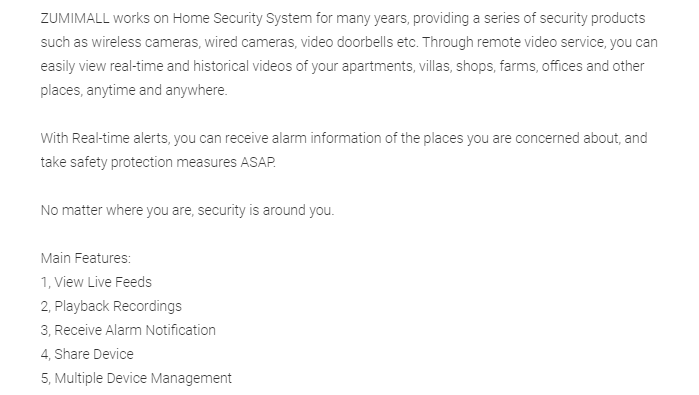 Download Zumimall App from Google Play or the App Store. Scan the QR codes from the QR code scanner on your smartphone. It will ask for a sign-up from a mail id. Then complete the registration process and log in.
The Users Review-
Nearly Perfect from USA opines
I love innovative tech gadgetry, so just based on the design and innovation on this camera it already gets high marks from me. I was looking for a piece of

 rechargeable IP equipment

 that I could install in a location away from a power source. As such, I was willing to periodically change or charge the battery, but having a solar panel makes that step unnecessary.

 There is an additional feature to this CCTV that I did not expect. The solar panel connects to it

 via a micro-USB cable.

 This is great because if I ever get power to the location where it's installed, I can opt to go with a wired power source. Also, should there ever be a need to top off the battery; I have a way of easily doing that.

Two of the features I'd like to point out are the power-port cover and the

 magnetic mount.

 The ports for the power, reset, and microSD card is all covered by a thick rubber seal/lid that is built into the connection from the solar panel. As you can see in my photo, once you connect the panel, everything is sealed up very well. I do wonder why the

 lens

 doesn't have a visor or some other protective measure around it though.
KalShar says
The cameras were easy to install

– took minutes to get them installed. Connecting to WiFi was a challenge not because of the CCTV but because I forgot my WiFi passcode. Once I put the right WiFi passcode, it connected in seconds.
The solar charge also works great

 – I installed it in a sunny area and the cameras are always 100% charged, thanks to 

mother nature power (solar).
Remote viewing is very quick and the cameras are clear. I can also hear the wind sound and birds chirping if nearby. I even checked from across the globe and it worked flawlessly.
I get Alert texts all the time as the cameras are sensitive

 – the alerts show "Body Movement" but the problem is, I could never see the 

playback.

 When I play the message back, it keeps connecting slowly and keeps giving me a message that the network is slow – not sure why I could see live but the network is slow for playback. After few attempts, I get a picture that is barely usable – it is so bright it is washed out. There is no video either. For this reason, the video playback is useless for me.
Should I Buy It?
The camera has every function which any smart home requires in an outdoor CCTV. You can zoom in, two-way talk, get alerts and notifications, the resolution is high, solar panel powered, wifi-enabled, and weatherproof. The slight disadvantageous side is that cloud recording is not free. Overall you will be happy with its performance.
Conclusion
Every smart home is a dream home. Your dream requires sweeter memories. Zumimall is look-wise attractive, feature-wise rich, and performance-wise praiseworthy. You will always have peaceful sleep under the surveillance of it. When reviews of earlier users are minutely scrutinized, again we find the satisfactory performance of the product. Overall Zumimall has all the qualities to become our pal.
Kindly apprise us of your opinion regarding this post and product in the comment section. Your suggestions are valuable to us. They help us to understand the need and variety better. 
Thank You.