DEKCO 1080P Pan Rotating 180° Outdoor Security Camera, is a unique combination of a normal standalone IP cam and a PTZ cam. It has all the functions that any security surveillance device has plus some important features of any PTZ cam, like pan, tilt, and zoom, etc. 
It is a plug and plays sort of standalone cam, that can be easily installed and monitored from any location. You just require a socket ready to plug your device at the desired location. 

Its two-way audio, panning to cover wide angles, 1080P video, clear night-vision, and cloud sharing makes it a very special appliance for outdoor use. It's a good guard for your home and office.
The Cam has a tag value of $49.99 on the Walmart.  Though the Pricepulse is selling it at $30.59, with a 28% discount.
Buying Guide For A Smart Camera 
Any smart security surveillance cam must have the following qualities.
IP Protocols– Make sure that your appliance supports the ONVIF or RTSP protocols. It makes your device compatible with other types of equipment. Any standard device supports ONVIF or RTSP.
Power-over- Ethernet– When power cable and ethernet cable are the same, then it is a special arrangement for the system. It further means that power and data pass through the same ethernet cable.
Resolution– Resolution means the quality of the video and images. The higher the resolution, the better the picture quality.
Waterproofing– Check your device is weatherproof and waterproof or not. You can easily know it by knowing the Ingress Protection Type of it.
Night-Vision– IR LEDs, Spotlights, or Floodlights are for capturing the images at night or when there is low light. EXIR LEDs are stronger and more long-lasting. Go for Exir lights.
Recording– Most cams are having SD Card slots. Look for it and its capacity. These days all advanced devices are having Cloud recordings as well. 
WiFi– If the device is wifi enabled, then monitoring will always be smooth for you. All modern standalone cameras are wifi enabled.
Warranty– Warranty does not only tells about the company policy but also about the product quality. 

Advantages
Clear night-vision

WiFi-enabled

You can set the sensor sensitivity

2-way talk

Motion detection

High resolution

Threat alarms

Multi-users supportable

SD card and Cloud storage facility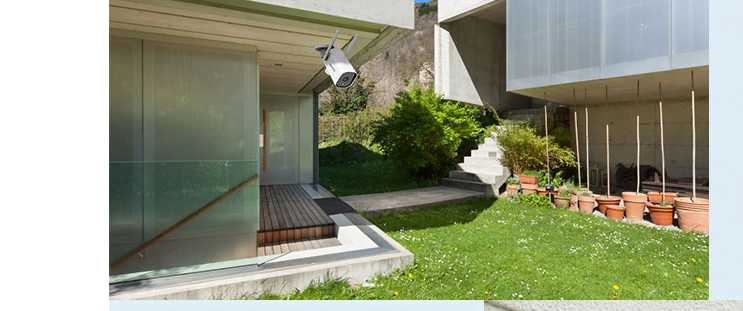 Disadvantages
 Doesn't support 5Ghz wifi

SD card is not included

Unboxing
Camera 1pcs

Mounting Bracket 1pcs

USB Cable

 1pcs

Plastic Anchors

Installation Screws

User Manual

Design
DEKCO cam is a white, cylindrical-shaped outdoor camera. Its dimensions are 8.07 x 3.94 x 3.94 inches, and it weighs around 15.5 ounces. It is a heavy camera.
On the front side of the cam, it has IR LEDs, spotlights, microphones, and sensors. Sensors are sound and motion-sensitive. On the backside of the cam, there is a speaker attached to it. There is a slot for an SD card and a power connection.
Features Of DEKCO 1080P Pan Rotating 180° Outdoor Security Camera
Features are the detailing of any camera. They tell us about the quality and usefulness of the device.
Wider Field of View– This camera for home security Pans 180°. It extends your view angle up to 270°, 180° horizontal rotation covers more range that you need to watch and reduces the blind spots.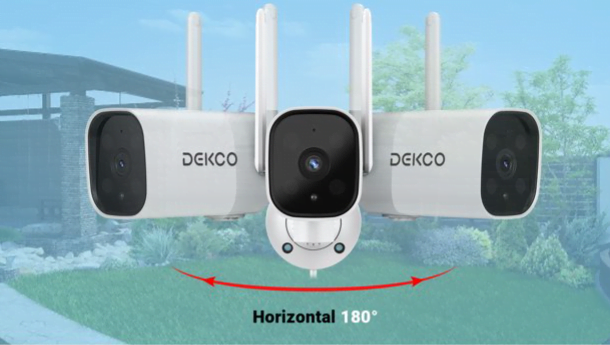 Clear Night-vision– DEKCO's clear and crispy 1080p HD Indoor/Outdoor can be seen even at night, and you can accurately see everything happening at home and around it. Visible night vision distance is up to 98ft, which is more secure.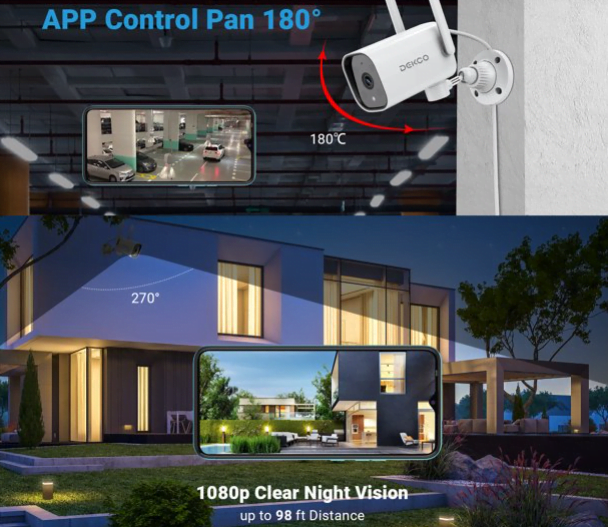 Two-Way Audio– Built-in advanced microphone & speaker and with anti-noise technology for a clear voice communicating between the APP and camera, the device allows you remote access to communicate with welcomed guests, or scare off intruders while you are not at home. This smart camera will auto-switch to night vision mode when lights fall outside.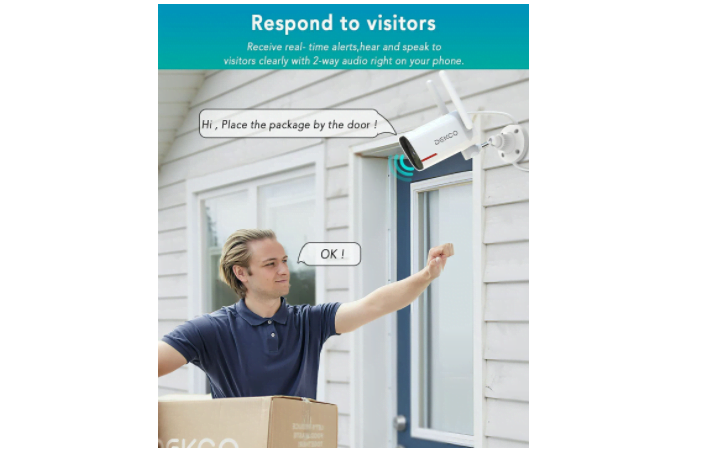 Motion Detection– When motion is detected, DEKCO will send an alert to your mobile phone in time, and you can manually adjust the sensitivity and range of monitoring.
Easy To Power– Our HD Wi-Fi camera needs to be plugged into an outlet to receive power ( AC power adapter include in, you need to configure a socket around the camera)and has an IP65 waterproof rating, It can work normally in any bad weather.
Storage– Support 128G Micro SD Card(Not included)or Cloud storage, you can save images and videos for later viewing. Once the Micro SD card is full, the latest video will delete the old video automatically.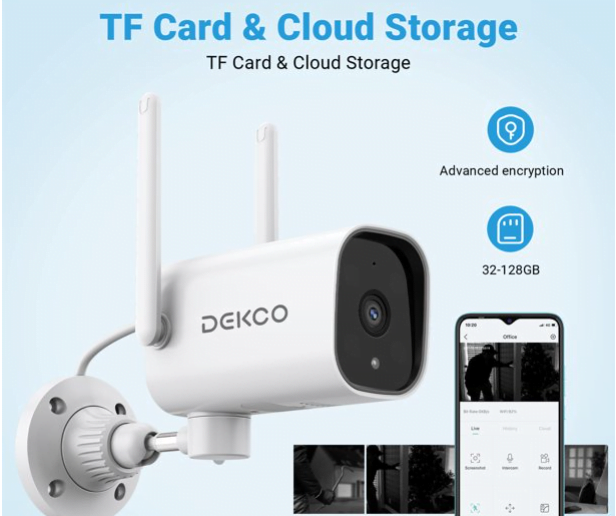 Waterproofing– This cam can withstand rain, snow, and dust. It is IP65 compatible device.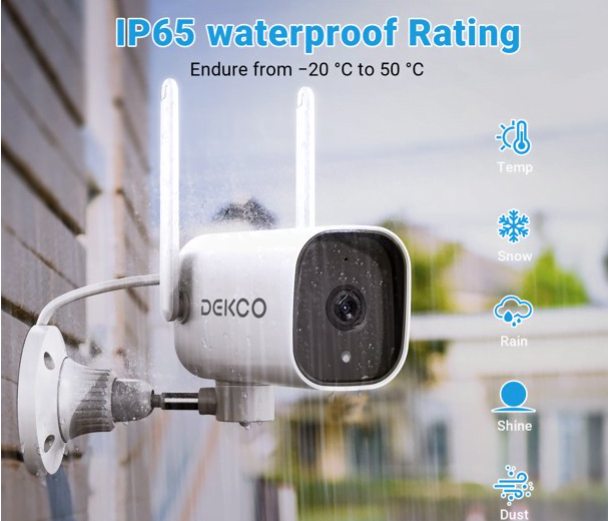 Warranty– It covers a warranty of 2 years. Moreover, the company always takes responsibility for its products and gives lifetime maintenance support. 
How To Install?
The installation process is given in its manual. You choose your location to mount the camera. Fix the camera stand with the help of screw and anchors given with the pack. Fix the camera on that camera base. Now give power to the cam by plugging in the device.

When you want to install the app on the mobile, open the Google play store and browse "CloudEdge App" When the app is downloaded, add the camera from the app. For that, you have to scan the QR Code of the device and follow the instructions to connect the device.
Once the device is connected, then you can view and operate your device for functioning.
Users' Response Of DECKO Cam
Douglas C. Meeks from the USA gives his voice,
 I have to say the price of quality security cam is coming down and more and more of them seem to come with pan features and this one does it and a low cost. The pictures were clear, the setup was possibly the easiest of any cam I have and I LOVE the fact it uses the same CloudEdge software that most of my other cams use (I am considering removing the 2 cams I have that do not use it and replacing them with cams that do since they are getting so low in price). I like having all my cams on one APP. The movement is smooth, the pictures are clear and the price is amazing.
Scott Campbell remarks that
Product image and title refer to wireless which is only meant for wirelessly connecting to the internet/phone but obviously, outdoor cameras will wirelessly connect, no one will get a camera that has to connect to your router with a wire. So my assumption with the word Wireless plus no wire being shown in the product image figured it didn't need to be plugged into an outlet to receive power, but that was incorrect.
Larry from the US writes about his experiences as
My cam came in on Sunday, and after getting it configured on my network I mounted it over the garage. What I love about the camera:

Solid construction

Ability to move the direction it is pointing via the iPhone app – huge field of view potential

Simple installation and configuration

Night vision

Keep in mind that this does not use batteries, will need to mount in a position that you can reach an outlet. I ran my power cable in the top corner of the garage and down the internal wall, worked great!

Again, this great product at a great price, I would highly recommend it if you are interested in another set of eyes outside (or inside) your home.
Should I Buy It?
If you are looking for a cam that gives you the feeling of a guard, then you can opt for this device. It has all the functions that can take care of the security of your property and give you a sound sleep. The price is justifiable. If you have a bigger area to cover, then its panning and tilting function will come in very handy for you. 
Conclusion
A security surveillance camera like DEKCO is indispensable for any smart home and office. The artificial intelligence of the device is very sensitive. It notifies you of anything and everything. Nothing can pass unnoticed from its periphery. It is like your watchdog. You will love its services to the core.
Please comment on the review of the DEKCO 1080P Pan Rotating 180° Outdoor Security Camera. It is written to give you an outlook about this product. Your remarks mean a lot to us.
Thank You.