Jennov P61 Solar Outdoor Camera is a modern world cam with attractive looks and the latest features. The world is advancing towards an eco-friendly environment, and it needs people, products, and philosophies that support the Eco-Friendly ethos.
P61 device is an attempt to support that cause with the help of modern technology. That is why it is all and all a solar-based camera.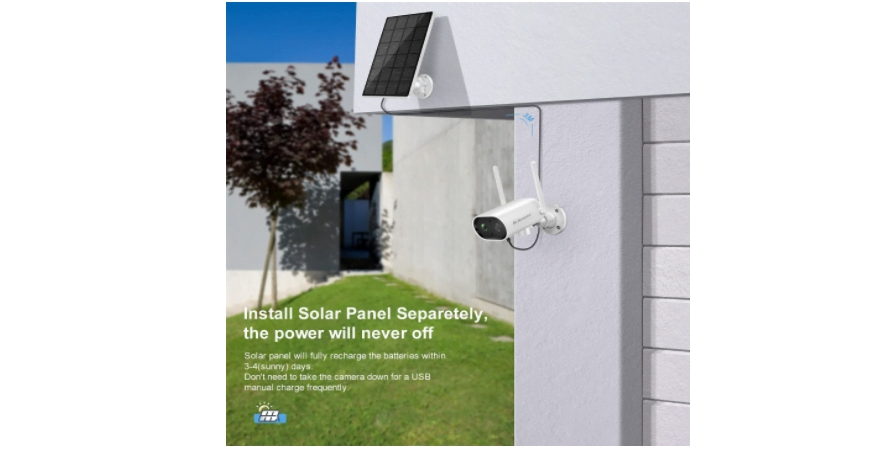 It has sharp sensors, PIR functions, two-way audio, high resolution, and easily rechargeable solar panel with adjustable angles to receive maximum sunlight, and a cloud storage facility.
It pans to cover up to 180 degrees, thus gives you more coverage area. It is a wireless device. You can very easily install the cam outdoor and connect it with a router with the help of wifi and watch it from a remote location. You can check the product price from Jennov Store or Amazon.  
Buying Guide For Solar Cam 
Any Solar panel security system needs to have the following qualities.
Solar Panel Quality– Ingress Protection Type(IP Type) is the parameter to judge the veracity of the panel. It shows the compatibility of the device against harsh weather conditions. It is measured in terms of IP65, IP66, or IP67, etc. For example, Soliom S100 is an IP66 compatible cam.
IP Protocols– Make sure that your appliance supports the ONVIF or RTSP protocols. It makes your device compatible with other types of equipment.
Power-over-Ethernet– When power cable and ethernet cable are not separate then it is a special arrangement for the system. It further means that power and data pass through the same cable.
Waterproofing– Check your device is weatherproof and waterproof or not. You can easily know it by knowing the Ingress Protection Type of it.
Resolution– Resolution tells us about the picture quality. The higher the resolution means the better picture quality. This means 3MP is better than 2MP.
Night-Vision– IR LEDs, Spotlights, or Floodlights are for capturing the images at night or when there is low light. EXIR LEDs are stronger and more long-lasting. Go for Exir lights.
Storage Capacity– Most cams are having SD Card slots. Look for it and its capacity. These days all advanced devices are having Cloud recordings as well. 
Wireless System– If the device is wifi then monitoring will always be smooth for you. All modern standalone cameras are wifi enabled.
Warranty– Warranty does not only tells about the company policy but also about the product quality.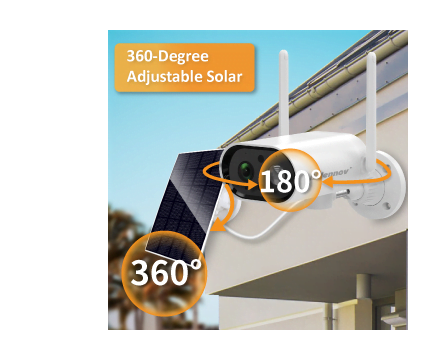 Advantages 
Jennov P61 has many bright features.
Powerful Standy & Stable Connection

1080P

 full HD night vision

Covers broad 275°View Angle

Sensitive

 PIR

 Motion Detection 

 Two-Way Audio

App Live Viewing

Cloud storage

 IP65 Waterproof

.Dual External 4dbi antennas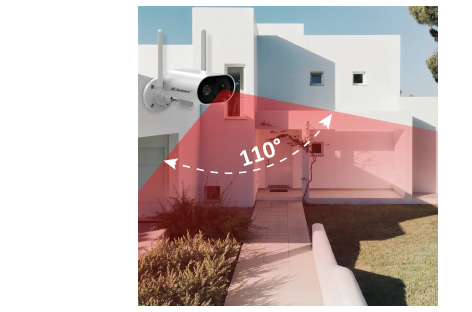 360-Degree 

Adjustable Solar Panel

Instant Notification Alerts
Disadvantages
SD Card not included

Cloud storage is not free

Don't support 5Ghz
Unboxing
Box has everything required to install the camera.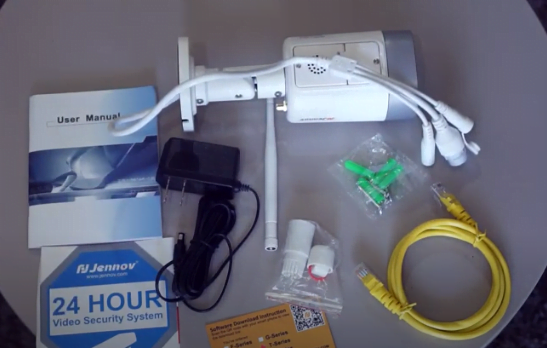 Camera 1pcs

Mounting Bracket 1pcs

USB Cable 1pcs

Plastic Anchors

Installation Screws

User Manual
Design Of Jennov P61 Solar Outdoor Camera
It is a cylindrical shape outdoor appliance. Its dimensions are 3.94 x 7.48 x 3.54 cubic inches, and its width is 1.82 pounds. This solar device requires 2AA batteries to run it, and for that, a sot for batteries is given on the backside. 

On the front side of the cam, there is a lens and a PIR motion sensor. It has also an indicator light, a microphone, and a brightness sensor attached to the front part. On the backside of it, a slot for SD Card, USB port switch, and a loudspeaker is attached to it.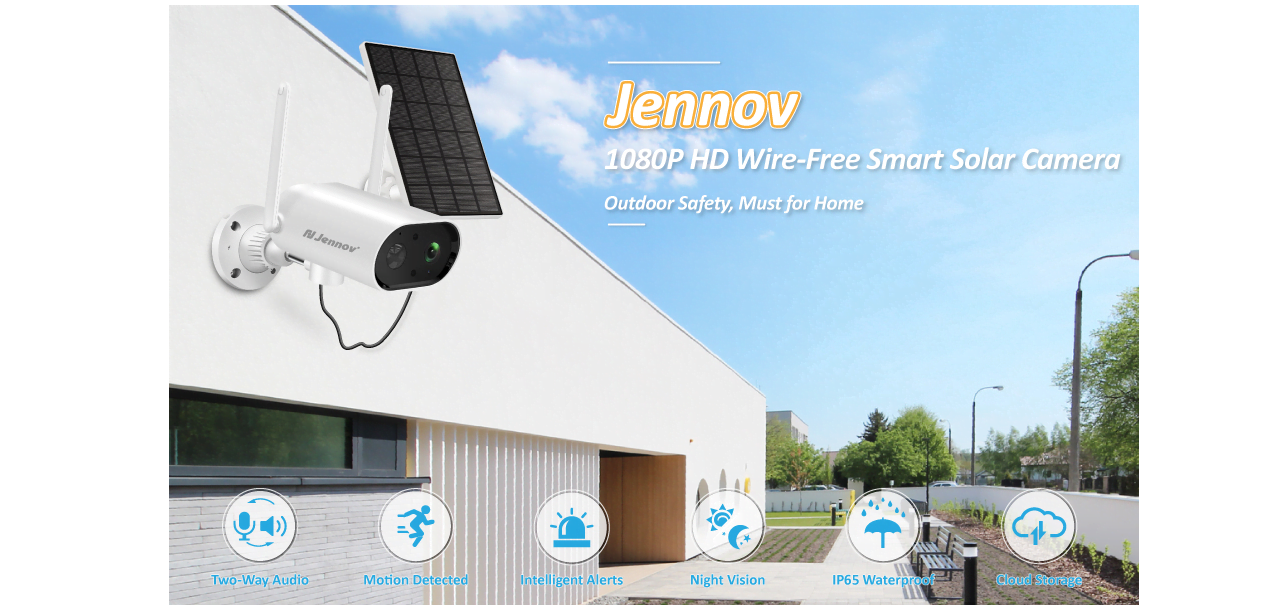 Features Of Jennov P61 Solar Outdoor Camera
Features are very remarkable. Let's know them one by one.
Powerful solar Panel– Equipped with a powerful 10400 mAh rechargeable battery and an external solar panel, the Jennov wireless solar security cam outdoor can be self-powered for 120 days. Will alert you through the"Cloudedge" app when the battery is low. Get the cam off and recharge for 3-4 hours, you will get a full chared outdoor security cam.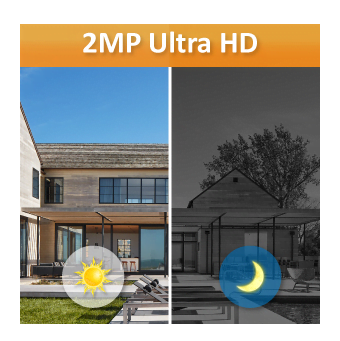 1080P full HD night vision & 275°View Angle– The Jennov wireless outdoor equipment is equipped with 1/3CMOS Color Sensor, providing crystal clear images and videos. Sensitive IR lights automatically sense the ambient light and switch to the night vision mode. 2MP image sensor, the cam will deliver outstanding clarity and detail. 180°horizontal rotation add 105°view angle is controllable on the app, the solar security device outdoor wifi will provide a broader monitoring range for your home, porch, backyard.
Sensitive PIR Motion Detection – The Jennov solar security equipment outdoor featured wide viewing angle lens, PIR range up to 26ft. Sensitivity adjustable on phone "app" its 0.7s quick trigger speed and New technology PIR sensor allows you to catch any movements with almost no false alarms. Built-in Photo-diode supports instant alert notifications.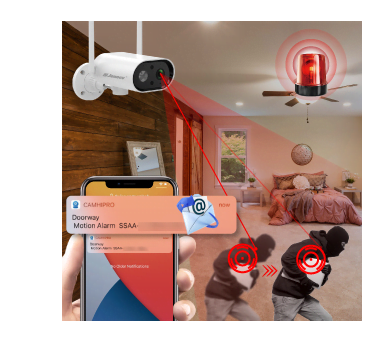 Two-Way Audio– Built-in advanced microphone & speaker and with anti-noise technology for a clear voice communicating between the APP and camera, the device allows you remote access to communicate with welcomed guests, or scare off intruders while you are not at home. This smart camera will auto-switch to night vision mode when it darks out.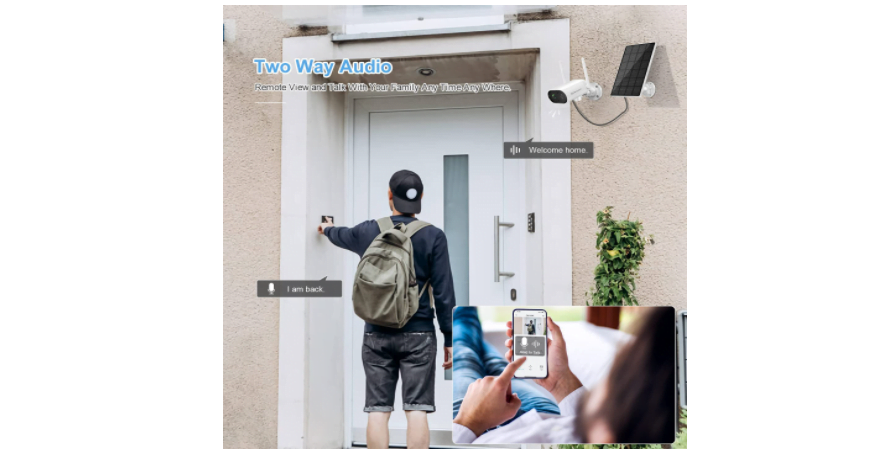 App Live Viewing– The"CloudEdge" app is available for download on AppStore, Android, or Google Play. Compatible with IOS 8.0 or Android 4.2 and above(not PC), Live view your home wireless solar camera's video via your iOS and Android phones and share it with your family anytime and anywhere.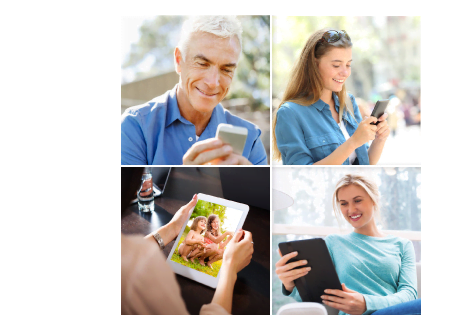 Video Record– Support 128G Micro SD Card(Not included)or Cloud storage, you can save images and videos for later viewing. Once the Micro SD card is full, the latest video will delete the old video automatically.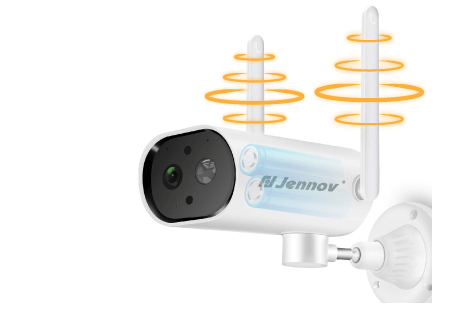 Easy Installation& IP65 Waterproof– The wireless solar security camera outdoor can be operated between-4°F to 122°F (-20°C to 50°C). Both the wifi security cam and the solar panel are IP65 waterproof, this cam can withstand rain, snow, and dust. Only supports 2.4Ghz WiFi which has better penetration and wider wifi range, not 5GHz.The"CloudEdge" app functions with signal diagnose can locate the spot with the best signal when you prepare for installing the surveillance device.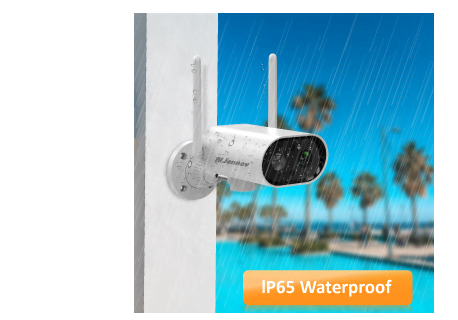 360-Degree Adjustable Solar Panel with Rechargeable batter– Outdoor Solar Powered Security Cam is powered by a 10400mAh rechargeable battery and 360°rotational solar panel, The rotational panel will allow for each installation to ensure maximum sunlight and continuous battery charging for the Jennov solar outdoor cam.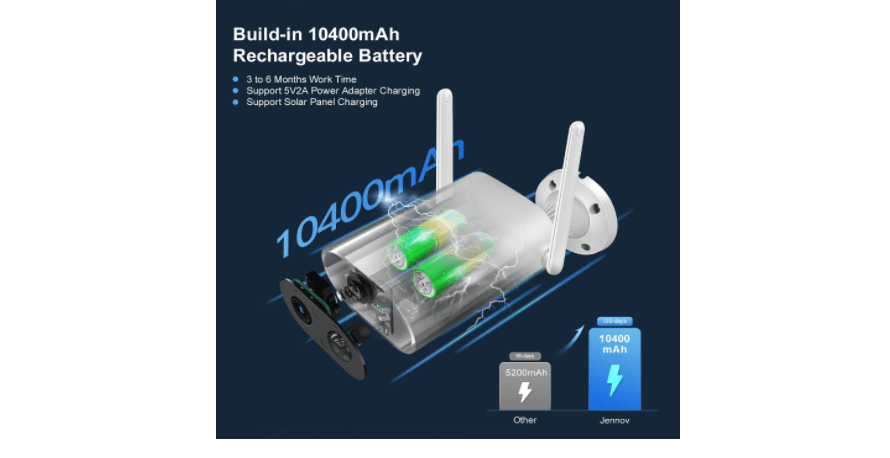 You can recharge the camera with 5V 1A/2A power adapter for 10 hours to get fully charged. You may also get Solar Panel power for it.
Instant Notification Alerts– All battery cams start to record videos when detects the motion to save power, not 7/24 recording. So it's pretty important to wake up rapidly and start recording. We adopted the new chip with more sensitive sensors to ensure a fast response. Once the camera's battery level reaches below 20%, you will get a timely notification to recharge the device.
Video Record- Pictures are stored on the cloud, videos are stored in SD Card, you can playback on a smartphone. Support downloading the events picture and video clips on a smartphone
Support SD Card loop recording, when the capacity is full, the previous data will be overwritten by new data. The maximum capacity for Micro SD Card is 128GB.
Cloud service is supported free stored in the first week.
Warranty- The company gives a 1-year warranty and lifetime service support.
How To Install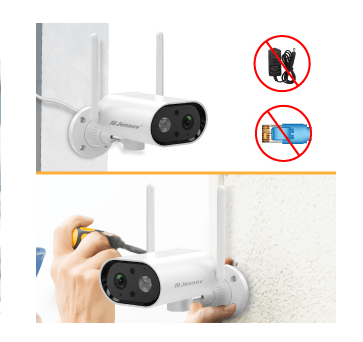 Only need to install the bracket to the wall and fix the cam on the bracket with simple tools, you can easily set up the outdoor security camera within several minutes.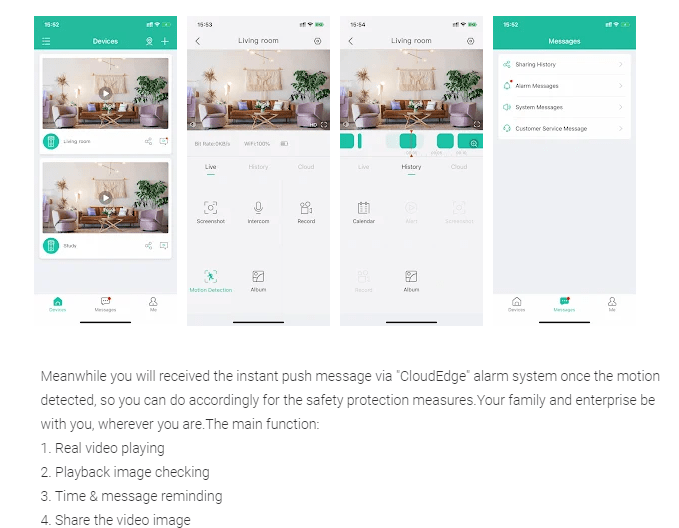 Download the CloudEdge app and connect the device just by QR scan your smartphone App. Wire-free equals hassle-free, make your life easier and smarter.

Users' Response
George From the US reviews it as-
I always liked the Jennov cameras because they are easy to set up, they come back online after a power failure and have an excellent picture. This is my first battery Jennov camera and again it was easy to set up. As long as I stay within my wifi range, I can place the camera anywhere I want and move it if I need to. The solar panel has a long enough cord to allow optimum placement. The fact that it only pans but does not tilt unless done manually, does not bother me because of the way the camera will be used! For some reason, the camera does not have all the settings available like an ac powered camera but overall I am very pleased with my purchase!
JHR from the US shares his experiences
Great outdoor security camera and very easy to install. Quick set up just following the few steps the app (iOS & Android) provides. Once installed you can view the camera screen in real-time and record the video using an SD card or opening the cloud storage service. The image quality is good.

It can record during day & night time, it has two-way audio and PIR motion sensor functions. All the functions work pretty well. It even includes a solar charger panel to connect to the camera so the camera doesn't run out of battery. I would buy it again.
Tracy Hamrick tells about the product
Very clear pictures!

Easy setup and great WiFi connection!

Bought 3… Put one pointed at drive.

One in front of the home and one in back of the home

Would highly recommend this security camera…
Should I Buy It?
If you are looking for an outdoor CCTV Camera with a solar panel, and you want to use it as a standalone camera, then definitely you should give it a chance. The product is reliable, company support is good, features are very useful, and users' reviews are favorable.
Conclusion
 Jennov P61 Solar Outdoor camera is a modern-day camera laced with all modern technologies. It has a fixed lens with motorized functioning. It pans and covers an almost 180 degrees area. So the outer coverage is big. You can use this function at will. If you don't want to use this function then you can off it from the settings. The device is having almost every feature of any other IP cam plus a few additional functions of any PTZ camera.
This P61 review is for you. I tried to give you almost every available information about this product with images. I hope the diagram and images would have helped you know the product better. Kindly give your responses in the comment section.  
Focus Keyword- Jennov P61 Solar Outdoor Camera
Description- Jennov P61 Solar Outdoor Camera is a solar panel camera. A solar panel is 360 degrees adjustable. The camera can also pan up to 180 degrees. It is great for outdoor use.