Reolink Argus 3 Pro Outdoor Security Camera has not only eyes to see, sensors to feel but also tongues to sound. Don't compare it only with other cameras, compare it also with us humans.
A human can guard your house, but Reolink Argus 3 Pro can guard, warn, record, and follow your instructions better. It doesn't sleep, betray, or skip its duty. You will always feel safe in the presence of the Reolink Argus 3 Pro Outdoor Security camera.
Argus 3 Pro is one of the best cameras to use as it gives you protection and mental peace. With a price tag of $101.99, it is worth the value. You will always feel safe under the presence of Reolink.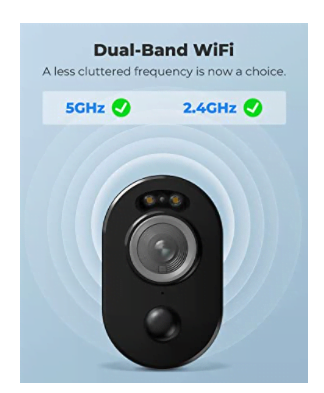 Buying Guide- Factors To Know In A Camera
When you go to buy a smart camera that has a separate human/vehicle detection, wi-fi, spotlight function- activated by motion, and cloud storage, then you have to check it on the following grounds before making a purchase. 
Resolution – The resolution of a camera is to check the quality of the images. The total number of pixels captured in a single take is normally known as Camera Resolution. We describe it in megapixels.
When the resolution is high camera quality is good, when the resolution is low, then the quality is poor.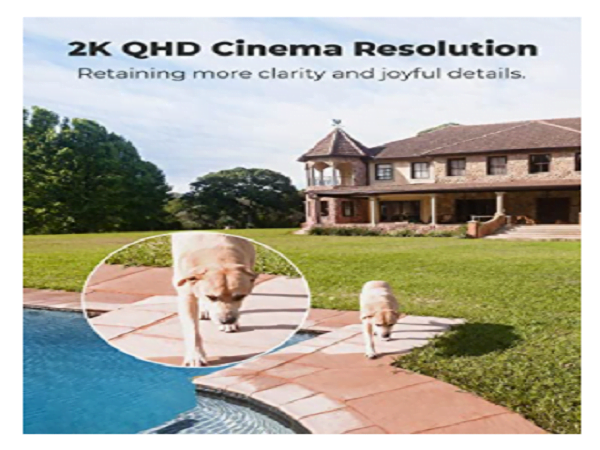 Night Vision – What is the image quality at night? When there is dark outside, then images and video footage are good or bad? The answer to these questions tells about the night vision of the camera. Mainly cameras are studded with infrared lights or spotlights. They automatically turn on when there is dark outside. 
Built-In Sensor- Check the sensor of the camera. How is its motion detection and voice detection? When the sensor is good then it can easily detect the outside threat. It will notify you and alert you. The purpose of the sensor is fulfilled only when it gives you proper alerts.
Microphone- When a camera is loaded with a microphone, then you can also hear the voice. In a smart camera like Argus 3 Pro, a two-way talk facility is also available.
When you are also listening to the voice then you are better positioned to judge or rule out the threat.
Wireless state, Wi-Fi Enabled state & Camera App 
When a camera is wireless, then the connection is hassle-free. A wi-fi-enabled camera is not required a separate router or wire connection. An outdoor camera is installed outside the house and routers are mainly placed inside the house. So when the camera is not wi-fi then you have to wire connect it with long wiring.
App has many functions. Get the details that whether you can record in your mobile, take a snap of the image from the app, voice handle your camera, listen to the sound, etc.
Warranty & After Sales Service
Check that how the company is covering the warranty. If the services are good. Do they have Service centres or collection centres? How do they fix the problem if one arises?
These are the guidelines to purchase a smart CCTV camera.

Advantages Of Reolink Argus 3 Pro
There are many advantages when we use this camera.
Powered by smart motion detection technology, Argus 3 Pro can reduce false alarms and send you notifications that really matters.

Filter clips by person, vehicle, or motion. Finding important videos has become much easier.

Once an intruder is detected, the camera's spotlights will be triggered to ward off the would-be criminal. Stop the crime before it happens.
Recording in full colour with the spotlight on after sundown, this security camera delivers a 2K QHD vivid image and every detail even when zoom in for closer inspection.

Record and save motion clips to Micro SD card even during network breakdown. Back up important motion clips to the cloud is also a choice.

5GHz Wi-Fi connection is now a choice besides 2.4GHz.
Anytime, anywhere. Warn off unwelcome guests from your porch via the free Reolink App, which gives you instant 2-way talk. Want to see who's there? Just by voice-activated command, you can always see what your child is doing.

No wires, no clutters. Pretty easy to install.

It supports both Alexa and Google Assistants.
Disadvantages
There are certain disadvantages also.
The battery used in the camera to supply the power is fixed. You can't remove it.

You can't zoom, when the camera is in motion.

You can only view it on Reolink App. 

It has a limited battery life that depletes in around 40 days of continuous use. You can take the help of the Reolink Solar Panel for a continuous top-up of the battery.
Design Of Reolink Argus 3 Pro
Reolink Argus 3 Pro is white in colour and its front is covered with a black colour cover. The camera lens and sensors are studded on top of the cover. On the hind side, there is a slot for a micro SD card, and a micro USB port slot is also given for charging. It can support up to 128GB SD Card.
It has a dimension of 8.54 x 6.38 x 3.35 inches, and it weighs around 11.6 ounces. The IP65 rating makes it suitable for all weather conditions. Reolink Argus 3 Pro is powered by a rechargeable 6,500mAh battery.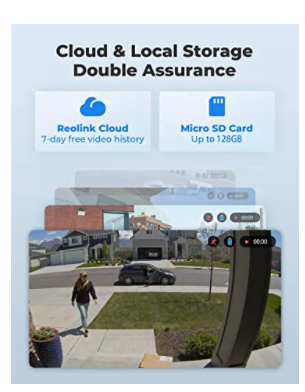 Features Of Reolink Argus 3 Pro Outdoor Security Camera
Reolink Argus 3 Pro has amazing features. When you compare it with other similar cameras like Argus Pro 4, Arlo Pro 3, Ring Stick Up Camera, or Nest Camera IQ, then you find that Reolink Argus 3 Pro, in its range is the best. There are cameras better than it, but their price tag is also much higher. You will feel satisfied and happy by using it. 
Video resolution- 2560 x 1440 (4.0 Megapixels) at 15 frames/sec is the resolution , that is quite high. 
It sees and records videos in super high resolution. It does not only capture the thing but captures it all in all. No details will be missed.
Operating Frequency/ Dual-band Wi-Fi- 2.4GHz/5GHz
Reolink offers the world's top-level dual-band WiFi IP cameras, with a long-distance wireless range. It solves the problem of possible WiFi interference.
Sensors- It has Person detection/vehicle detection + PIR detection.
 Powered by smart motion detection technology, this camera can separate people and vehicles from other objects. So you can easily get the alert that whether the object of threat is human or something else.
Siren + customized verbal alerts are also a prominent feature of Reolink Argus 3 Pro.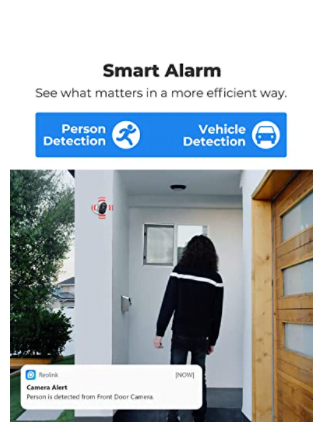 Spotlight Activated by Motion Detection- The integrated spotlight is bright enough to illuminate your yard. It can be activated by motion. Or you can turn it on in Reolink App remotely. Because of the sharp light, you can see any image very clearly at night. 
Since the spotlight is switched on automatically by threats at night, you have a mental relief after installing this camera.
Solar/Rechargeable Battery Powered- Coming with a micro USB connector on the battery, the Wi-Fi camera can be charged by a universal 5V 2A phone adapter and Reolink Solar Panel. 
A Power adapter/solar panel/magnetic mount is sold separately. You can keep a solar panel to give a continuous power supply to the camera.  
Two Way Talk Through Reolink argus 3 Pro- You can communicate two ways through the Reolink App. It makes the thing easier for you. By sitting in the office, you can easily command at home. When you are in your bedroom, not need to go all the way to the front door to answer the knock, you can easily know the person and communicate with them with the help of the reolink mobile app.
Recording Storage- Seven-day cloud storage free. 
MicroSD up to 128GB (not included)
Night-Vision- Night vision is superb. It has 6pcs LEDs and 2pcs Spot Light attached to it.
Battery- 6500mAh rechargeable battery (Battery life varies based on settings, usage & temperature)
Warranty And services- Warranty and services are very customer friendly. You get a 2years warranty on the camera, plus lifetime support for any services after the warranty period is over. Service centres of Reolink company are at many locations, so services are always very satisfactory. Reolink Support Center helps you in resolving your complaints.
It has a video format of H.265.
It has a fixed lens with 122 degrees diagonal.
You can zoom in up to 16x.
It is water-resistant/weatherproof- IP65 weatherproof.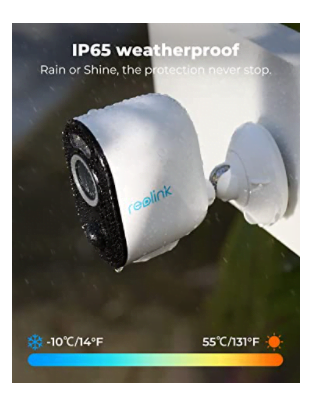 How To Install?
Installing the camera at an outdoor location is easy. No wires, no clutters. It comes with two mounting brackets and one tree strip for maximum flexibility, installing this battery-powered and wire-free camera is like a breeze.
You fix the bracket against a post and attach screws to tighten the camera. Set the angle of the camera after giving power to it, and your camera is ready to function.

Different cameras run on different software. Relink Argus 3 Pro camera run on Reolink App.
Installing the Reolink App on the mobile is also easy. Go for the Reolink App in the play store. Add the camera with the help of the QR code given on the back of the camera. When the device is paired, you can use it as per will.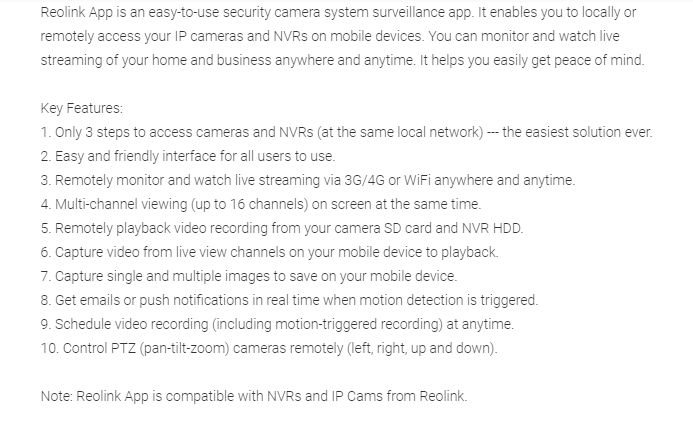 Performance Of Reolink Argus 3 Pro Outdoor Security Camera
The performance is found to be good. Most of the users have given an A+ to the camera. Some are also a little dissatisfied with the performance. But when you analyze overall performance then, it wins over their contemporaries.
Let's listen to the User's Responses-
Emy from the USA says that- 
Let's start with the good things about this camera.
1. Great mounts included putting these cameras just about anywhere (Magnetic Bracket, Security Bracket, Strap, and stand bracket).
2. 5ghz wireless, bigger battery, and AI detection with fast motion alerts with a delay of around 3-4 seconds when detecting a human/vehicle up to 40ft over the standard Argus 3.
3. True 2K/4MP video quality when you switch the resolution to "High" and it can zoom about 16X and also has a clip feature where you can focus on a specific area while in live view.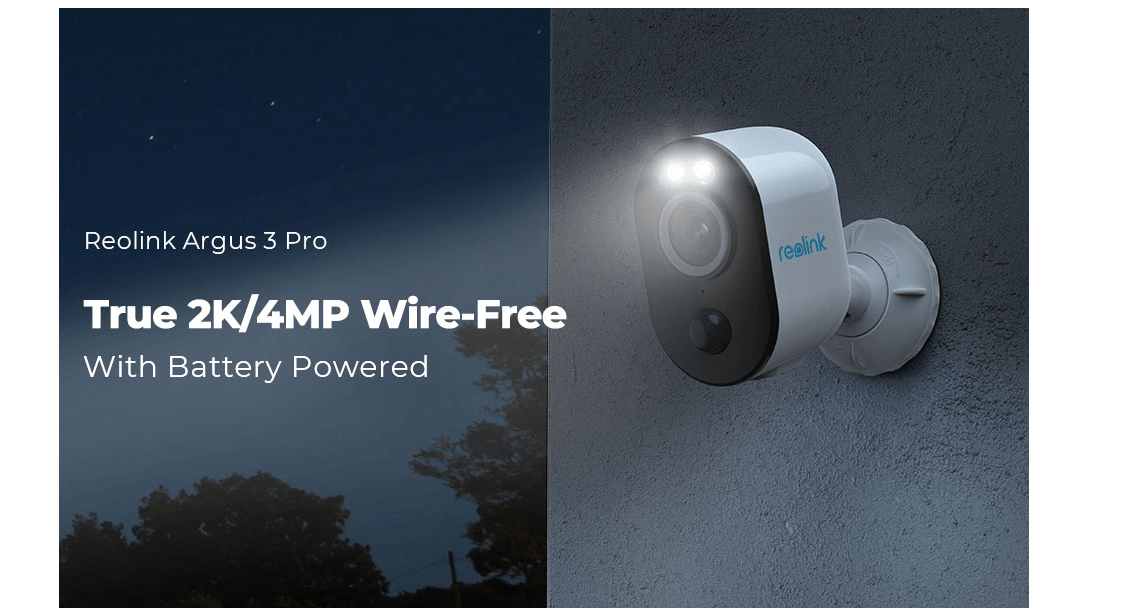 Now let's talk about the features that need to be improved on that make it or break it for some people:
1. No motion zones, to block out certain areas in the frame. It does have masking but that blocks your view of that area. Has one, why not both? PLEASE add motion zones.
2. Most things happen at the night, but at night the frame rate downgrades to about 8-15 frames per second. PLEASE fix this!
3. Alexa integration needs work. Tested on Echo Show 8 and it took about 16-18 seconds to load the feed and the camera is delayed by the same amount of seconds. Pretty much useless. PLEASE improve on this.
Other things reviewed:
1. Spotlight is pretty bright, compared to the Eufy 2C Pro and other models
2. Setup is quick and easy by simply scanning the QR code on the camera
3. Audio for the siren and two-way talk (delayed 3-4 seconds) isn't the greatest because the speaker is behind the camera perhaps moving it to the bottom or top would improve the audio.
4. Timelapse feature drains the battery quickly, but the solar panel works well to charge the battery.
5. Adding a base station for local storage would be great, because if the camera is stolen all footage is lost.
All in all, this a great camera that's needs some improvements and is missing motion zones to be the best battery-powered camera in the market.
Derek opines from the USA- 

 
This is my first security camera so I did my research before deciding to get this after watching reviews on Youtube.
Pros:
– Image quality is one of the best considering it's a battery only.
– Night vision is amazing, I can see cars license plates around 30 ft to maybe 40 ft and it's still clear.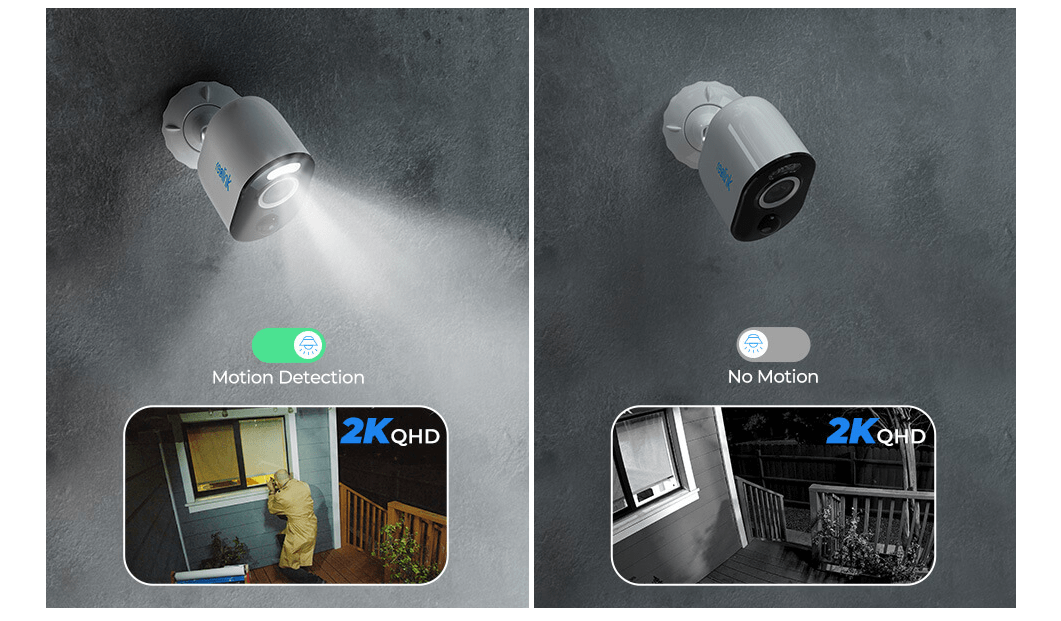 – It has PIR detection but it doesn't have zoning monitoring which can be a downside.
– 128GB micro sd card storage (don't know about you, but I'd keep the storage on an sd card rather it going to cloud storage or something)
– 1440P resolution (LOOK AT THE CONS FOR THIS)
– IP67 resistant
Cons:
– IT DOES STUTTER IN BOTH PLAYBACK AND LIVE FEED. BUT IT CAN BE FIXED IF YOU PUT THE QUALITY TO EITHER BALANCED OR THE LOWEST QUALITY WHICH DEFEATS THE PURPOSE OF GETTING A 1440P CAMERA.
– The two-way talk has a delay for me anyway but over it works somewhat.
– The audio captured in the video can be choppy, maybe an update will fix this later on?
– There is a noticeable delay when it detects something. I already put the setting from 15 to 8 seconds and it's still slow at notifying. By the time someone is detected, they have already walked by maybe 3 feet away.
Overall I'm happy with this security camera, I'll probably get the solar panel added to this so I don't have to keep taking it off every time just to charge it.
Should I Buy It
When you look at the features of the Reolink Argus 3 Pro Outdoor Security Camera and check its performance, then you will find more positives than negatives. It has 4+ ratings out of 5 on most of the online selling portals. You should give it a try.
Conclusion-  
Reolink Argus 3 Pro Outdoor Security Camera is best in the solar-powered camera category. It is slightly more favoured than other cameras in its category simply because it is much cheaper than them but performance-wise equal to them. The video quality and durability of the camera has no match.
This article provides you with a review of the Reolink Argus 3 Pro Outdoor Security Camera. Kindly intimate us with your remark about the article and the product perception. We will highly appreciate your responses and it will also help us to review the article for perennial improvement and better user information. Thank You.