The Best wireless outdoor PTZ cameras' study is there in front of you to explore the development of highly sensitive cameras in the world. Mainly PTZ(Pan Tilt Zoom) cameras are used for sensitive areas that are vast and volatile. By nature, these devices are manufactured to serve a bigger security purpose.
That is why they incorporate those features & functions that any other normal security surveillance camera doesn't possess. 
The wireless PTZ cameras can be installed anywhere, just you have to keep into consideration that it receives any WiFi signal to connect online. With the help of the application, you can monitor the cam on your Smartphone, or Computer from any place.
Studies and market research suggest that the growth in sales volume of the Pan Tilt Zoom Cameras are increasing day by day. It means that every passing day is making these cams more popular. 
What Is A PTZ Security Surveillance Camera?
A PTZ Cam is a Pan, Tilt, and Zoom camera that can be rotated left to right, or up and down. It can also be zoomed in or zoomed out. All these functions are possible to do by sitting at a remote location. It can be operated from any Application, that your device supports. With the help of the Content Management System(CMS) software, you can pre-set the panning and tilting of the device by setting the "Tour Guide" function in the Application.
Why We Require A PTZ Security Surveillance Camera?
 We require a PTZ cam to monitor wide-angled covering areas that can cover from 180 degrees to 360 degrees through panning. It can be moved up and down up to 180 degrees. The tilting of the areas gives you the freedom to capture every activity.
Depending on the camera or software, they can also be set to automatically follow motion-triggered activity or adhere to a pre-set schedule. PTZ cameras are generally implemented in tandem with a larger surveillance system, in which the PTZ tracks movement while a fixed camera takes detailed shots.
That is why these cameras are very useful for outdoor locations. They are superb for roads, high-security zones, fields, institutions, offices, lawns, garages, and outside homes.
Future Of PTZ Cameras?
If you want to understand that how the PTZ camera market is going to evolve, then you have to go for the study done by the DATA INTELO organization.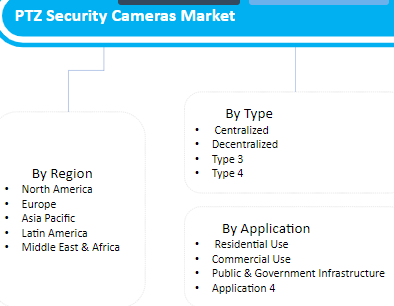 They have done this study for the 30 leading CCTV companies in the world. The regions that cover this study are North & South America, Latin America, Europe, the Middle East, Asia Pacific regions, and Africa. You can easily see that the survey has covered almost 90% of the world. It is vastly covered. 
They have taken 2020 as the base year in their survey and projected sales growth of PTZ cams till 2028. 
The following points are their key findings. 
You can find the complete report here.
The demand has increased by 14.1% CAGR globally.

The volume was 

USD 1164.9 million at the end of 2020.

In five years it is expected to grow to USD 2961.9 million by the end of 2026.

By 2028 it is expected to cross the sales volume of USD 35 million.

It shows the ever-growing usage and popularity of PTZ Cams in the world. It also indicates how useful they are for the world. The advancement of technologies also helps in their growth.
Buying Guide For PTZ Cameras
PTZ cams have many prominent functions. When you have to buy a Pan Tilt Zoom cams then look for the following features in them.
Panning & Tilting
All PTZ cameras can be moved horizontally or vertically. They are made to function that way to cover the maximum coverage area. When cams move horizontally to cover the wider angle of the location then it is called as panning of the cam. When they move vertically to cover the wider range then it is known as tilting of the cam.
Cams can rotate horizontally up to 360 degrees and vertically up to 180 degrees. Though, the degrees of the movement varies from product to product.
Some latest good quality PTZ cameras can also be operated from a remote location with the help of the APP. Because of wider angle coverage, PTZ cameras are highly useful for sensitive locations that are big also.
Zooming
PTZ cameras are special because they can be zoomed in and out manyfold. By zooming in the image you can trace even the minutest of the activities very clearly. 
You can zoom in on the image from 2x to 50x and even more. 
They can be zoomed in optically or digitally. Optical zooming is always better than digital zooming. 
The better the resolution and image quality, the clearer the zoomed clip. The quality of the zoomed image depends on the quality of the varifocal lens and the setting of focal length.
Image Quality
People have become accustomed to HD (1280 x 720) and even full HD (1920 x 1080) resolution videos for digital PTZ cameras/recorders and online videos, and with TV quickly moving into the HDTV era, IP camera users have come to expect megapixel resolution images from their cameras. 
Price is also no longer an issue since the difference in cost between megapixels and SD (usually 720 x 480 or 720 x 576) IP cameras is relatively small.
IR LEDs
If you have to capture videos at night, then you have to look for strong LEDs in a PTZ camera. Super LEDs illuminate the object better at night. Starlights or Floodlights are the modern-day super solution for darkness.
Motion & Audio Sensor
The technology is improving day by day, making it much more effective at tracking objects of interest. It keeps the user safe from any kind of threat. 
Sensors are functional in such a way that they relay alarms or switch on floodlights or lights attached to the PTZ camera when they read something fishy. They also send you notifications on your mobile phones when observing suspicious activities.
Easy To Setup The PTZ Camera
How easy it is to fix the camera. How easy it is to position or mount the camera. If a CCTV camera has a good pan/tilt, then adjustment of the cam is not a problem. You can set it as per your preference. Because you have the liberty to swivel the device at will.
Weatherproofing
Since PTZ cameras are used outdoors, weatherproofing is a must. Check whether your cameras have IP66, IP67, etc. level waterproofing at least.
Night vision
Cameras have an inbuilt IR system. You have to check the quality of the night-vision. If night-vision is weak then it will capture dull images, face recognition would be difficult. The security purpose would be in peril.  
Two-way Audio
All good PTZ cameras are equipped with speakers and microphones. With the help of the app, you can talk two-way and communicate with the person on the other side. It is a very useful function. With its help, you can alert others or hush away the threat.
Storage
Most cameras have an SD-Card slot that supports capacities up to 128GB. When you have this facility in your camera, then your camera is complete in its totality. It doesn't require any external source like NVR/DVR to record the activities.
Wireless/Wirefree
Any PTZ camera must also be wireless and SD card enabled so that you can use it as a standalone camera. By connecting it to any wifi network you can operate it from any remote location. 
It is even better if it is wire-free. When it is wire-free then there is no web of wire around it, and easy to operate. you have not to do the wiring for the cam.
Warranty & After Sales Service
Company support means warranty and after-sales service. It also means when you find any problem in installing and functioning then, the system is there behind you to support you in removing those issues.
Range
PTZ cameras have a higher IR range. It enables the user to monitor objects to a greater distance in low-light conditions. Also, with technologies like smart IR, the camera can automatically balance the overexposure due to the IR LED lights.
IP Cameras and POEs
IP Cam is the latest and modern range. Installation is easy, and picture quality is the best. Go for IP appliances only. IP Cameras are network-based security cameras that communicate over a computer network to send a data signal back to the recorder. 
Cloud Storage facility
CCTV cloud storage is a comprehensive program that allows users to store camera-related footage remotely without worrying about storage capacity on-site.
Solar- Panel
Nowadays many cams are coming with solar-panel devices. It makes the installation and functioning of the cam super easy. Once fully solar-charged, these solar batteries run for months without any hassle. You don't require wiring so you can install the device at any location, even in fields, or open areas where power supply is not possible. 
Best Wireless Outdoor PTZ cameras 
There are many PTZ cameras in the market. They all are good. But a few cameras stand out from the rest. It is because of their performances, client perception, brand, quality, durability, warranty, and services. Let's know them one by one.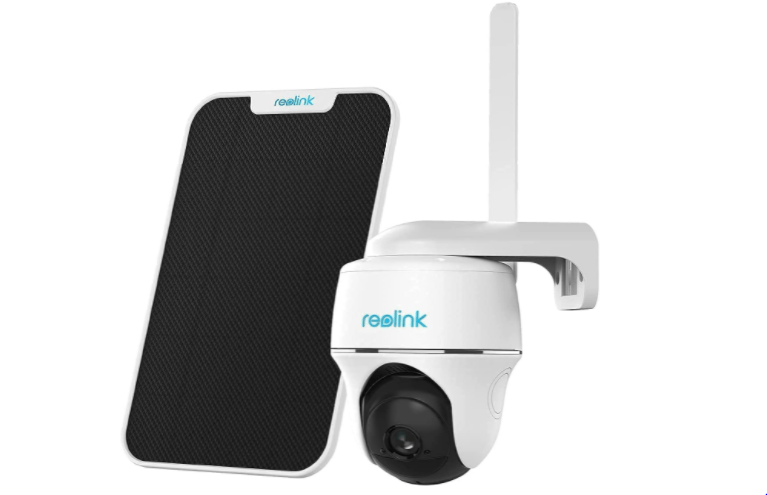 Reolink Go PT Camera 3G/4G LTE PTZ Camera is a solar-supported device that you can use at any outdoor place. 
Reolink is established in 2009. The organization is very innovative and consistent. 
If you are looking for an outdoor device that can withstand the harshness of weather, is WiFi-enabled, and is wire-free, then this is the device for you. It is a cam that has a slot for a sim card. There is no need to install a router to access the device. 
Advantages
Solar Panel

3G/4G LTE Coverage

Rotate 355° Horizontally and 140° Vertically

 long-lasting rechargeable battery

Advanced Motion Detection

Two-way audio
Disadvantage
SD card is not included

Install the cam &

 solar panel 

at nearby places
Features & Functions
The cam has got many illustrious functions.
Un-tethered Mobile Security
Reolink Go PT can work anywhere nationwide with 4G/LTE coverage, 100% wire-free, no need for WiFi. 
Also, it can work outdoors like the front door, backyard, garden, driveway, porch area, even in the wild. Solar power is supported to generate power even on cloudy or rainy days.
Wide Angle coverage
The cam horizontally covers 355 degrees angles and vertically covers a 140-degrees angle.
Being able to pan left and right, tilt up and down, Reolink Go PT can nearly provide complete coverage without blind spots. You can remotely control the pan-tilt feature via Reolink App, and always keep a watchful eye on your property, even you are on the other side of the world.
Rechargeable Battery Powered
Coming with a long-lasting rechargeable battery, this versatile 4G wire-free security camera can work independently regardless of a sudden blackout. 
Connect the camera to Reolink solar panel (sold separately) for a nonstop power supply. You'll never need to dismount the cam for recharging or worry about dead batteries. Reolink cams are very smart. [Read the full review here]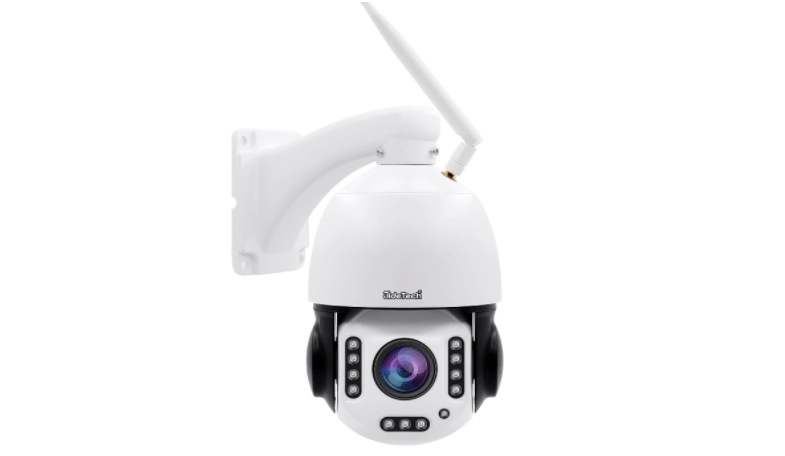 JideTech 5MP PTZ WiFi Camera is a product of JideTech Company based in China. It is a wi-fi security surveillance camera with a 5MP lens. 
The camera gives us a superb view as it covers 360 degrees view. You can view clearly up to 400ft when using the JideTech PTZ Camera. It has a unique function to zoom in on the image 20X times. The resolution quality is top class. It does not blur the image in zooming in even when outside is pitch dark. 
The motion and audio sensors are sharp and intelligent as they effectively track the activity on auto mode. The design and make of the JideTeck cam are sturdy, and waterproofing is of IP66 standard. 
Advantages
5MP HD Night Vision

Spherical Repeater

360°viewing angle

Smart Detection Tracking

Two-way audio & Remote Viewing

Stronger material & Better Compatible
Disadvantages
Cloud recording is chargeable

SD Card is not given in the pack
Features & Functions
The cam has many salient features.
Night-vision
 Image Sensor adopts 5.0Megapixels IMX CMOS. Provides ultra-HD night vision images at a distance of 400 ft. It is different from our other outdoor PTZ cameras.
Spherical Repeater
 Image Sensor adopts 5.0Megapixels IMX CMOS. Provides ultra-HD night vision images at 400ft. It is different from our other outdoor PTZ cameras.
Pan/ Tilt
Rotate 360° horizontally and 90°vertically to cover every corner, delivering a seamless live view. Unlike traditional PTZ cameras, which rely on current and voltage for position calibration.
Auto Tracking
Improved intelligent motion/humanoid detection and auto-tracking function, which reduces false alarms. Real Push notification to phone app or Send an email with the photo when motion is detected. [Read the full review here]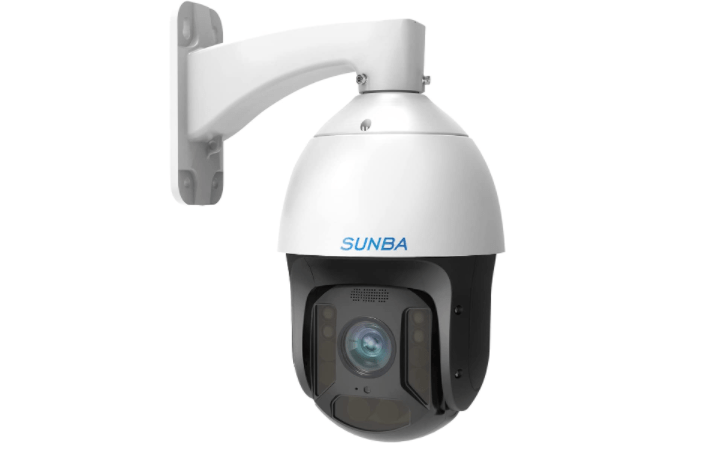 SUNBA PoE+ Illuminati PTZ Camera is a unique cam with three tracking modes- line crossing track, intrusion track, and preset track.
SUNBA was founded in 2014 to manufacture and provide the best-integrated pan, tilt, zoom security cameras to dominate the Security surveillance market.
It relays live stream videos to youtube with the support of RTMP(Real Time Messaging Protocol). It is studded with starlight LEDs that radiate vibrantly at night or in the darkness. With the two-way audio, you are always safe from threats.
Advantages
Smart Tracking 

Effective surveillance

25x Optical Zoom

RTMP Direct Broadcasting to YouTube

 Two-way Audio

2-Yr Warranty

PoE+ Technology
Disadvantages
The ceiling mount is not available with the cam

PoE adapter is not given

Cloud recording is chargeable
Features & Functions
Following are the illustrative features of it.
Auto Tracking
This PoE+ wired industrial-grade IP camera can automatically follow moving objects in 3 modes: line cross tracking, intrusion tracking, and preset tracking powered by high-speed motors to deliver enhanced smooth tracking experiences.
Line Cross Tracking
Users can draw a virtual line from the camera view, and the camera will track any objects crossing the line in either direction and return to the original camera view when the set tracking duration time is up.
Intrusion Tracking
Users can draw a virtual polygon from the camera view, and the camera will track any objects trespassing the zone, and return to the original camera view when the set tracking duration time is up.
Preset Tracking
The camera will detect any moving object in a preset (predefined camera view) and track the object until the set tracking duration time is up. After that, the camera returns to the predefined camera view until the next tracking event is triggered. [Read the full review here]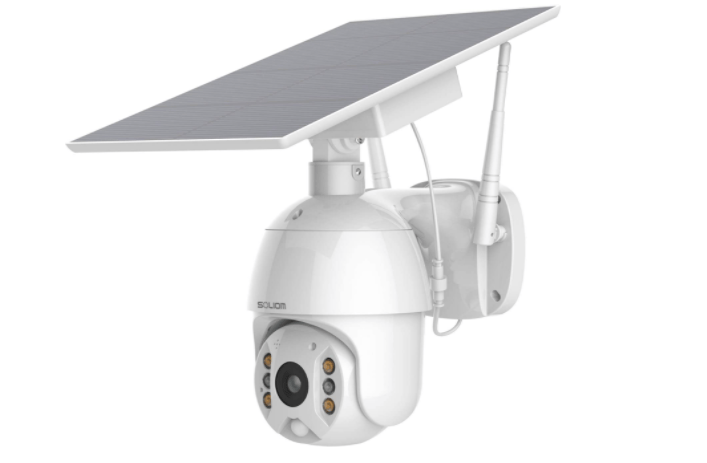 S600 Soliom PTZ Camera is the latest version of the solar-powered PTZ cam. Soliom is a China-based company with its offices the world over. Soliom was established in 2016 when there were no good solar video security products in the market. With old security cameras, people had to deal with complicated wiring or frequent camera changes.
Soliom is dedicated to making advanced surveillance devices with low maintenance, green-powered, and cost-effective. After 2 strenuous years spent in research and development, Soliom finally designed the first solar-powered camera. It had all the features the researchers expected at that time.
Advantages
Pan Tilt Broader & Flexible View

Full 1080P HD & Color Night Vision

Easy Installation

 Solar Rechargeable Battery

Accurate &

 Fast PIR Motion

Detection
Disadvantages
SD Card storage capacity support 

only up to 64GB

Cloud storage is only free for a month then chargeable after that
Features & Functions
Night Vision & Black & White Vision
Soliom battery PTZ camera lets you see detail-rich images in 1080p Full HD even in low-light environments. 
You can identify people, vehicles, and other objects around the camera. You can also choose to record black and white videos or the color videos by turning on the infrared LEDs or the White LEDs.
The built-in spotlight illuminates the surrounding area and allows you to see and record videos in colour clarity even in low-light when in White LEDs mode. 
Infrared LED settings are also available by simply clicking the LED icon on the live view page via the app. which allows you to see the black and white pictures and videos.
Full HD
The surveillance security camera is 1080p full HD daytime video and motion-activated spotlight colour night vision.
Easy To Setup
Soliom outdoor security camera is 100% wireless and easy to install. Use the outdoor camera for home security via Soliom+ free app to live view. Since it is a wi-fi camera, there is no need to lay long rolls of wiring.
Solar Rechargeable Battery
The solar rechargeable battery has many features. 
COMPATIBLE WITH SOLIOM RECHARGEABLE

: Soliom S600 Pro solar outdoor security camera, and any other solar camera with a USB port

ADJUSTABLE MOUNT BRACKET

: Exclusively engineered with alloy ball to adjust the angle of solar panel, absorb as much as sunshine and generate more power. 

The adjustable mounting frame allows you to easily position the solar panel and ensure maximal sunlight exposure.

WATERPROOF SOLAR PANEL

: The solar panel charger with high-quality material, IP66 Level Waterproof, more durable, long-lasting, and cost-effective

NON-STOP POWER SUPPLY: Connects Soliom Solar Panel to Soliom solar-powered security camera to get non-stop power from the sun.
PIR Motion Sensor
The PTZ security outdoor camera for home S600 uses a highly sensitive PIR motion sensor with accurate software pixel analysis technology to double control and reduce false alarms, the wireless security camera with a 120° detecting angle captures all human movements steadily. [Read the full review here]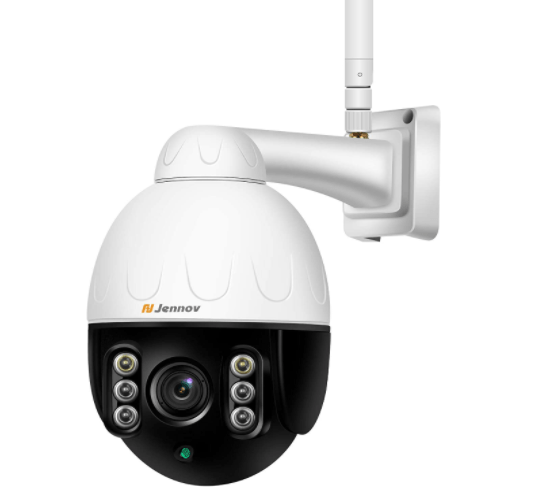 Jennov P61 Solar Outdoor Camera is a modern world cam with attractive looks and the latest features. The world is advancing towards an eco-friendly environment, and it needs people, products, and philosophies that support the Eco-Friendly ethos.
P61 device is an attempt to support that cause with the help of modern technology. That is why it is all and all a solar-based camera. 
It has sharp sensors, PIR functions, two-way audio, high resolution, an easily rechargeable solar panel with adjustable angles to receive maximum sunlight, and a cloud storage facility.
It pans to cover up to 180 degrees, thus giving you more coverage area. It is a wireless device. You can very easily install the cam outdoor and connect it with a router with the help of wifi and watch it from a remote location. You can check the product price from Jennov Store or Amazon.  
Advantages
Powerful Standy & Stable Connection

1080P

 full HD night vision

Covers broad 275°View Angle

Sensitive

 PIR

 Motion Detection 

 Two-Way Audio

App Live Viewing
Disadvantages
SD Card not included

Cloud storage is not free
Features & Functions
Features are very remarkable. Let's know them one by one.
Powerful solar Panel– Equipped with a powerful 10400 mAh rechargeable battery and an external solar panel, the Jennov wireless solar security cam outdoor can be self-powered for 120 days. Will alert you through the"Cloudedge" app when the battery is low. Get the cam off and recharge for 3-4 hours, you will get a full chared outdoor security cam.
1080P full HD night vision & 275°View Angle– The Jennov wireless outdoor equipment is equipped with 1/3CMOS Color Sensor, providing crystal clear images and videos. Sensitive IR lights automatically sense the ambient light and switch to the night vision mode. 2MP image sensor, the cam will deliver outstanding clarity and detail. 180°horizontal rotation add 105°view angle is controllable on the app, the solar security device outdoor wifi will provide a broader monitoring range for your home, porch, backyard.
Sensitive PIR Motion Detection – The Jennov solar security equipment outdoor featured wide viewing angle lens, PIR range up to 26ft. Sensitivity adjustable on phone "app" its 0.7s quick trigger speed and New technology PIR sensor allows you to catch any movements with almost no false alarms. Built-in Photo-diode supports instant alert notifications. [Read the full review here]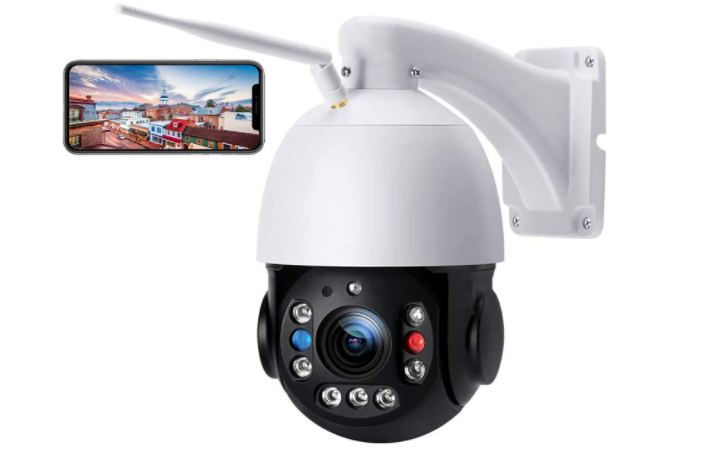 HXVIEW PTZ WiFi Camera is a wireless device. It has strong night vision and sensitive Sensors.
The brand HXVIEW is the brainchild of the company Bulwark Technology Limited, which is based in Shenzhen, China. The company is a specialist in security surveillance products.
The PTZ device has a 5MP lens. It can be zoomed up to 30x times and supports 492ft vision in the darkness. 
It is an IP camera device, hence the setup is easy. The two-way audio empowers you for message conveying and alarming against any threat.
It has a strong sensor that allows it to capture any motion. When you set pre-set points in it then the device becomes more potent for you. You can keep the recording on an SD Card, or the FTP server. The cam is available at $295.
Advantages
You can

 zoom in to 30x

Wireless device

Wirefree device

FTP server supported

Two-way Audio

Auto tracking, sound, and alarm
Disadvantages
Sd Card is not with the pack

Search Tool software doesn't work with MAC OS
Features & Functions
Remote Access
Compared with traditional cameras, this security IP camera transmits audio/video via wifi, which saves the expensive cable cost and installation cost of CCTV. 
Just add the camera through the free "CamHipro" APP and set up wifi for the camera, you can remotely watch real-time video anytime and anywhere.
Two-way Audio
It facilitates you in conveying messages, doing short talks, passing instructions, shooing away threats, or hushing away intruders.
Automatic Tracking and Sound and Light Alarm
The IP camera has professional humanoid detection, and motion detection functions that can adjust the detection area or sensitivity, which can effectively reduce false alarms. 
When the detected person enters the video area, the camera will automatically track and send the real-time video/snapshot to your mobile phone, while the security camera's red and blue indicator lights flash and are accompanied by a sound warning to scare off the intruder.
Multiple Storage Methods
WiFi outdoor security camera supports Micro SD card(MAX 128GB), FTP, and local storage. It also supports NVR storage; compatible with Camhipro, CamHi, HiP2P, iSpy, Blue Iris, and other software. 
It supports an Internet Explorer browser; and cloud storage that requires a monthly service fee In comparison, using an SD card can save more costs. (This PTZ wifi camera does not contain an SD card)[Read the full review here]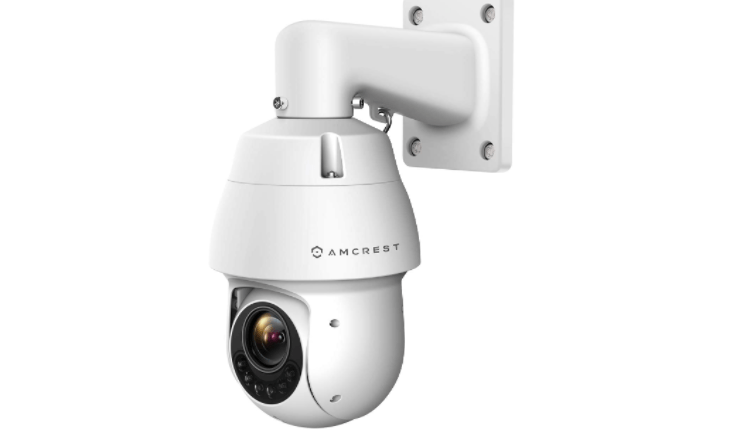 Amcrest products are part of a generation of advanced remote monitoring and surveillance systems that bridge the gap between powerful capabilities, ease of use, and affordability. With their high quality and robust design, Amcrest cameras allow us to securely monitor our home, small business, or medium to large enterprise.
Amcrest outdoor PTZ cam is a 4MP IP device that can be zoomed in 25x times for a closer view. 
It has very powerful IR LEDs that allow you visibility up to 328ft in the darkness. There is no blind spot as it covers 360 degrees view. The device is vandal-proof and weatherproof. 
It is available at a price value of $579.99 at Amazon and Amcrest stores.
Advantages
Simple 

PoE setup

Superior HD 

4MP at 25FPS

Cloud Video Storage

Micro 

SD, FTP, & NVR

 Storage

Smart Motion Alerts

Advanced Zone Detection

Intelligent Timeline Playback
Disadvantages
SD Card is not included

No wireless setup is given
Features & Functions
Artificial Intelligence(AI) Features
The PTZ Speed Dome PoE AI Camera has the following AI features; Face Detection, Deep IVS (Tripwire, Intrusion, Abandoned Object, Missing Object), Video Metadata reporting (People, Non-motor Vehicle, and Motor Vehicle), and Smart Motion Detection. 
The AI features included with the camera are built-in and do not require an AI NVR to function. A microSD card may be required to store and review events. Offers 4MP@25fps video with a wide 60° viewing angle.
Smarter & Safer
Utilize intelligent alerts that send notifications to your computer or smartphone via the Amcrest View app. Record events on this PTZ POE + camera as soon as they happen and store them on your computer, MicroSD (up to 256GB), NAS, or Amcrest Cloud.
PoE+ IP
This camera requires PoE+ power (802. 3at) to operate. Utilize the pan tilt zoom feature with 25x optical motorized zoom and 16x digital zoom as well as continuous 360° pan, 90° tilt capturing every angle.[Read the full review here]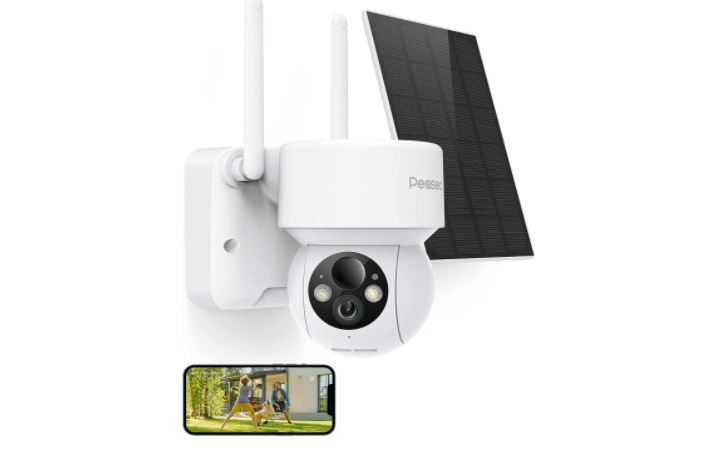 Peasec PTZ Wireless Camera is an outdoor security device. PEASEC is a comprehensive product online store and provides the most high-quality smart home appliances and the best services that you can get.
The company has a whole lot of security range products. Battery Camera, Wired Cam, Smart Floodlight, Baby Monitor, Video Doorbell, Smart Lock, Alarm System, Pet Care, and more. PEASEC products make family life easier, happier, and comfortable.
Advantages
1080P 33Ft 

Night Vision

360°

 All-round View

AI Human Motion Detection With Siren

Solar-Powered device

100% Wireless
Disadvantages
No SD Card With The Pack

Only digital Zooming
Features & Functions
Peasec PTZ Wireless Camera has the following attractive features.
1080P 33Ft Night Vision, 360° All-round View
Peasec PTZ solar camera supports 355° Pan, 90° Tilt, and 4X Digital Zoom, providing you with a 360° all-round view. 
You can simply adjust the shot angles in CloudEdge App to monitor the area you are concerned about. 
Equipped with 1080P full HD high definition real-time video quality and 4X digital zoom, Peasec helps you observe the details more clearly. At night, Peasec outdoor camera will auto-switch to night vision mode and accurately detect 33ft away motion.
 AI Human Motion Detection With Siren
Adjustable 10 levels of motion sensors are designed for different needs. 
Smart AI humanoid algorithm helps Peasec catch human motion more precisely and avoid false alarms caused by inserts, branches, etc. The sound alarm mode has to be turned on manually to save more power. Under this model, this wireless camera will sparkle and ring the alarm bell once motion is detected. 
Prompt sound alarm scares away the thief and protects your property promptly! [Read the full review here]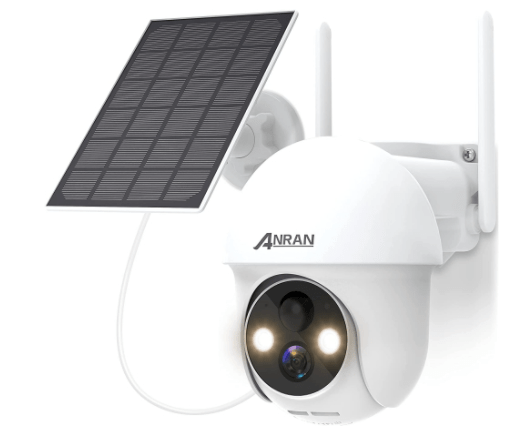 ANRAN Solar-Powered PTZ Camera is a very effective device that is very popular among outdoor camera users.
It is from the Chinese conglomerate ANRAN. Anran is one of the leading direct suppliers of professional security cameras systems. Established in 2007, Anran has grown rapidly in these years and built a strong reputation for delivering high-quality video products and excellent customer service. 
This cam is an AI device that can sense threats through sensors. It has a two-way audio function, which makes it very effective. It can pan to almost 360 degrees and tilt up to 90 degrees. It means that there are blind spots for the coverage zone. It is a very good PTZ camera.
Advantages
The device is solar-powered

100% wire-free

Almost

 360 degrees

 panning 

No blind spot

White spotlight & Siren
Disadvantages
Two-way audio

IP 65 proofing
Features & Functions
It has the following features. 
Solar Powered & 100% Wire-Free
The outdoor wireless security camera with solar panel and rechargeable batteries ensure eternal power. 
No hassle of removing the camera to charge. Only supports 2.4Ghz WiFi which has better penetration and wider wifi range, not 5GHz. The "ARCCTV" app functions with signal diagnose can locate the spot with the best signal door. 
Flexible Pan Tilt & 360°Coverage
355°horizontal rotation & 90°vertical rotation, with 130-degree wide-angle, the pan/tilt battery camera outdoor guarantees a panoramic shot of every corner of your home, shop, garage.
Built-in Spotlight & Siren 
With integrated 2pcs LED spotlights and built-in siren, ANRAN WiFi battery camera will turn on the spotlight and sound the customized siren alarm immediately to deter the threat at night. In the meantime, a push notification will pop out on your phone. [Read the full review here]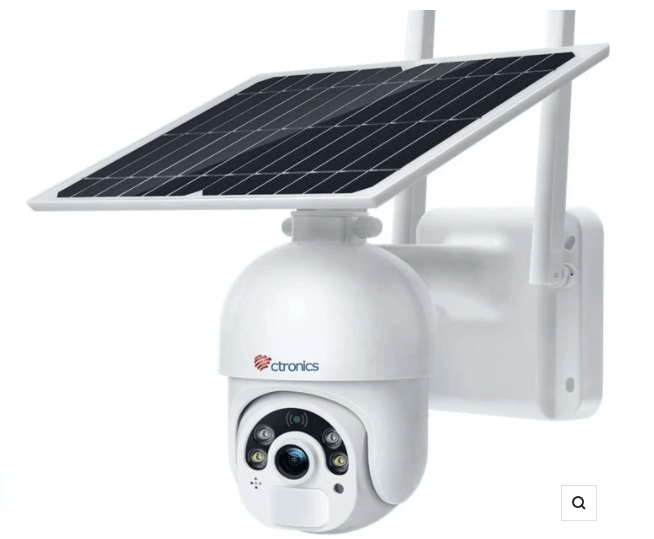 Ctronics 3G-4G PTZ Security Camera is a super classic device with all the major functions. Ctronics is a world-leading brand of video security products. CTRONICS is US&EU(the United States & European Union) registered brand that is a professional supplier specializing in surveillance cameras and NVR systems.
The Ctronics 3G-4G PTZ Security Camera is a wire-free device. It functions with a 14400 solar-powered mAH battery. The cam can pan up to 355 degrees horizontally and can tilt vertically up to 95 degrees.
Advantages
3G/4G-LTE Connectivity

14400mAh 

Rechargeable Batter

Solar-Powered

355° Pan 95° Tilt

Two-Way Audio

PIR & Radar Dual Detection
Disadvantages
Only supports 3G/4G LTE connectivity

Supports

 only motion detection recording
Features & Functions
This device is a popular device for the outdoor coverage of the area. The features are very user-friendly.
Connectivity through 3G/4G
The Ctronics solar outdoor security camera is supported by a 4G-LTE or 3G network. No Wi-Fi is needed, and as such, there are no wiring hassles. This CCTV camera can work in any outdoor environment, such as the front door, backyard, garden, driveway, porch, etc., or even in the wild. An extra Nano SIM card with a cellular data plan is all that is needed.
14400mAh Rechargeable Battery
This Ctronics outdoor solar security camera has built-in 14400mAh batteries that last for four weeks continuous use or 12 weeks on standby. [Read the full review here]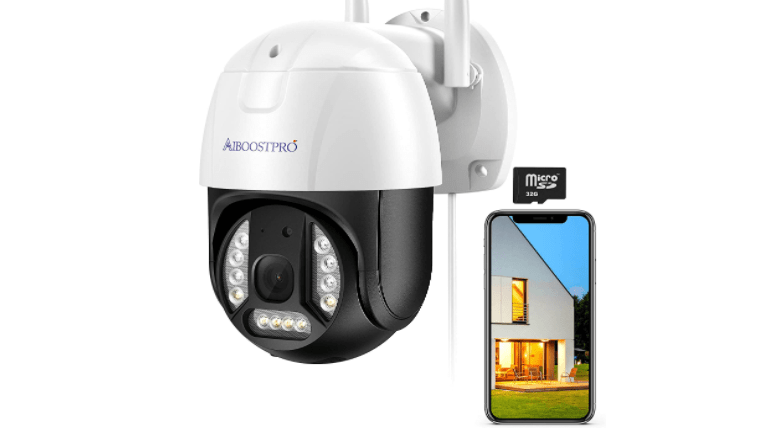 AIBOOSTPRO 2K 3MP PTZ Camera is a smart device that has many special features. It can pan, tilt, zoom, auto tack with the help of sensors, and waterproof to name only a few functions.
AIBOOSTPRO is a rapidly expanding tech organization. It is specialized in premium-quality smart home/outdoor devices. 
It keeps on top of the latest industry trends, and its key focuses are to provide exceptional and affordable smart and secured devices that are fully compatible across a broad range of needs.
The device is WiFi-enabled, and the camera can automatically track the movement. The night vision is clear, and the minutest details can be read and understood. 
Advantages
2K 3MP HD security camera

Full-color night vision

Motion detection, real-time alerts, and auto-tracking

Pan, tilt, zoom at

 360 degrees

Waterproofing
Disadvantages
It doesn't support 5Ghz WiFi 

SD Card not included in the pack
Features & Functions
The cam has many useful features. Let's know them one by one.
2K 3MP HD SECURITY CAMERA
Security cameras wireless outdoor wifi provides ultra HD image 3MP(2048×1536). It gives you every detail of the monitoring.
Full-color night vision
Built-in 6pcs IR LEDs, even in extremely dark environments. It can display bright images in FULL-COLOR. Night vision is very clear and allows you to see at least 131 feet.
Motion detection, real-time alerts, and auto-tracking
It is a wireless outdoor cam that supports motion detection and humanoid detection You can set the detection sensitivity (low/medium/high), and on the detection area. Customize the Alarm Mode and Volume. 
Dome surveillance camera allows you to watch live video on your phone, and get alert messages when detecting motions. Meanwhile, the home security cameras will automatically track and record every movement of the intruder and raise an alarm when needed. [Read the full review here]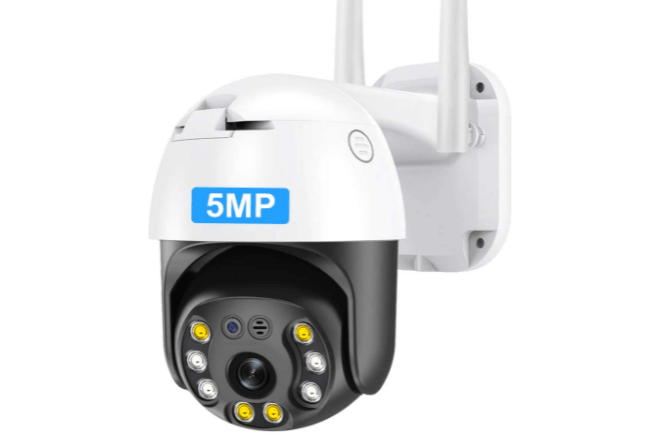 INQMEGAPRO WiFi 5MP PTZ Camera is a wireless device from the manufacturers of INQMEGAPRO. They are the leading providers of security products. Their headquarter is in Shenzhen, China. They have a long-range of products, and their users are in more than 40 countries and regions in the Americas, Europe, Africa, Asia, and Oceania. 
This wifi PTZ camera by INQMEGAPRO has a 1920 resolution, wire-free device. It is waterproof with an ingress protection level of rating is IP66. The two-way audio feature makes it robust against intrusion, hushing away the threat, or conveying any information to anyone.
Advantages
Coloured Night Vision

355 degrees panning, 110 degrees tilting

Motion and sound sensors

Two-way audio
Disadvantages
It

 

doesn't support 5Ghz wifi

SD card is not included in the pack
Features & Functions
The cam has the following features.
Colored Night Vision & 5MP Full HD
5MP Super HD, this IP security outdoor camera can provide Ultra HD picture quality all day and still reach a wide-range and colored surveillance view of 90TF at night with built-in 4 floodlights and 4 Infrared lights, ideal for protecting the parking areas, garage, backyard, front yard, etc. from external damage.
355° Pan 110° Tilt 
Pan-Tilt-Zoom camera with cruise covers 350°horizontal and 110°vertical rotation range, monitoring your home in all directions. No angle can be out of the surveillance. 
The digital zoom function allows you to zoom in to see more details and zoom out to see the entire field of view.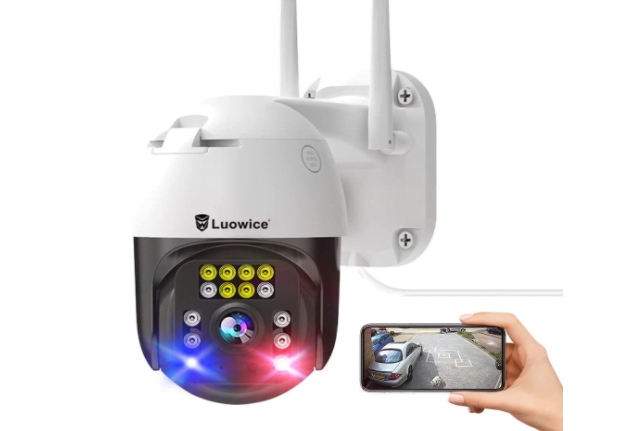 Luowice 5MP PTZ Camera is a Wi-Fi-enabled cam that can auto-track, detect human movements from other movements, and send notifications when anything suspicious reads.
Luowice is a Chinese conglomerate that markets security surveillance products. 
This cam device pannes left & right up to 355 degrees, tilts up & down 90 degrees. It can digitally zoom the object 4x times. The device is full HD, the resolution is high  2560x1920P. It relays absolutely crystal clear images.
Advantages
5MP Full HD cam

Almost 

360 degrees

 monitoring

Smart Detection App

Remote Access

Messages, and Email Alerts
Disadvantages
Support

 2.4Ghz WiFi 

Only

SD card is not given with the pack
Features & Functions
The device has many beneficial functions given.
5MP Full HD
 This 2560x1920P FHD home security camera with 6 white lights & 6 infrared lights, provides you crystal colour and B/W images & videos, and an excellent view at night.
Pan & Tilt
355° horizontal and 90° vertical rotation plus 4x digital zoom (optical zoom is not supported), allows you to move the camera left/right up/down to get the picture wherever you want.
Smart Detection, APP & Email Alerts Pushing
This smart security camera supports advanced human shape detection, which helps you protect those you cared about all day long. 
When motion is detected, notification will be pushed to your phone and/or email immediately. So you can check what happened immediately to secure your house and business. [Read the full review here]
14- SOVMIKU SFWHD313 PTZ 3MP Outdoor Camera For Home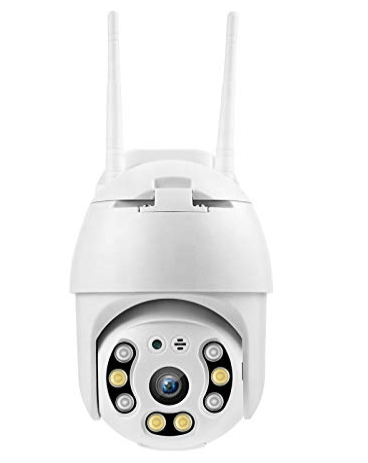 SOVMIKU SFWHD313 PTZ 3MP Outdoor Security Camera is a standalone PTZ camera that can pan, tilt, and zoom. The benefit of any PTZ camera is that it can rotate on its axis, cover a broader angle for coverage, and zoom in and out for closer vision.
SOVMIKU can track a threat with the help of the sensor attached to it. It can also send you messages and email notifications to alert you. It is available in 3MP and 2304*1296 resolution, which transmits super HD images. It is a low-priced good quality camera tagged at $49.99. 
Advantages
MOTION DETECTION ALERT 

AUTO TRACKING

TWO WAY AUDIO 

 REMOTE VIEW

3MP HD IMAGE

FULL-COLOR NIGHT VISION
Disadvantages
DOESN'T SUPPORT 5GHz WIFI

BLACK & WHITE NIGHT-VISION
Features & Functions
Auto Tracking– Enable the auto-track function from the settings, the cam will automatically track and record every movement of the intruder. You won't miss any important moments.
Two Way Audio– Wifi security camera enables you to talk with your family members or visitors on your mobile phone, with the help of the "iCSee App"
Remote View– Wireless Ptz system supports live view and controls the camera via your mobile phone. Download free App the "iCSee" from Google Play or Apple App Store. For PC/Laptop View: Windows / MAC System: VMS Software.
Resolution & Night-Vision– 3MP(2304*1296) resolution camera, super HD image, lets you see every detail of the monitoring. Wireless cams with bright built-in floodlights, even in extremely dark environments, can display very clear images, extending your night vision by at least 65 feet. [Read the full review here]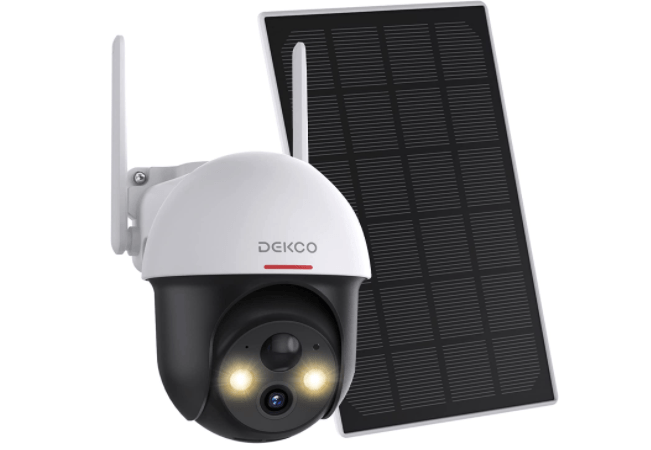 Decko PTZ Solar-Panel Camera is a useful outdoor camera. It is suitable for your courtyard, backyard, office, or garage. 
When you want to install a cam that can cover a vast area, can capture 360 degrees coverage, listen to two-way audio, etc. then this is the device for you.
Decko is the brand product of Shenzhen Zhiling Technology Co., Ltd. It is an innovative company dedicated to creating the latest security surveillance products, and smart home appliances. The company is based in China, but its branches are spread around the globe.
Advantages
Solar Powered

 & Wire-Free & 36o degrees coverage

1080P HD

Very clear night-vision

Ward off intruders

Advanced motion detection
Disadvantages
WiFi supports 2.4Ghz only

SD Card is not with the pack
Features & Functions
Solar-powered Cam 
The solar panel will charge the security camera with direct sunlight. No circuit wiring hassles, you can place it anywhere. The solar security camera is also equipped with a battery inside, which provides extra 4-6 months of backup battery life. 365 days Non-stop power to keep an eye on what matters.
High Definition
1080p Full HD quality allows you to watch and record videos with more clear details day or night. Upgraded infrared LEDs to provide excellent night vision up to 66ft.
Night-vision
You can capture more things in the dark in full high definition. Full-color night vision when there is light in the environment.  [Read the full review here]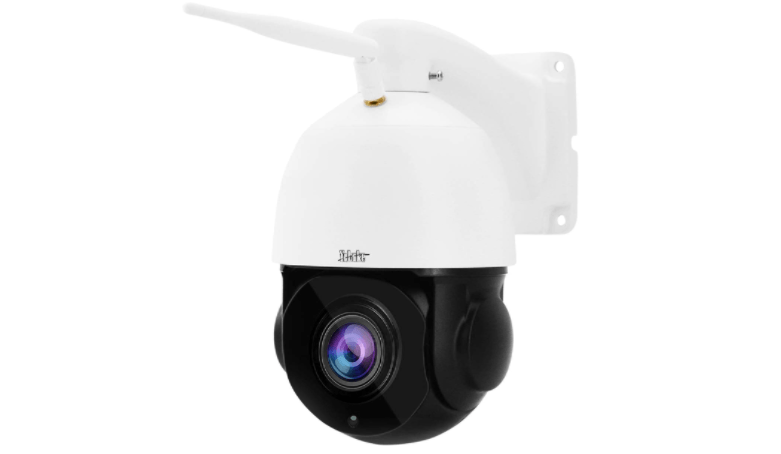 YoLuKe PTZ Camera is a Wi-Fi IP device that is highly recommended for its vast coverage. 
YoLuKe company is devoted to the development and sales of security products and computer peripheral products, such as security cameras and computer accessories. 
"YoLuke" had earned trademark certificates issued by the North American and European Union Trademark Offices respectively in 2016.
Its products are trusted by many customers the world over. The features incorporate almost every security issue. The YoLuKe PTZ Camera is wifi enabled, with a 5MP lens, 20x optical zooming, 360 degrees rotating, and auto-tracking.
Advantages
High-definition Picture Quality

Wide Viewing Angle

Remote Control

 and Motion Detection

Easy to Install

Compatible with third-party software

Two Way Audio

 & Motion Siren
Disadvantages
There is no support for

 5Ghz Wi-Fi

SD Card is not with the pack
Features & Functions
The camera is very rich in features. The following are the specifications.
5MP & 20X optical zoom
YoLuke PTZ Camera Outdoor with 5MP lens, 20X optical zoom make sure the image quality doesn't distort when zooming. The visible distance is up to 1,000ft during the day. The visible range at night is approximately 400ft.
Two Way Audio & Motion Siren
Built-in advanced microphone & speaker and with anti-noise technology reduce false positives for clear voice communication between the APP and camera. 
Alarm emails push, FTP service, send real-time activities to your email/mobile app in time. [Read the full review here]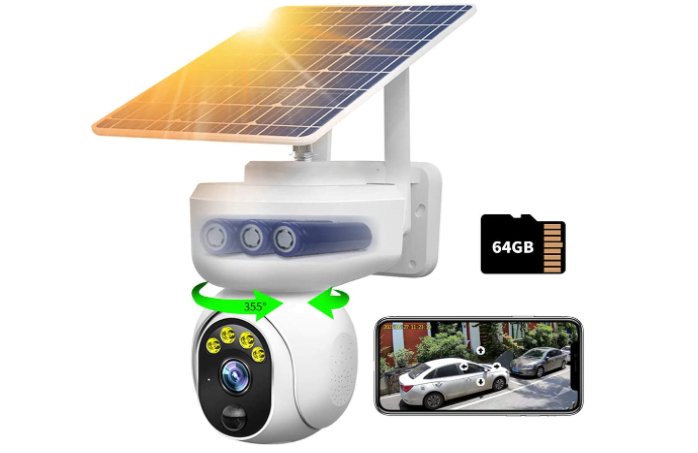 Luovisee Wireless PTZ Camera is a camera that is suitable for sensitive areas that require continuous monitoring. 
If you are looking for a cam that can pan up to 360 degrees, tilt up to 120 degrees then this device is an ideal one. 
Additionally, it can auto-track, supports two-way audio, give night-vision, and solar-charged.
You can use it in stormy and tough weather conditions. As the cam is waterproof with IP proofing. The solar-powered device allows us to use the device without a wire. 
Advantages
Wire-free

Solar-powered

360 degrees horizontal & 120 degrees vertical movement

motion detection
Disadvantages
Records only when there is any motion

5 GHz wifi not supported
Features & functions
100% Wire-Free & Solar Powered & Wi-Fi
This solar camera comes with high efficient solar panel, that is equipped with a long-lasting 15000mAh rechargeable battery.
It means it could offer enough power for the camera even in cloudy winter. 
There is no need to climb a ladder to take off-camera to recharge. Built-in 4dbi surveillance video transfer professional antennas entitle the camera to a stronger and more stable network reception.
Full 1080P HD & 360° Coverage & Colorful Night Vision
It features 355°horizontal rotation & 120°vertical rotation & 3X digital zoom. The solar outdoor camera all functions are controlled by the app. 
No blind spots you could. With a 105-degree wide-angle, the ptz camera outdoor guarantees a panoramic shot of every corner of your home, shop, garage. 1080P full HD, the picture is clear. The white light is auto turn on when there is any motion or threat is detected.
Included 64G TF Card Super Easy for Installation
This solar security camera comes with a camera with a 64G TF card. You can mount the cam on the wall or any other place of your choice. It can be easily set up anywhere. 
Human Motion Detection Instant Alert schedule alarm/record
Luovisee solar home camera is built-in PIR human-AI motion detection technology, which only detects human moving, avoids too many false alerts triggered by light change, waving leaves, bug fly, etc. 
And also you could schedule timing, what period the cam alarm will record. Motion detection distance is up to 30ft.
Conclusion
Above all the PTZ cameras are studied, installed, and their performances are checked. This strenuous exercise is taken to give you a real idea of the PTZ spectrum of cameras. Cameras are selected based on their market reputations, features, and company support. These are now the demanding pan, tilt, zoom cams around the globe.
We hope that you would have found the article purposeful for your quest. Please acknowledge us by replying in the comment section. Your opinions matter to us a lot.
Thank You.