Decko PTZ Solar-Panel Camera is a useful outdoor camera. It is suitable for your courtyard, backyard, office, or garage. 
When you want to install a cam that can cover a vast area, can capture 360 degrees coverage, listen to two-way audio, etc. then this is the device for you.
Decko is the brand product of Shenzhen Zhiling Technology Co., Ltd. It is an innovative company dedicated to creating the latest security surveillance products, and smart home appliances. The company is based in China, but its branches are spread around the globe.
DEKCO is an innovative brand dedicated to smart home platforms and products, mainly focused on the market areas of smart security, smart lighting, and smart small home appliances.
These products are available at so many platforms, like Amazon, Alibaba, eBay, Indiamart, to name a few. They are also sold through Decko Stores. The PTZ Camera is very useful for factories, institutions, etc.   
The Qualities To Look For In A PTZ Camera    
There are so many types of cams available in the market. To select a device of your choice, keep considering they possess the following features.
Panning, Tilting, & Zooming
All PTZ cam can be moved horizontally or vertically. They are made to function that way to cover the maximum coverage area. When the cam moves horizontally to cover the wider angle of the location then it is called as panning of the camera.
When they move vertically to cover the wider range then it is known as tilting of the camera.
Cams can rotate horizontally up to 360 degrees and vertically up to 120 degrees. Though the degrees of the movement varies from product to product this is the standard.
IR LEDs
If you have to capture videos at night, then you have to look for strong LEDs in a PTZ camera. Super LEDs illuminate the object better at night. Starlights or Floodlights are the modern-day super solution for darkness.
Easy To Setup 
How easy it is to fix the camera. How easy it is to position or mount the camera. If a CCTV camera has a good pan/tilt, it might not require accurate positioning because panning and tilting can cover the entire area. You might just place them over a heightened table or wardrobe and it fulfills your purpose.
Weatherproofing
Since PTZ cameras are used outdoors, weatherproofing is a must. Check whether your cameras have IP66, IP67, etc. level waterproofing at least.
Night vision
Cameras have an inbuilt IR system. You have to check the quality of the night-vision. If night-vision is weak then it will capture dull images, face recognition would be difficult. The security purpose would be in peril.
Two-way Audio
All good PTZ cameras are equipped with speakers and microphones. With the help of the app, you can talk two-way and communicate with the person on the other side. It is a very useful function. With its help, you can alert others or hush away the threat.
Wireless/Wirefree
Any PTZ camera must also be wireless and SD card enabled so that you can use it as a standalone camera. By connecting it to any wifi network you can operate it from any remote location. It is even better if it is wire-free. When it is wire-free then there is no web of wire around it, and easy to operate.
IP Cameras and POEs
IP Cam is the latest and modern range. Installation is easy, and picture quality is the best. Go for IP appliances only. IP Cameras are network-based security cameras that communicate over a computer network to send a data signal back to the recorder. 
Cloud Storage facility
CCTV cloud storage is a comprehensive program that allows users to store camera-related footage remotely without worrying about storage capacity on-site.

Advantages
Solar Powered

 & Wire-Free & 36o degrees coverage

1080P HD

Very clear night-vision

Ward off intruders

Advanced motion detection

Two-way audio

Secure storage

Weather-resistant

Supports cloud-based recording
Disadvantages
WiFi supports 2.4Ghz only

SD Card is not with the pack
Unboxing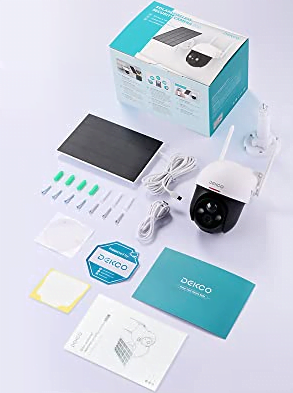 The box contains the following items.
1 x Wireless Security Cam

1 x Solar Panel (10ft cable)

1 x Mounting Support

1 x Screw Set

1 x 3.3ft USB Cable (NO charger)

2 x Positioning Sticker

1 x Warning Sticker

1 x User manual
Design Of The Decko PTZ Solar-Panel Camera
The device is waterproof, so there is a coating of water-resistant material on it. The oval-shaped cam is studded with spotlights and strobe light, a siren, a sensor, and a microphone on the front side of the device.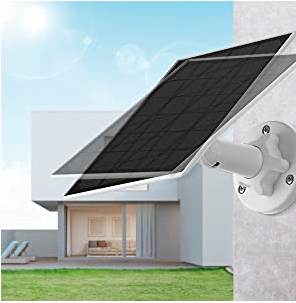 On the backside of it, there is a slot for SD Card, a USB Port slot, and room for battery storage. The half-white half-black color device holds two antennas, to receive the WiFi signal. You can connect the solar panel to the cam through a wire, or fix it on top of the cam.
The dimensions of the cam are 8.58 x 6.18 x 5.28 inches, and its weight is 2.16 pounds.
Features Of The Decko PTZ Soar-panel Camera
Solar-powered Cam 
The solar panel will charge the security camera with direct sunlight. No circuit wiring hassles, you can place it anywhere. The solar security camera is also equipped with a battery inside, which provides extra 4-6 months of backup battery life. 365 days Non-stop power to keep an eye on what matters.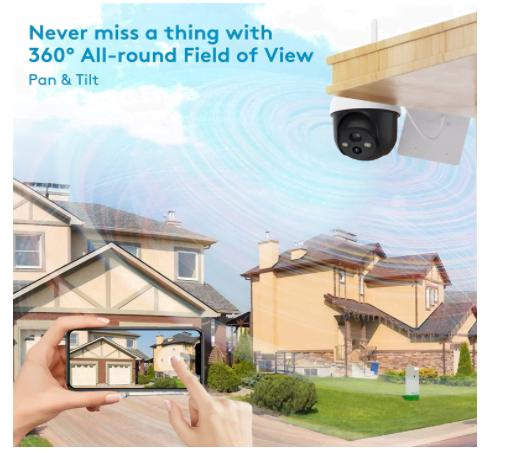 High Definition
1080p Full HD quality allows you to watch and record videos with more clear details day or night. Upgraded infrared LEDs to provide excellent night vision up to 66ft.
Night-vision
You can capture more things in the dark in full high definition. Full-color night vision when there is light in the environment.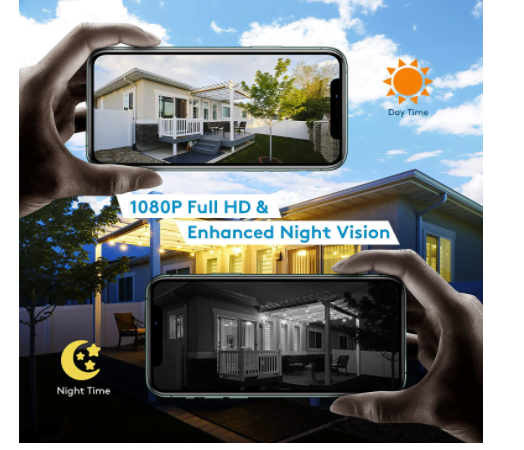 Advanced Motion Detection
You will be the first to know what is happening by receiving instant notifications whenever motion is detected. 
Artificial Intelligence & Sensor Quality
Advanced AI technology will reduce false alarms caused by small insects or light changing. 1-10 sensitivity available based on actual environment, no movement will slip through.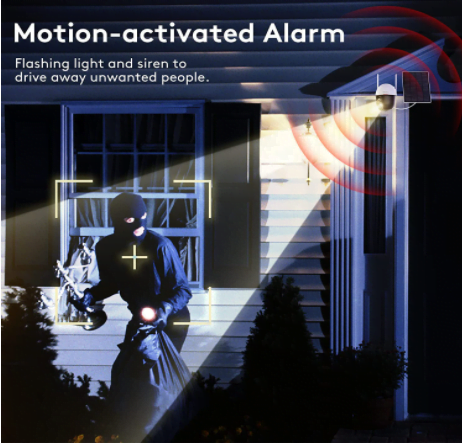 Premium Two-way Audio
The DEKCO outdoor camera is equipped with a built-in microphone and speaker, you can hear and speak to people on the view with superior audio quality from your phone or tablet. Outdoor security is right in your hands.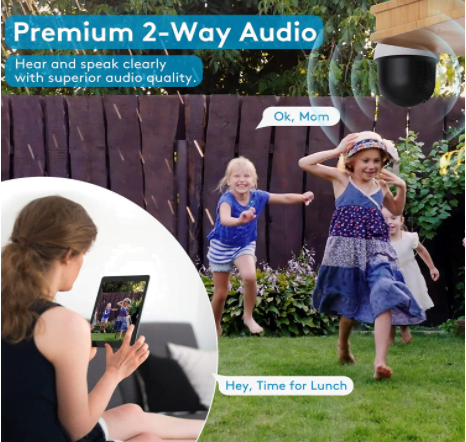 Schedule Alert Plan
Customize the security plan, set the schedules to keep an eye on your home. The camera only triggers an alarm event during the set time period.
Panning, Tilting, & Zooming
The cam can pan left and right up to 355 degrees. It can tilt up to 90 degrees. It can be zoomed in up to 4x on the App to see better within the coverage area. It will help to check the environmental details very well so that to prevent troubles before something happens.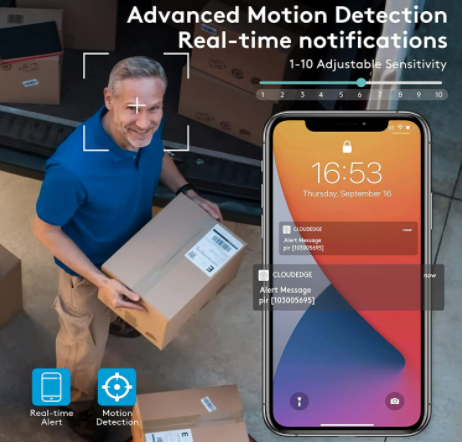 Multiple Users
You may ignore an alert notification, but if you share the DEKCO wifi security camera with your husband or wife, brother, and sister, that will be nice to protect the home together. Just scan a code or search account on the App to share the cam, they will be able to remote control and check.
Storage
Cloud and micro SD card record and save videos captured by your DEKCO Cam. You can download the videos and review them anytime and anywhere. You will find and locate the specific motion event quickly. Never miss a thing.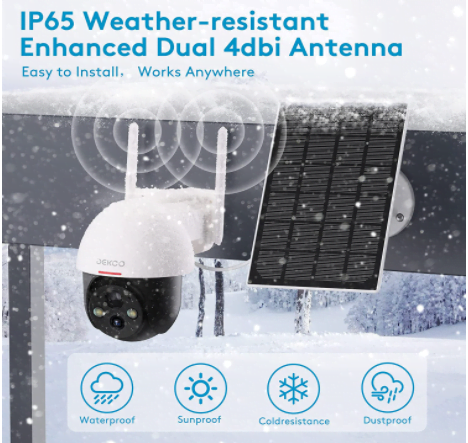 How To Install The Decko PTZ Solar_Panel Camera
Select the location where you mount the cam. Then mark the area by sticking the positioning sticker there. Now fix the mounting support with the help of screws to jam the cam. You can install the device on the soffit, wooden plank, or even in your attic. Fix the camera on the slot of the mounting support.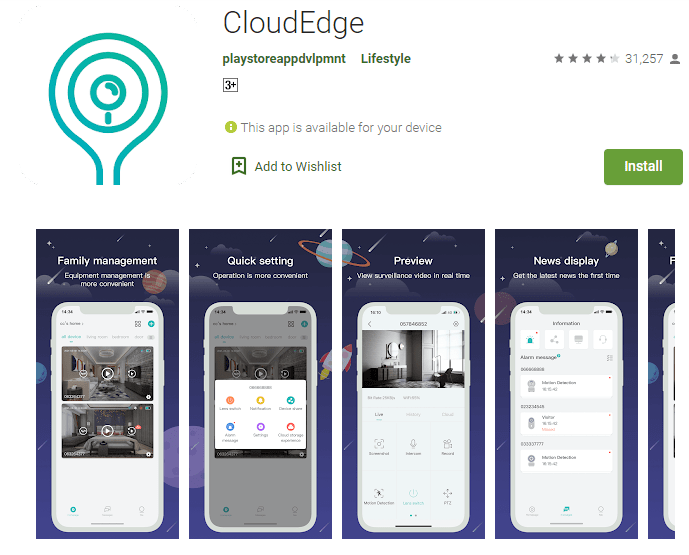 If you want to monitor the cam on your smartphone, you have to install the CloudEdge App. To install the App you have o to Google Play Store and search for the "CloudEdge Application". Add your device by scanning the QR Code on your mobile phone. Follow instructions and watch am on your system.
Users Reviews & Feedbacks
JinXian He from the USA has reviewed the product in the following words
The cam is very easy to configure in addition to having the possibility of not charging the battery thanks to its very good solar panel. 

The battery was almost fully charged at the factory but once the solar panel was installed in a few hours the configuration was fully charged with the application is very easy and

 compatible

 with the cameras of the same brand that I have installed in my house. 

Its images are very clear both in video and in photographs that are programmed at a specific time. If you want automatically the

 price-quality ratio 

and operations are reasonable and satisfactory the highlight that makes me very happy is not worrying about having to be connected the power every time its battery level drops since the solar panel is very practical and effective. 

The application to access the camera is very nice. pets in my yard I recommend to anyone who wants to protect and increase their 

security

 this camera for its price and quality. 

I will continue to try to make updates of its operation and recommendations in general I feel safer with my family and confident in its good 

operation 

and as novelty angles of movement that I can use remotely.
Hava Yael from the USA opines that-
Setup wasn't easy at all, and just to find out that wifi wouldn't work either, even at close range. It was a big waste of time. Save yourself a headache!
SpAR gives their feedback as-
Last year, we actually saw a mouse in our house for the first time. Since then, because of co-habitat I believe, many wildlife has been out and about in our area. We also have a 

birdhouse

 where we get various animals and luckily we don't have black bears so far but it's very interesting to see different animals with this camera.

The installation is very easy and the

 setup 

is simple with the app, the camera was up and running within a few minutes. The solar panel seems to be charging the camera even during cloudy days and we have not had any issue with charging the internal battery.

It has me several times already and had snow for the first time the other day but the camera works beautifully in the PTZ control works amazingly well!
Should I Buy It?
The cam is heavy. You can fix it at any outdoor location to capture vast area coverage. Its waterproofing is of IP65 standard. The two-way audio facilitates you to pass on messages or hush away the intruders. Both ways, the device has empowered you. The AI sends you notifications in motion.
Night vision quality is very sharp and bright. The app quality is that it supports all these functions from a faraway place. You can pan, tilt, or zoom in on the PTZ cam from any remote location with the help of the App. It has more positives in it.
Conclusion
The device is useful under all circumstances. It gives you comfort at all levels. Its functionality empowers you to view many things at a time. The  App is handy. You can operate the functions of the device from any location. You get a panoramic view from it.
This is the review of The Decko PTZ Camera. I hope the article would help you in the decision making. Kindly share your responses in the comment section.
Thank You.